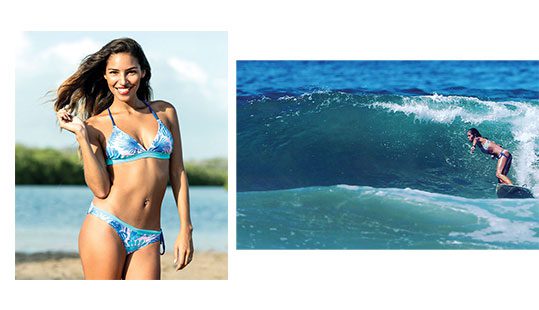 Sewing a Different Pattern on and Off the Waves
Sewing A Different Pattern on and off the Waves:  Costa Rican Surf Swimwear.  The ocean knows no gender. The waves belong to no one and everyone. Whether you are in a bikini or board shorts, the one who is closest to the peak truly has the priority. For decades, the boys might have stolen the surf show, but not anymore. Watch out — the girls are stepping up and shredding in bikinis that are true show-stoppers!
While surfing did not originate as a battle of the sexes, once appropriated from the Polynesians by Westerners, it became a male-dominated sport, in and out of the ocean and grew in population. The International Surfing Association estimates that there are around 35 million active surfers worldwide and only about 19 percent are women.
In an arena where you often have to surf "like a boy" or risk being paddled around, dropped in on, and denied set waves, you can imagine the pressure many female surfers feel to prove that they deserve the same respect and waves as their male counterparts. And heaven forbid you have a bikini malfunction while dropping into a set wave!
'Being able to support
women and make a suit
that women feel strong
and bold in is
very important to us.'
On September 5th of this year, the World Surfing League made a watershed announcement: starting in 2019, all women and men participating in WSL-controlled events will be awarded equal prize money. Until now, many prize purses were 50 percent less for women than for men.
Female surfers are also charging harder and bigger waves than ever, like Maya Gabeira's record-breaking 68-foot wave in 2018 at Nazare, Portugal. Female surfers are on the rise and are breaking gender barriers like never before.
Women owning it all
What's happening is that female surfers are beginning to realize they no longer need to surf like the boys. They can embrace surfing like a girl, which is powerful, fearless, graceful and feminine.
Girl power has been an internationally strong theme this past year across many different boards, and on a micro-scale we can see this perfectly displayed in several female-owned and operated surf bikini companies in Costa Rica.
Many of the female surfing swimwear creators are run by badass girl bosses who are designing unique, high-quality, reasonably priced and truly flattering bathing suits that stay on and in place out on the surf.
Surf bikinis are different from sunbathing bikinis in several ways: they are made from a more resilient material, have thicker neck strings or straps and usually include adjustable bottom ties. Some surf bikini tops are designed more like a sports bra to provide extra support and coverage. The challenge is to create a surf swimsuit that not only stays on and in place but is also comfortable to wear and makes the surfer feel like the beautiful ocean goddess she really is. 
Other than their top-of-the-line surf swimsuits, however, what makes these businesses really noteworthy is what they collectively represent.
First, we have a group of ambitious, creative, ingenious, and inspiring women who believed in themselves enough to start their own businesses.
Andrea Pizarro, for instance, built Del Toro Bikinis from the ground up starting in 2011, when she couldn't find a job in Guanacaste utilizing her degree in nutrition. Now, she has two successful shops, one in Tamarindo and one in Jacó. Del Toro bikinis are the most unique in the country; Andrea only makes a few cuts for each print of fabric she buys.
Secondly, these women and their companies are helping to celebrate the female body. Lauren Rios and Anna Zapponi, the founders of Salvaje Swimwear, say they love making custom bikinis to empower women, especially in this time in history.
"It is exactly what we need to be doing," Anna says. "Our bikinis are made for all shapes and sizes to promote positive body image and self-confidence. Being able to support women and make a suit that women feel strong and bold in is very important to us."
Lauren and Anna started Salvaje Swimwear a few months after moving to Playa Hermosa as a means to continue living in Costa Rica. Neither had any prior experience making bikinis and actually didn't even know how to use a sewing machine. But where there's a will, there's a way, so this innovative duo completely paved their own way to living the life that suits them best.
"It's important to know that you can really do anything in your life!" Lauren says passionately. "Just do it. Push all comparisons aside and be your own woman!"
Tica designer Debbie Palacios is another inspirational role model for self-empowerment in a business promoting self-confidence along with style. Debbie's venture into designing her own swimwear line originated as a hobby in 2013. Sister Patty brought her marketing expertise to their subsequent partnership in running
De' Lohana Bikinis in Tamarindo. Perhaps their success was foreshadowed in childhood, when the pair used to sew their own bikinis. Debbie remains the designer behind De'Lohana swimsuits, employing local sewing staff to create pieces from 100 percent biodegradable materials.
Support for the sport
A third success factor for most bikini brands is their support for female surfing, which is rapidly growing. By creating swimsuits specifically designed for surfing and other high-intensity activities, these swimwear designers are making it possible for female surfers to focus on doing what they love to do and not on nip slips, vedgies and wedgies … and worst of all, getting your bottoms pulled down by the sea.
Branded passion
Megwyn Saunders and Carolina Camero, the founders and owners of Cámelo, met at a bodyboarding competition in Venezuela. Soon after, they decided to build a brand together that reflected their lifestyle and would provide the financial means to support their passion for bodyboarding and traveling the world. They both ended up moving to Costa Rica, and in 2008, Cámelo was officially born.
"We are very proud of our brand," says Megwyn. "We love motivating women to be sure of themselves, confident in their bodies, and empowered to play sports. We are a women's brand for women!"
The Cámelo partners not only make durable swimwear, they also support female athletes in many ways. They host a biannual clinic for female bodyboarders in Costa Rica, and are adding surfing and stand up paddle boarding to their clinics starting in 2019. They also sponsor several female surfers and bodyboarders in Costa Rica to help support these young women in the pursuit of their dreams.
The sea is a sanctuary and playground that accepts everyone equally. It is a place where societal barriers and superficial differences can break like the waves. As a gender, women are capable of achieving anything that a man can achieve, whether it's surfing 68-foot waves or running a successful business. The female Costa Rican business owners behind the surf bikini brands and the women who are buying and surfing in their suits are demonstrating just that.