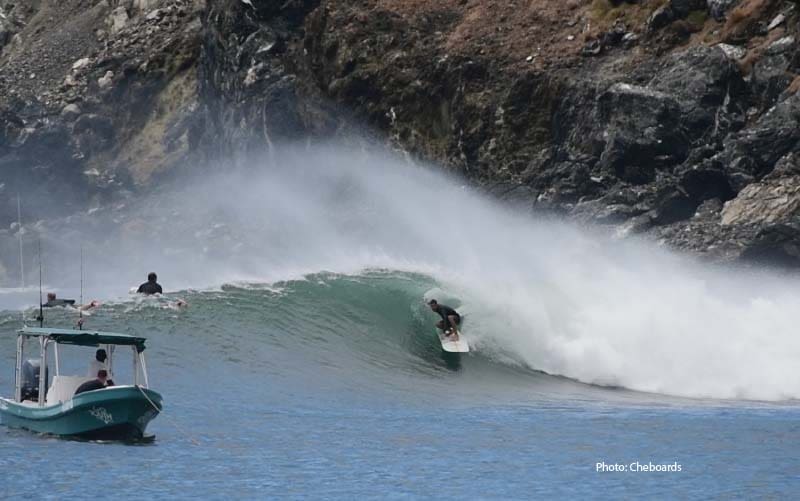 Surfing Ollie's Point after the Storm
In October 2017, a huge storm devastated most of the beaches in Costa Rica. Playas del Coco was totally flooded. Significant beachfront destruction was widespread and the ocean was very brown. This occurred on a Friday, and just two days later, we were among the first to venture out in the aftermath, with surfing Ollie's Point being our chosen destination.
Our preparations began on Saturday afternoon, when my friend, Alan Campos, and I were helping with boat recovery efforts in Tamarindo Bay. Despite how bad everything looked due to storm damage, the ocean had already calmed and the situation was definitely okay for organizing our trip to Ollie's Point the next day. We wanted to be the first people out there … without realizing we would actually end up being the only people there. In more ways than this one, it would be a day of wonders that never ceased!
Here we were, the only humans out in the ocean
with a huge whale swimming next to us and its child jumping alongside.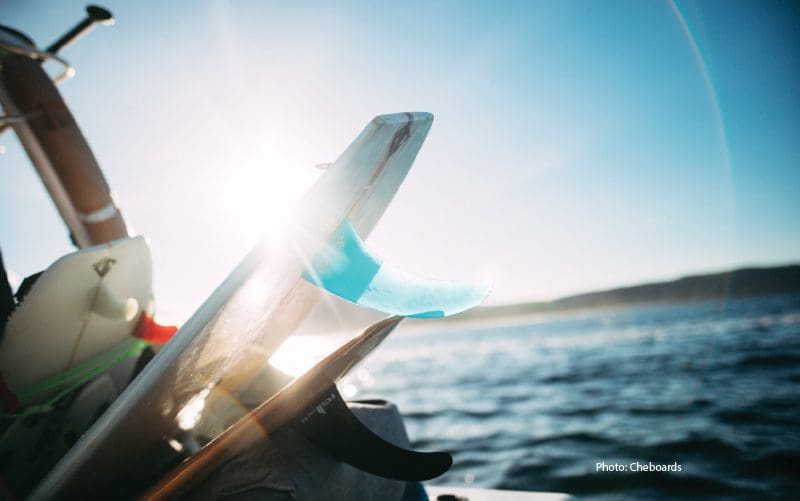 Extraordinary from the get-go
My preference in planning any boat trip is to try for a nighttime departure, even though sailing at night is dangerous. So we headed out at 3 a.m. from Playa Flamingo on the yellow boat I had called the Sucaforte 2.
The pre-dawn start to our trip was crazy beyond anything we could imagine. The ocean was full of plankton. That meant as long as our boat was sailing, we had light all around us from the plankton shining in the water. We all got wet so our skin was shiny with plankton too. This made us laugh a lot, but at the same time we were shaking from the cold … it was so freakin' cold!
What we encountered next was no less extraordinary. At sunrise, around 5 a.m. we had already arrived right next to Witch's Rock. As the sky lightened, we saw that the rock had broken apart and one big piece was falling into the ocean. I had just surfed there two days before and that entire portion of rock was intact. Now, seeing it cracked and crumbling was amazing and almost eerie. We felt somewhat scared and vulnerable sitting in a boat next to it with nobody else there. Not that we needed starker evidence of the storm's recent savagery, but the beach was littered with logs and the water draped with abandoned fishing nets.
Would there be waves?
More surprises awaited. Early into our boat trip, passing by the Pico Pequeño shore, we observed sketchy, somewhat heavy waves. That made us a little nervous, but we kept going.  Arriving at Witch's Rock we didn't see any waves, which was frustrating. For anyone planning to go surfing not to see any waves, it's incredibly disappointing. Still, we continued on to Ollie's Point and eventually saw waves en route that we surfed. They were really nice waves, but only local waves, so we don't need to call their name.
When we reached Ollie's Point we saw a huge whale … not just big, but huge! Not only that, but the whale's baby was jumping right next to us while we were still in the boat. When I say "next to us," that means only about five meters away. We started getting wet, not to mention a bit nervous. Here we were, the only humans out in the ocean with a huge whale swimming next to us and its child jumping alongside. The junior whale made at least 10 jumps from the time we entered the opening approach to Ollie's Point and when we reached the bay.
Spending time with the whales turned out to be a wonderful highlight in a chain of continuing unexpected occurrences. After continuing to watch them for 30 or 40 minutes while still on the other side of Ollie's Point, we decided to hike the beach or just walk around. There were no waves to surf … or so we thought at the time. But incredibly, as we started getting closer to the break we realized there were waves. How foolish that we just hadn't noticed before while being totally distracted by the whales putting on such a terrific show for us.
Breaking left … seriously
Of course, upon discovering the waves we forgot about the whales. With nobody else there the entire time, we scored that day at Ollie's with 6- to 8-foot waves. And for the first time in our lives, we experienced Ollie's breaking left. It usually breaks right and that's how Ollie's is known. When we got back from this trip, nobody believed us when we said Ollie's was breaking left, so a couple of days later we had to take some friends out there to prove we were telling the truth.
Let me explain why we chose surfing Ollie's Point that day. Almost everybody checks the internet when planning a surf trip. We don't do that. We are not ruled by forecasts and magazines. We do, however, plan our trips carefully in terms of knowing what to anticipate. Our method is to watch the ocean and listen to all the people coming into town with predictions about the waves. Still, we cook our own recipe and off we go.
In this instance, after the severe storm, we knew how shaken people were throughout Costa Rica. So many fishermen and others working with boats or living near the beach were hard hit. Homes were under water and some boats were lost altogether. We took all of that into consideration for this surf trip. Then, as usual, we created our own adventure and set out to see what was going on. We actually found a boat that day … which leads me to one more incident that made this surfing adventure remarkable to the end.
Midday at Ollie's Point found us already tired from surfing this spot that we had all to ourselves. After all, our day had begun at 3 a.m. so we were ready to head home. Arriving back in Flamingo at 3:30 p.m., we encountered a family struggling to take a boat out of the water. Remember, this was the wrong day for anyone without experience to be near the ocean. But these people were trying to retrieve their boat, only to have it fall apart on the ramp from the water. This was the same ramp we were waiting for to get our boat free. So we helped them recover their boat using all the essential tools available: hydraulic jacks, several big logs and chains. By the time we succeeded it was 7 p.m., so needless to say we didn't get home until 8:30. We were very tired, but very happy.