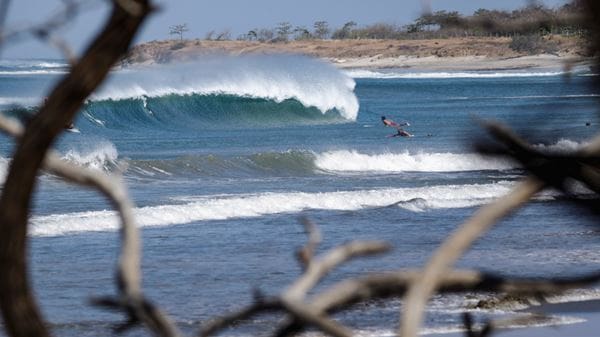 Surf Spot – Playa Avellanas
Playa Avellanas is a beautiful stretch of white sand, palm trees, clear water and fun waves. It's a popular spot for locals and tourists alike and provides year-round waves for all level of surfers. Its family-friendly atmosphere on the weekend can make it a crowded place sometimes, though you can also find empty waves early in the morning or on the weekdays. Due to its close proximity to Tamarindo, many tour operators offer day trips to Avellanas including transportation, tours and surf lessons. When the swell is pumping and many other beaches are closing out, Avellanas typically offers cleaner conditions and reef breaks that can hold the size.
Getting There
Playa Avellanas is a short drive away from Tamarindo on a gravel road that can vary from good to horrible. From Tamarindo, take a right in Villarreal, and then another right at the town of Hernandez. Once you get to Hacienda Pinilla, hang left and you will then be on the gravel road to Avellanas. From here it's about 20 minutes to the sand and waves.
Where to Surf
Avellanas has a half dozen different waves to surf. In front of the main parking lot next to Lola's, you will find a left/right reef break called La Purruja. North of here up the beach you will find a variety of beach break waves to surf during mid and high tide. The rivermouth has both a left and a right, providing long rides and carvable walls. At the very north end of the beach is Little Hawaii, home of a right reef break which can handle up to double overhead waves. This is also in front of the Hacienda Pinilla beach club which has direct access to the wave if you are staying there.
Surf Times
Low tide, mid tide, or high tide; there will always be a breaking wave somewhere on the beach in Avellanas. La Purruja works best at mid and high tides, just like the beach breaks. The rivermouth works on all tides, though beware of the rocks at lower tides. Same goes for Little Hawaii, which can be surfed at all tides but becomes a little more dangerous at low tide on the inside near the beach. Of course the best time to surf here is with the offshore winds, or early in the morning and late in the afternoon when cleaner conditions are prominent.
Local Companies
You will find Jorgelina from Avellanas Surf Photos on the beach taking pictures most days. You can contact her at (506) 8879-9612, check out their website at www.avellanasurfphotos.com or find them on facebook under the same name.
Cabinas Las Olas is a hotel, restaurant and surf shop with its own direct access to the beach. Feel free to park here and walk down the wooden boardwalk, which is very photogenic. Contact them at (506) 2562 – 9315 to make hotel reservations.
Board rentals and surf lessons are available on the beach in front of Lola's on most days; look for a tent and some longboards next to the parking lot.
Food and Drink
There are just a few options for food and drink at Playa Avellanas. You won't miss Lola's, which is right on the beach next to the main parking lot. They offer great food including pizzas, salads, and seafood in an amazing setting right on the beach.
The Beach Box is just down the main road about 300 meters from the beach. Here you can grind on some burritos, tacos and other delicious foods made with love.
More food options can be found 10 minutes down the road in Playa Negra, which also has good waves to surf.