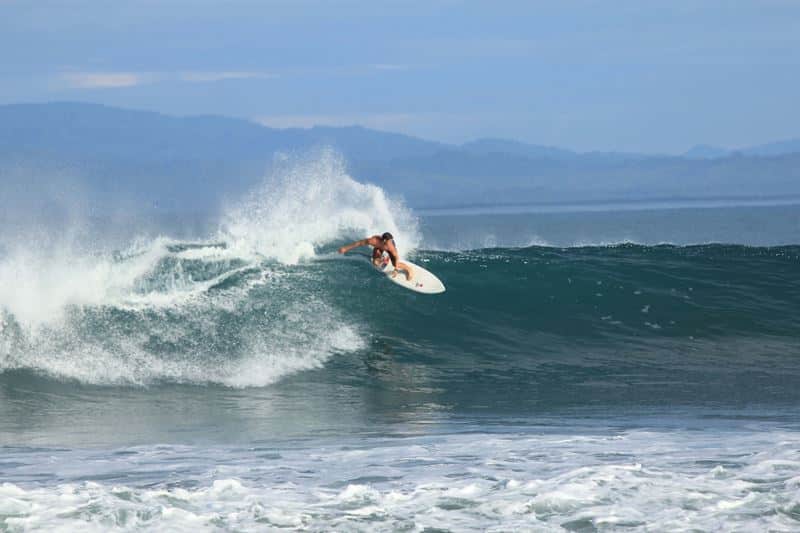 Surf Spot – Pavones
Costa Rica is home to the world's second longest left point break wave, offering everything a surfer could want – long drawn out walls, fast barreling sections,vertical hit-able lips, floater sections and ramps to boost airs. As a goofy footer this has to be one of my favorite waves in all Costa Rica. I make the trip down to Pavones at least once a year despite the fact that it's a 10-hour drive. The tropical jungle, misty and magical beaches and of course, the epic waves makes each and every trip an unforgettable one.
GETTING THERE
You have two options – driving or flying. Driving takes over 10 hours, but if you go with friends and everyone is splitting the gas then it's really not so bad. You also get to stop by dozens of other surfing beaches on the way down. From Guanacaste you will want to take the highway towards San Jose, then get off at the Caldera exit towards Jaco. Pass Jaco and continue south towards Dominical, all the way to the border with Panama. Here at the border, I recommend buying groceries, cheap beer and anything else you may need in Pavones as everything's a lot cheaper. Also, fill your car up with gas as it's discounted and is the last place you can do so before Pavones.
Here you will take a right towards Playa Zancudo and Pavones. You will literally be driving on the border with Panama for the first couple miles. Then the road turns back inland towards Costa Rica and you will be driving in the midst of palm plantations for the next 30 minutes. Then you will arrive at a fork in the road where you will need to take the left towards Pavones. Continue for another 30 minutes and you will arrive!
If you plan to fly, the closest you can get is to Golfito ,which is about an hour drive from Pavones. You would need to get a rental car, or arrange transportation to Pavones from there.
WHERE TO SURF
Pavones is a very long left point break. The wave is always the biggest on the southernmost tip of the point, and this is where you would go if you want to catch the "longest wave of the day," in navigating through the fast river mouth section. Right in front of the river mouth is another good place to snag waves because most people don't make it past this area due to the wave speeding up and sometimes closing out. So the wave reforms at the river mouth and you can still catch a kilometer-long ride if you start here. For those who are learning to surf and don't quite feel comfortable catching the bigger waves, the third take-off zone is in front of the sea wall. Here you can catch the ends of the waves, which are always smaller and easier but still a lot of fun. When it's "on," the rip current will be pulling you towards the last take off zone so most people chose to get out, walk up the beach, and paddle out near the river mouth after catching a long wave.
SURF TIMES
Pavones is surfable all day and with all tides. When there is swell, the wave will be breaking regardless of the wind, tide or weather conditions. Of course, it's best to aim for glassy conditions, which happen in the mornings and late afternoons. During high tide, the wave is a bit slower, more manageable and connects through better. At low tide, you have a higher chance of getting barreled and having air sections pop up, though less of a chance catching the complete two-kilometer long wave.
FOOD AND DRINK
Pizza, seafood and Costa Rican food can all be found in Pavones. The supermarkets will have everything you need but at a higher cost compared to the border town. Bar La Plaza is right in front of the soccer field and offers cheap gallo pinto and casados.