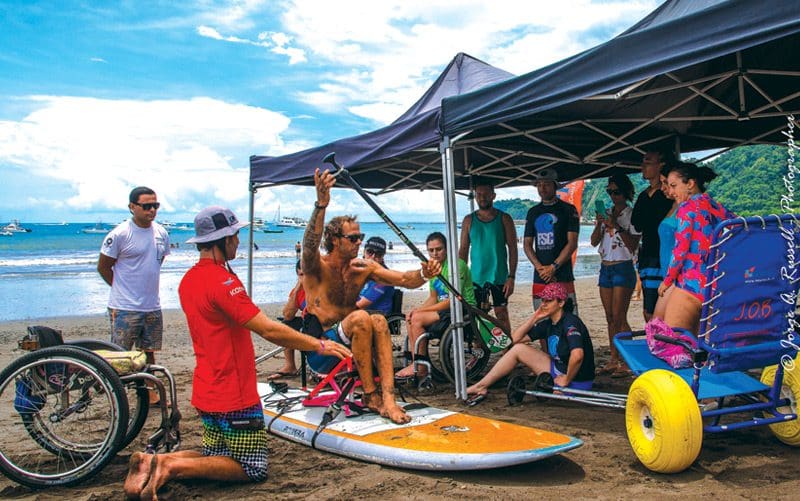 Surf Profile – Alvaro Bayona, Adaptive Surfing
Adaptive Surfing Profile: Alvaro Bayona, an Amazing Inspiration: Alvaro Bayona is an elite athlete in many spheres of sports who continues defying limits to what adaptations are possible for people with paraplegia and other physical challenges. A copper medalist on Spain's team in three Adapted Surf World Cup championships, he visited Costa Rica in September to speak about adapted stand up paddle (SUP) with surf instructors, SUP surfers and the general public.
Alvaro has been a renowned
pioneer in adapted paddle surfing.
In 2010, Bayona was seriously injured in an accident caused by an avalanche while practicing snowboarding. Since then, his goal has been to persistently practice and compete in the same sports he pursued for so many years earlier, including skiing, surfing, kitesurfing, wakeboarding and paddle surfing. Both in Spain and internationally, Alvaro has been a renowned pioneer in adapted paddle surfing, notably starting a small manufacturing company for patented water sports chairs.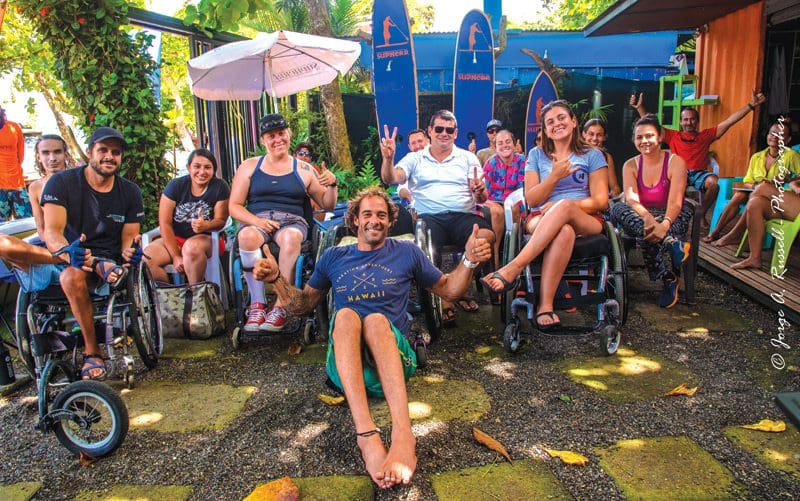 Part of Bayona's mission has been to share widely his own experience, both personal and in sports, with many other athletes going through similar situations. He has organized numerous talks and conferences in which audience members are encouraged to continue practicing the sports by learning adaptive techniques and fighting their fears.
Álvaro also created the Alvin Bayona Foundation, aiming to expand the economic resources needed for developing the adaptation processes that each sport discipline demands. It's also a resource for reference information about adapted sports and products he has designed and built for that purpose. Bayona's desire is to make people aware of the many possibilities for practicing sports in circumstances they may not have imagined.
Visit: www.alvinbayona.com • www.facebook.com/alvin.bayona.7