Camaronal Costa Rica
Camaronal Costa Rica: Camaronal is a Costa Rican village with no village there in a land that time forgot.
I sat under a rancho with my girlfriend looking at a crescent moon shaped like a woman's fingernail, fringed by palm fronds waltzing in the breeze to the soundtrack of a roaring surf, and I thought: I have found Costa Rica at its wildest.
Camaronal Costa Rica:
I don't believe human beings
could ever ruin this place.
Drive a half-hour south of Sámara, past a couple of tiny towns and a long one-lane bridge, and you come into view of a virgin coastal wilderness nearly untouched by human activity.
Camaronal is home to the Refugio Nacional de Vida Silvestre Camaronal, a wildlife refuge dedicated to the protection of vulnerable sea turtles. There is a school, church and a smattering of homes, but not yet a single pulpería. You can look up from the beach and see nothing but unbroken, asparagus-green foliage from horizon to horizon.
And that's just how some people would like to keep it. "Don't come to Camaronal" is how a good cross-section of the local wave-riding set would promote this locale.
But it won't stay this way forever. On the verdant hills above the beach, an opulent 8,000-square-foot, three-story, five-bedroom house is now under construction by a Manhattan man who is trading the concrete jungle for the real one.
Others will follow (and by the way you can get your own) at La Reserva Camaronal, a 100-acre gated residential community with some 70 lots for sale, and 25 already sold, starting at $100,000.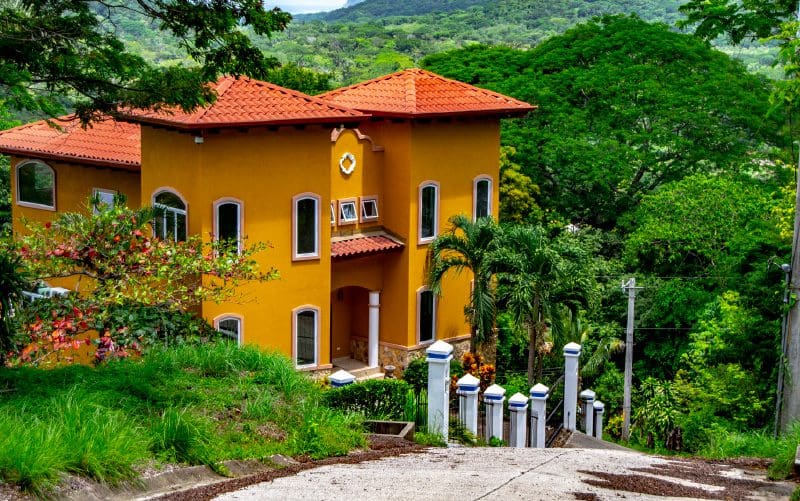 "Everything is done for you here — water, power, access, security," says project administrator Paul Collar, who happens to be my brother, ticking them off finger by finger. "And a homeowners association." He taps his thumb.
Paul is an old Costa Rica hand and a hydrogeologist by day. We're sitting on the back patio of a four-bedroom home called the Glass House, where the view is solid green from the lip of the infinity pool to the cobalt blue of the offshore Pacific waters on the horizon. A pair of scarlet macaws, released by the Ara Project in nearby Islita, are nesting in a hole in a dead palm tree within view of our back porch, and every few minutes a gorgeous caracara falcon flies by.
Paul tells me how unusual it is to have legal water ready for 95 lots. There is no AyA connection and no Asada, so a private water concession is essential. And that's the beauty of a legally designated "horizontal condominium project" like this — with a single concession you can supply water to an entire development.
But when you hear the word "condominium," don't picture what Pete Seeger called "little boxes made of ticky-tacky and they all look just the same."
"We are not into restrictions on architecture and taste," Paul says. "Still, we have a construction committee that provides some oversight. That's baked into condo law: no shanties or trailer houses allowed."
Paul and I are from Arkansas, where a double-wide trailer is considered a luxury home, so this is all new to me. He tries to explain to me that you can build whatever you want, as long as it's not an eyesore.
"Each lot is privately owned, privately transferable, all titled," he says. In a vertical condominium project, he says, you own a space in a multi-unit building but you don't own any land. "Here you own land and your house is a stand-alone structure. You can have a pool, you can have a palapa, a hedge, a heliport, an obelisk if you want — you own it, you can do whatever you want, within certain limitations of neighborly respect."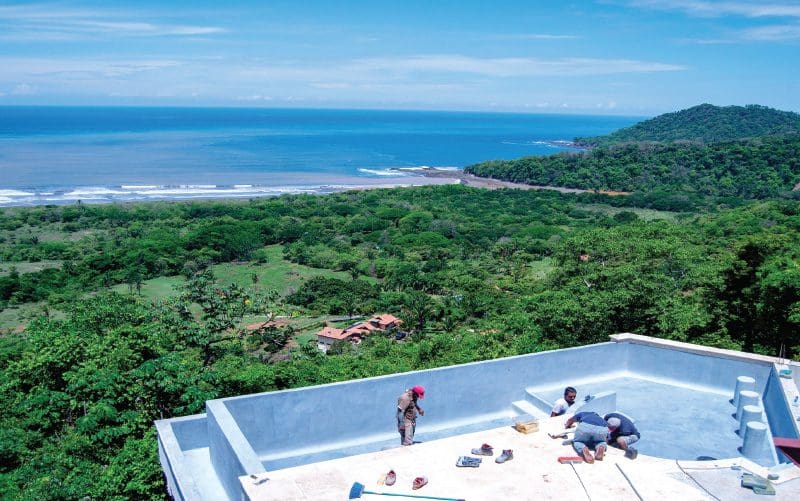 One reason this area remains so undiscovered is that until a couple of years ago the long bridge over the Río Ora didn't exist, so to get here you had to drive through the big river, which was often impossible in the rainy season.
"Access was very limited, and so people haven't caught up with that yet in their property searches," Paul says. "That bridge put this coastal highway on the map."
At night we take in eerily beautiful purple skies full of lightning, with dark clouds overhead dropping a pitter-patter of rain. I note that although a menagerie of beetles, crickets, butterflies and moths are buzzing around our porch lights, there are no mosquitoes. Paul says chupacabra sightings have also been rare.
The nearest town with a little grocery store, Estrada, is less than 10 minutes away, and just beyond that is Playa Carrillo, an unspoiled beach considered one of the most beautiful in Costa Rica. About 20 minutes to the north is Sámara, an ecotourism mecca and surf-and-sand town with hotels, restaurants, banks, grocery stores, pharmacies and hopping nightlife.
To the south lies the tony enclave of Islita, home of the luxurious Punta Islita Hotel, plus the charming Islita Contemporary Art Museum.
The Playa Camaronal National Wildlife Refuge, 600 meters from the gate at La Reserva Camaronal, has a big ranger station dedicated to saving sea turtles. Troupes of international volunteers walk the beaches at night looking for turtles coming ashore to lay eggs, which they collect and bury in a locked nursery to save them from their top predators: raccoons, coatis, dogs and humans.
Daniel Corona, former refuge volunteer program director, said four of Costa Rica's seven species of sea turtles nest here, with the olive ridley being the most numerous. Night tours are offered between June 1 and Jan. 30 to see turtles laying eggs, and when baby turtles hatch in the nursery, you can watch them being released and waddling toward the sea.
"This is all dry tropical forest," Daniel said, although he allowed that it was really wet when we visited because of all the rain. "The fauna you find here is varied — you'll find deer, white-faced monkeys, howler monkeys, tortoises, magpie jays, macaws. In the mangrove there are crocodiles, some of them really big. There are pelicans and storks on the beach. We have lots of bats."
A sign at the refuge describes the surfing wave here as "world-class," though one local surfer told us the wave is very rough and choppy, for experts only. But a couple of people told me the fishing is excellent.
"You can catch dorado, snook, lobster," Daniel said. "In a recent tournament, the winner caught a 12-kilo shark."  All the fishing is from the shore, as fishing boats are prohibited for a distance of 12 nautical miles from the beach.
This entire coastline reminded me of the dinosaur cartoon "The Land Before Time" — prehistoric, primordial and unperturbed.
"Why Camaronal?" asks Paul. "The turtle refuge, the surfing, the pastoral quality. This is not filled with houses, this is still country, but it's close to Sámara, Carrillo, Nosara, all that bustling stuff.
"We're looking for people that don't want to live in a congested, commercialized area where crime is a concern. Folks that buy here want to be surrounded by nature. But they can still go dancing in Sámara, do parasailing or ATV rentals or stand-up paddling or horseback riding — and do it all safely."
More people will surely come here in the years ahead,  but I don't believe human beings could ever ruin this place. I think it's humans that will have to adapt to the nature, not the other way around. The trees, birds and turtles were here first, and they're here to stay.