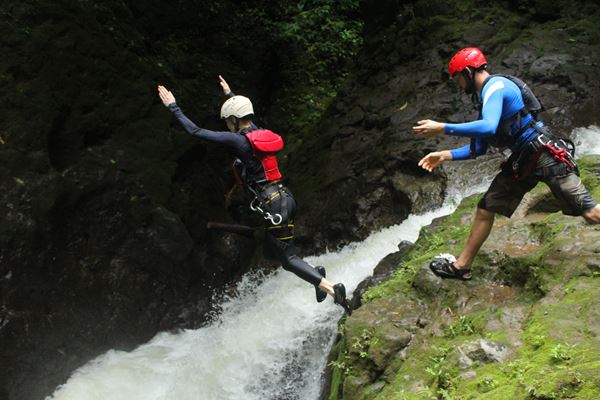 Featured Adventure – 7 Days in Costa Rica (Arenal, Dominical and More)
There's something to be said for traveling with no plans, no reservations, no transportation — just blindly plunging forward from one day to the next to wherever you feel like going, wherever a bus or a thumb can take you. Our advice is: If you absolutely, positively can't be talked out of it … go for it!
But there's a saner, safer approach, less "Indiana Jones" and more "Driving Miss Daisy" — you book a package where everything is already figured out, hotel rooms are booked, transportation is included and tours are pre-arranged. All you have to do is show up and enjoy. The bush-whacking vagabond's daily concerns — where to go, how to get there, where to stay, what to do — have already been resolved.
That's the case with the "Adventures in Wellness" tour offered by Desafio Adventure Co., a 7-day visit to some of Costa Rica's greatest destinations. See what you think of this plan:
Day 1: Fly into San José and a private shuttle takes you to Finca Luna Nueva Lodge in Arenal. Luna Nueva is an organic farm and ecolodge with nature trails, swimming pool, hot tub and spa, where you can explore the organic gardens, do some bird-watching and take a yoga class.
Day 2: Get your adrenaline pumping with the Gravity Falls waterfall-jumping tour, a canyoning adventure that starts with a rappel down a 140-foot waterfall and continues with a series of jumps off 20- to 30-foot falls and cliffs.
Day 3: Go stand-up paddling on Lake Arenal, balancing on a surfboard while taking in the spectacular views of Arenal Volcano and Central America's second-largest lake.
Day 4: Head to the coast. A private shuttle takes you to Herradura, where you'll go ziplining with Vista Los Sueños, flying through the air along 10 cables that are up to 1,475 feet long. Then you'll be taken to Villas Rio Mar, an ecolodge nestled among resplendent tropical gardens, 10 minutes from the beach in the surfing mecca of Dominical.
Day 5: Hike to Nauyaca Waterfalls, a two-tiered catarata considered one of the most beautiful in the country. But bring your game face: The round-trip hike is 12km, over 7 miles. Or you can spring for a horseback ride or a lift in a pickup truck.
Day 6: Chill out, relax and go to the beach. No big plans, unless you want to make some. Remember, even God took one day off.
Day 7: Back to San José, where you'll check into the Adventure Inn, which features 34 air-conditioned rooms, 60 channels of cable TV, a solar-heated swimming pool, a gym, and great food and drink in the MoonGlow restaurant and bar. Your ride to the airport will be waiting in the morning. ¡Hasta la próxima!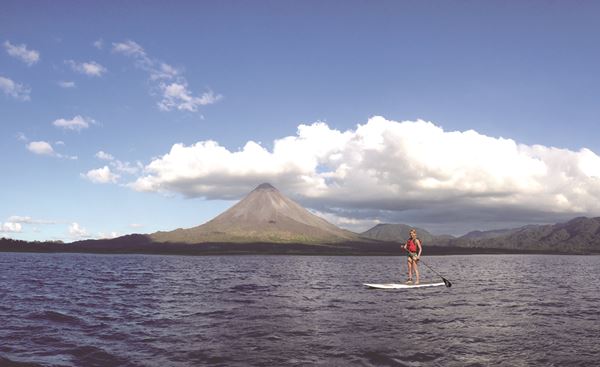 But surely all this is really expensive? At $1,075, it's surprisingly accessible. Breakfast is complimentary every day, and on some days lunch and dinner are included. If you'd like to try to piece this package together yourself for less, give it a try.
Or you could always just hitchhike, eat fruit you find on trees and sleep on the beach….