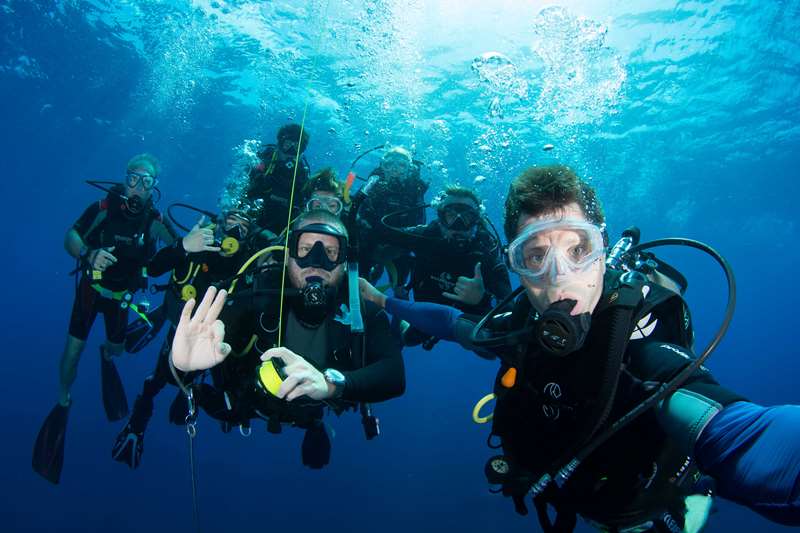 Featured Adventure – Scuba Diving in Costa Rica
Bordered by the Pacific Ocean and the Caribbean Sea in the heart of Central America, Costa Rica is a prime ecotourism destination and boasts some of the world's most biologically diverse habitats—including rainforest, volcano and mangrove ecosystems. While the Caribbean coast has yet to develop a serious scuba diving infrastructure, diving off the Pacific Coast has become extremely popular. The underwater volcanic rock formations and pinnacles are home to small hard corals, sponges and gorgonians.
Guanacaste, the giant bay off the northwest coast, provides access to Las Catalinas, Playa Coco and Bat Islands which are key dive areas. One of the big draws to this area is the likelihood of seeing giant manta rays over the winter months. The southern area is a protected biological reserve and offers the chance to see rays, turtles, and white-yip reef sharks. Plus, you'll see large schools of fish swimming overhead on almost every dive. You can also get out to Cocos Island off the Pacific coast to dive with its hammerhead shark schools, whale sharks and manta rays. This requires some serious commitment as you need to get onto a live-aboard to make this happen and dig deep into those pockets.
Catalinas Islands – The unique underwater structure is what draws divers to these islands. The area boasts huge volcanic rock formations within everybody's recreational limits, with the opportunity to see white-tip reef sharks, devil rays, eagle rays and seasonally the giant manta Ray and humpback whale. In between those treats, the rommon Latin grunts and big eye jacks will surround you. Bat Islands – What better way to get your heart racing then by diving with bull sharks? You'll also have the chance to spot other large pelagics like manta rays, sailfish and the occasional whale or dolphin. This dive site drops to more than 30 meters/100 feet and can have a strong current. It is best suited for advanced divers.
Caño Island – Expect to find a large number of reef fish species on the pinnacles and coral reef that surround the island. You'll also likely see bigger creatures such as manta rays, free-swimming moray eels and sharks. Mammals, such as orcas, dolphins, humpback and pilot whales are known to cruise through.
Cocos Island – Because reaching Cocos Island National Marine Park requires a lengthy boat trip, most divers visit on a live-aboard dive vessel. Besides the pelagic species such as marlin, sailfish, rays and sharks that are drawn to the area, you'll find more than 25 endemic fish species, including the red-lipped batfish. Whales also use the Cocos Island as a place to congregate and calve.
Depending on the area you dive, visibility usually ranges from 10-40 meters/30-120 feet. May through September generally brings the best visibility with blue, clean and warm conditions. This is by far the best time of year to dive as cooler less inviting waters occupy the region from October to April.
Water temperatures generally range from 26-29ºC/78- 84ºF. From December through March, cooler currents bring water temperatures as low as 19ºC/68ºF along with large animals such as humpback whales, pilot whales, giant manta rays, whale sharks, and more.
Diving in Costa Rica for the most part is good all year. Seasoned divers will appreciate that you cannot have perfect conditions every day and like just about anywhere in the world, Costa Rica's Pacific Coast at times can be home to poor visibility and cooler that preferred water temperatures.
In these waters you'll find eagle and devil rays, turtles, manta rays, white-tip reef sharks, bull sharks, enormous schools of both grunts and jacks, parrotfish, moray eels, octopus, dolphin and more. During whale season (July to September) you can hear the haunting songs of humpback and pilot whales underwater.
Most dive centers offer 2 dives in the morning wrapping up their activities by early afternoon. You can find some operators that are willing to make 3 dives in a day, but they are not common. Diving with nitrox is still in its infancy in Costa Rica and you will find only a few centers with nitrox or other mixed gas options.
In the still developing diving Industry in Costa Rica there is an inconsistency in standards from one dive center to another. If you are a certified diver or one looking to dive for the first time you need to follow a simple rule of thumb: Look for a PADI-certified dive center. This should signal that minimum diving industry standards are followed and the diving equipment and staff should be reliable.
There are still quite a few uncertified centers in Costa Rica, so steer clear of those. Also, there is plethora of street vendors and re-sellers in the touristic regions of Costa Rica. These vendors will sell you an experience provided by a dive center to pocket a little commission. This means that you could get passed from pillar to post before you end up at your dive center and you never really know who the actual service provider is until the day of your dive. The best thing to do is always deal directly with the dive center and you will get exactly what you want.
The good news is that the diving industry is growing in Costa Rica and more PADI Centers are opening each year. Those that have been around for a few years are becoming 5-Star and PADI Instructor Development Centers.
So, whether you are a certified diver, looking to try this sport for the first time or pursuing further diving education and even thinking of becoming a diving professional, Costa Rica has it all.
Here are a few premier dive centers in Costa rica
Scuba Dive Costa Rica is located in Playa Flamingo and an office in Tamarindo.
SDCR is a PADI Dive Center and dive daily to Las Catalinas Islands which is home to some of the best diving in the area. SDCR offers range of PADI courses including Discover Scuba experiences for those without a certification. SDCR has all levels of training up to instructor.
Contact Scuba Dive Costa Rica:
Playa Flamingo
Tel: +506 8602 6581
Address: Local #B2, Flamingo Plaza, Playa Flamingo
Email: Info@scubadivecostarica.cr
Website: www.scubadivecostarica.cr
Tamarindo
Tel: +506 8602 6581
Address: Local #B8, Plaza Conchal, Tamarindo
Email: Info@scubadivecostarica.cr
Website: www.scubadivecostarica.cr
Oceans Unlimited is a 5 star PADI IDC and technical dive center located on the central pacific coast of Costa Rica in Manuel Antonio. They have a new shop location in the Marina Pez Vela Quepos. For visiting scuba divers they offer local dive trips around the Manuel Antonio National Park as well as full day trips to Caño Island. Manuel Antonio Park is the location for a half day dive tour: offering various dive sites for all levels of divers . They offer a comprehensive selection of scuba dive training in Costa Rica specializing in professional courses including divemaster and instructor programs, as well as full resort training and technical dive programs. They also offer a first time jump in with a Discover Scuba Dive experience.
Contact Oceans Unlimited:
Puntarenas, Quepos
Tel: +506 2519 9544
Address: Local #209, Marina Pez Vela, Provincia de Puntarenas, Quepos
Email: Dive@scubadivingcostarica.com
Website: www.scubadivingcostarica.com
Tell them you heard about them in the HOWLER Magazine