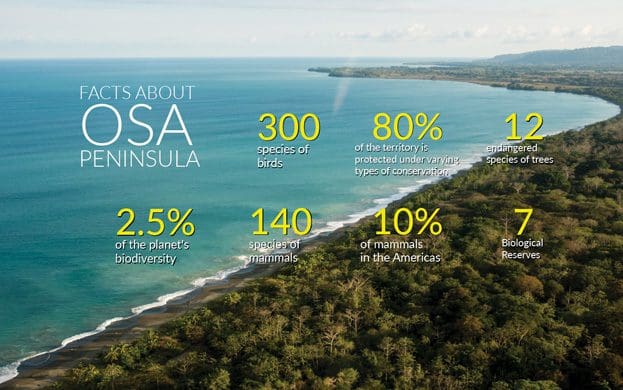 Osa Peninsula: Corcovado National Park, Puerto Jiménez, Drake Bay, Matapalo
The storied Osa Peninsula, includes Puerto Jiménez, Drake Bay, Matapalo and Golfo Dulce, but its primary attraction is Corcovado National Park. The Osa Penisula, one-third covered by Corcovado National Park, is the wildest place in Costa Rica that is actually accessible to visitors. It deserves most of the soubriquets it has gained over the years: Costa Rica's Wild West, its final frontier, or as National Geographic famously described Corcovado, "the most biologically intense place on earth."
Osa Peninsula: Where the Wild Things Are
My brother, Paul, first visited the Osa in 1985 and has lived there nearly full-time since 2000. A cousin of mine built a house here around 1991, my father moved here in 1993, and I first visited in 1994. Paul started an Internet cafe, travel agency and real-estate company in Puerto Jiménez, where he lived in a beachfront house with a swimming pool on the roof that became a home away from home for my entire family.
Over a period of 24 years I got to know the Osa well, flying into the national park and hiking out, going waterfall rappelling and ziplining, riding horses and doing a chocolate tour, staying at most of the major lodges and nearly drowning in a rookie surfing mishap.
This is not Costa Rica "lite" — this is a real wilderness. But for dedicated ecotourists, the Osa is as good as it gets, and not just in Costa Rica. There are few places in the world, even in the heart of Africa, that could compete with the Osa for sheer biodiversity, lush tropical beauty and extreme adventure by land or by sea.
Corcovado is invariably
called the "crown jewel"
of Costa Rica's national park system.
Corcovado National Park
The Osa's primary attraction is Corcovado National Park, Costa Rica's largest terrestrial national park, at 164 sq. mi. (The La Amistad International Peace Park, which is shared by Costa Rica and Panama, is much larger, but it's almost completely inaccessible to tourism. The Las Baulas National Marine Park also protects a larger area, though it's mostly in the ocean.)
The rugged Corcovado is invariably called the "crown jewel" of Costa Rica's national park system because of its incredible biodiversity, which is in part a result of its remoteness from civilization. There are no roads in the park, so the only way to get in is by foot, on horseback, by boat or by air. There is a small landing strip at Sirena, the ranger station in the middle of the park, where accommodations and food are available.
I've been to Corcovado a half-dozen times and was always amazed by how much wildlife I saw — tapirs, sloths, peccaries, coatis, agoutis, anteaters, spider monkeys, squirrel monkeys, howler monkeys, raccoons, squirrels and bats, to name some of the mammals. Most of these are well habituated to human beings and don't mind if you get too close. Exotic birds also abound, including toucans, scarlet macaws, trogons, antshrikes, hawks, egrets, manakins, woodcreepers and herons. There's also no shortage of crocodiles, lizards, snakes, spiders and of course insects. I even saw a bull shark once, loitering at the mouth of the Sirena River waiting for his lunch to swim to him. (Sharks and crocodiles, in fact, can make crossing rivers at high tide dangerous if you're hiking along the beach.)
South of Corcovado, there are several ecolodges catering to nature lovers and adventure seekers, clustered around the town of Carate and farther south along the unpaved coastal road. Most of these come by their eco-credentials honestly — air conditioning and television are taboo, Wi-Fi is rationed and carbon footprints are small.
The dirt parking lot between the village of Carate and Corcovado park is possibly the most remote place you can drive to in Costa Rica from the capital. It's literally where the road ends.
Drake Bay
North of Corcovado, on the "neck" at the top of the peninsula, is the little village of Drake Bay, so named because Sir Francis Drake is said to have sailed into it in 1579. This beautiful bay is home to a small town, properly named Agujitas, that relies almost entirely on tourism. Driving here requires a 4×4 vehicle and a spine of steel, as there are several river crossings and one very scary bridge with two planks for your tires. In the rainy season driving can be impossible, but the town does have a small landing strip. Probably most visitors arrive by boat from the inland town of Sierpe, south of Palmar Sur, via the Sierpe River.
There are some beautiful ecolodges south of town, most of them also reached by boat. All offer boat tours to Corcovado and snorkeling or scuba diving trips to Isla del Caño, an uninhabited island once used as a burial ground by indigenous groups. This island has a great beach, and the snorkeling and diving here are among Costa Rica's best.
Matapalo
Surely the Osa doesn't offer all this and surfing too? Hold onto your rash guard, because the Matapalo region at the southern tip of the peninsula has some of the best surf in the country. There are strong right breaks at Playa Matapalo, Backwash Bay and Pan Dulce — the latter is a bit gentler and a good place to take a surfing lesson.
By the way: Be careful! Knowing nothing about surfing, I once paddled out into the ocean with my 12-year-old son on one surfboard, launched him onto a wave, and then thought I would die swallowing water from the pounding waves that quickly overwhelmed me. I survived when I ducked under and found that I could touch bottom and hop/swim my way back to safety. Drowning is shockingly common in Costa Rica.
Matapalo and its outskirts are home to a string of ritzy ecolodges, including the luxurious Lapa Ríos and Bosque del Cabo. There are multiple other lodges and vacation rental homes along Matapalo Beach Road, a rutted, rocky track that is not for the faint of car.
At the end of this road you can take a free or guided hike through primary and secondary rain forest to the 110-foot King Louis Waterfall. A company called Everyday Adventures (also known as "Psycho Tours") offers waterfall rappelling, a thrilling and scary adventure. You can also strap on a harness and helmet and climb a giant matapalo tree, ring a cowbell at the top, and then do a terrifying Tarzan swing to the ground.
The wildlife viewing and birdwatching here are sublime, with monkeys frequently spotted swinging through the trees. One tour guide here told that on a random night hike with his girlfriend, he saw a tapir, a pack of peccaries and a couple of giant rodents called pacas fighting for turf.
Matapalo is a town with no town there, lacking stores or other services, though there is one restaurant nearby, the popular Buena Esperanza. For this reason most of the lodges here are all-inclusives, but if you rent a vacation home here, you should buy all your food and drinks in Puerto Jiménez.
Osa Peninsula: The wildlife viewing and
birdwatching here are sublime.
Golfo Dulce
The Golfo Dulce ("Sweet Gulf") got its name from the large number of rivers that empty into it, reducing its salinity. ("Osa," in case you're wondering, means "female bear" but apparently got its name from a native chief, as there are no bears in the Osa.)
The most enduring myth about the Golfo Dulce, courtesy of ocean explorer Jacques Cousteau, is that it's one of a handful of "tropical fjords" in the world. This is totally false, as a fjord is a deep, narrow inlet formed by glaciation, and the Golfo Dulce was formed by tectonic uplift. But that doesn't stop every tour guide and travel writer (and Wikipedia) from repeating Cousteau's gaffe like gospel.
The gulf is unquestionably deep, over 200 meters in places, and is a popular hangout for dolphins, whales and whale sharks. Boat tours of the gulf often feature sightings of these breathtaking creatures, in addition to snorkeling and visits to the Osa Wildlife Sanctuary, an animal rescue center with a cool menagerie of injured and orphaned animals.
Inshore fishing is another popular activity in the gulf, with opportunities to catch roosterfish, yellowfin tuna, snappers, groupers and jacks. You can also take a boat out into the Pacific to hook a marlin or swordfish.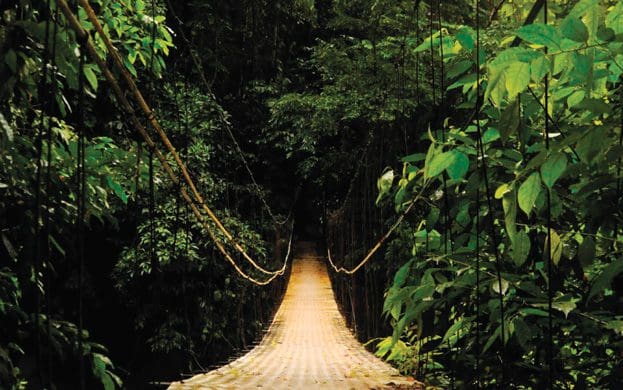 Puerto Jiménez
Puerto Jiménez, the Osa's biggest town, thrives on supporting all of the ecotourism mentioned above. There are banks, grocery stores, pharmacies, clothing stores, souvenir shops, restaurants, bars, a gas station, a bus station and a small airport.
Lodging here ranges from very cheap hostels in the middle of town to considerably pricier accommodations on the outskirts. The Crocodile Bay Resort, a top fishing lodge, has long been working on its ambition of building a world-class marina anchored by a Hilton hotel, the Botanika Osa Collection, Curio Collection by Hilton. Travel agencies here offer tours to any of the places mentioned, and can line up required permits and guides to visit Corcovado. You can also take a kayaking tour into the abundant mangroves and out onto the ocean. I once saw a mother dolphin and her calf swimming in a lagoon while I was kayaking in the mangroves.
Puerto Jiménez can be a fun place to stay, eat, party and stock up on supplies, though the town has a few rough edges. Yet it's also full of pleasant surprises, including raucous scarlet macaws that are so numerous they're practically pests. And every day at sunset, hundreds of green parrots can be seen and heard flocking to their nests in the mangroves.
The Osa is not close, it's not convenient, it's not easy and it's not Manuel Antonio. But if you're looking to experience Costa Rica at its wildest, and you're willing to invest some sweat equity in your adventure, the Osa is the place to be.