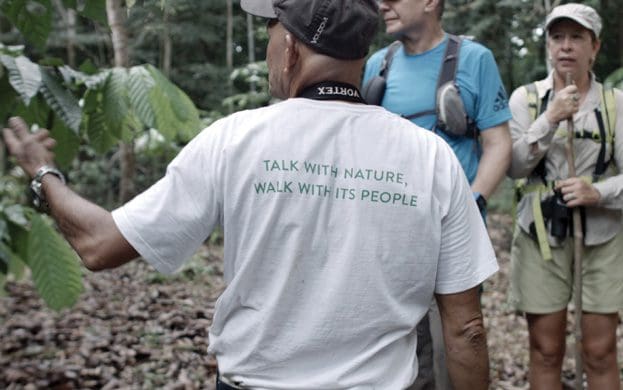 Caminos de Osa: Costa Rica Tourism That Helps Costa Ricans
Foreign, well-to-do business owners tend to dominate the tourism landscape in the Osa, but an innovative project called Caminos de Osa is trying to change that by empowering local "micro-entrepreneurs" to claim a bigger piece of the pie. Their nature walk and rural tourism is the true deal of ecotourism.
Launched in 2015, Caminos de Osa offers tourists a multi-day immersion in the authentic Costa Rica with visits to small communities, nature tours led by local guides, a sampling of traditional foods and humble lodging, sometimes in the homes of local families.
80 percent of the proceeds
go into the pockets of local families –
Tourism that helps Costa Ricans
"Caminos de Osa is an association of tourism entrepreneurs to develop sustainable tourism as a tool to achieve sustainable development in the region and to improve the lives of each one of the members," said Pablo Marín, executive director of the organization.
He noted that much of the Osa is untouchable national parkland or forest reserve, limiting the opportunities for local families to better themselves. Caminos de Osa trains rural people of modest means to tap the potential of tourism to earn an income that would otherwise be out of reach to them.

Four primary tours are offered, all of them lasting four or five days, with all lodging, meals, tours and guides included for one price. This rural tourism project is a unique offer in Costa Rica.
Camino del Agua, focused on water, takes visitors from Sierpe to Estero Guerra to Drake Bay to Isla del Caño, spending nights with local families or in small lodges. It includes hikes, horseback riding, cultural tours and adventure activities.
Camino de la Selva, focused on the jungle, visits the communities of Dos Brazos del Río Tigre and La Tarde, on the border of Corcovado National Park. It includes hiking, horseback riding, a night tour to see creepy-crawlies, a nature walk to a waterfall and a kayak tour of the Golfo Dulce.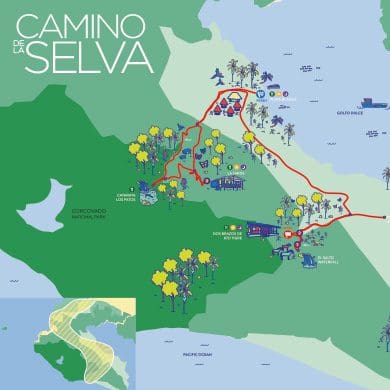 The strenuous, five-day Camino del Oro, focused on gold, starts with a tour of the museum at Finca 6 near Sierpe that showcases pre-Colombian stone spheres. There's a boat tour in the nearby mangroves, a nature walk in the forest, and an artisanal gold tour that shows how miners extract gold from rivers, plus a visit to an indigenous community, a kayak tour and a horseback ride. It concludes with an all-day hike from Dos Brazos to Carate on the Pacific coast, where guests stay at the elegant Luna Lodge.
And there's the Osa Elemental, which involves riding in a 4×4 more than walking. It includes a visit to Dos Brazos, the El Tigre entrance to Corcovado, an indigenous reserve, Playa Blanca and Rancho Quemado, with a gold tour, a demonstration of how to make products from sugar cane and a horseback ride to a waterfall.
Prices range from $740 per person for Camino de la Selva to $1,362 per person for Camino del Oro for a minimum of two people. Lower prices are offered for larger groups. Marín said 80 percent of the proceeds go into the pockets of local families.
Caminos de Osa is supported by Stanford University, Fundación Crusa, the Inter- American Development Bank and SINAC, the National System of Conservation Areas.
Speaking of the providers who host these tours, Marín said many of them are former gold miners in places where gold mining is now against the law.
"We try to get them out of illegal activity and get involved in tourism as a more responsible way to earn a living," he said. "Some have managed to go to university, and some don't even know how to read. All of them are offered the same support."
Caminos de Osa is ecotourism at its best and truly helps Costa Ricans.