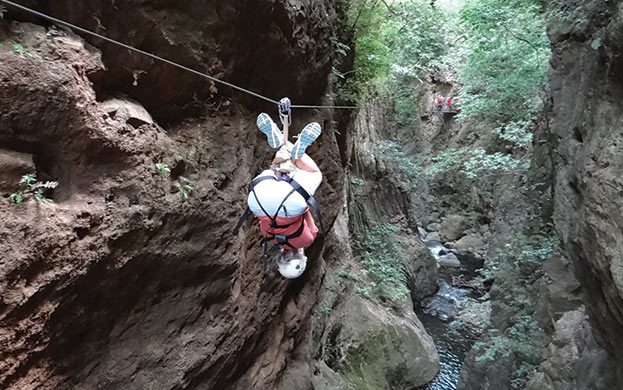 Rincón de la Vieja: Really Hot Attractions
Rincón de la Vieja things to do: Rincón de la Vieja has been called Costa Rica's Yellowstone because of its geysers, boiling mud pots, fumaroles and hot springs. The 6,286-foot volcano is the centerpiece of Rincón de la Vieja National Park, which offers fascinating walking trails and beautiful waterfalls.
Rincón del la Vieja has been called
Costa Rica's Yellowstone.
Book a tour here to enjoy this experience
According to legend, a princess named Curubandá, daughter of the chief of the Curubandé tribe, fell in love with the son of the chief of a rival tribe named Mixcoac. Her father put an end to this forbidden love by throwing Mixcoac into the boiling crater of the largest volcano in Guanacaste.
Desolate, the princess moved onto the slopes of the volcano and became a hermit. Living out her life alone, she learned about natural cures and became a healer, sought out by pilgrims with physical ailments. Thus the volcano became known as Rincón de la Vieja — meaning "corner of the old woman," or perhaps "the hag's lair."
The park is divided into two sectors, Santa María and Las Pailas ("the cauldrons"). Just 15 miles northeast of Liberia, Las Pailas offers an easy, shady, 2.5-mile loop trail where you can see lots of steaming volcanic features up close (but don't get too close); Rincón de la Vieja volcano.
If you're feeling really energetic, take the 6-mile round-trip hike to La Cangreja Waterfall, a 130-foot beauty with a sky-blue pool below.
Or if you'd like to see a really pretty cascada without the long hike, there's the 82-foot Oropendola Waterfall, a short walk from the parking lot at the Las Pailas entrance. Either of these falls (and there are two others) is a great place to take a cool dip.
This being Costa Rica, of course there are multiple resorts scattered around the volcano that offer all kinds of adventures.
Among the best of these is the nearby Hacienda Guachipelín, a classy hotel (and a working horse and cattle ranch) with an adventure center that offers ziplining, canyoning, rock climbing, whitewater tubing, horseback riding, hot springs and mud baths.
Most of the same adventures are on offer farther afield at Borinquen Mountain Resort & Spa, Buena Vista Lodge & Adventure Center, Cañon de la Vieja Lodge and Blue River Resort & Hot Springs. The latter has an amazing Dino Park with life-size animatronic dinosaurs (made in China) that move, grunt, snort and roar.
Here is a link to more information about Rincon de la Vieja National Park.