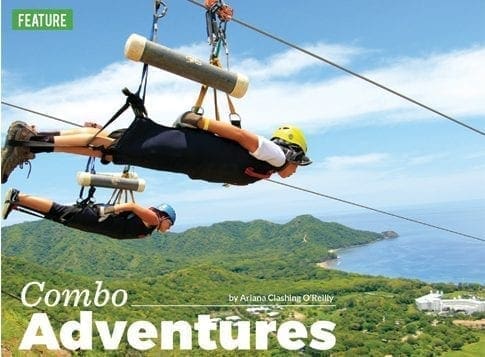 Combo Adventure Parks
Costa Rica has a couple 'must-do' activities: zip lining and wildlife spotting. Most persons who come to visit Costa Rica have only a short time to make the most of all Costa Rica has to offer. That means maximizing the time between adrenaline and relaxation, and splitting time spent tanning on the beach with exploring rainforests.
Luckily, you can do both and more on the same day, while accommodating the different inclinations that your travel group may have.
Adventure parks are located throughout the country. Most are not more than 30 minutes outside a major beachside or inland town; some are easy to get to via rental car or arranged transport and some… well it is Costa Rica, where the wheels on the bus go bump, bump, bump. Places like Monteverde, Arenal, Jacó, Manuel Antonio and Playas del Coco are hubs of activity that showcase different microclimates.

Combo tours at the various adventure parks provide a selection of activities that will fit your schedule. Most adventure parks offer the flexibility of single activities or combos of multiple activities for a discounted rate. Being in more remote areas, lunch and refreshments tend to be available and transport is easily arranged.
Costa Rica is well known for its innovative conservation practices that have been responsible for the reforestation of 70% of its land. In the last 30 years, there has been a concerted effort to link conservation to economic growth. This is especially evident with the adventure parks across Costa Rica. Parks cover hundreds of acres, and less than 10% of that land has structures. Through trails and ziplines, many waterfalls, canyons and tree tops of primary and secondary rainforests can be explored.
Parks offer a notable economic benefit by employing large numbers of locals in the specific areas. They showcase the best the country has to offer: nature, friendliness and a high level of professionalism. With tourism products and services that highlight the natural beauty and biodiversity of the country, ventures like the adventure parks have helped elevate communities especially outside the urban cities of the capital.
The challenge may be how to choose which park to go to. Ziplining is at the core of each adventure park. Mixing and matching that with a range of other activities depends on what Costa Rica list of activities and destinations you'd like to capture in your group and selfie pics.
As a sampling of the various activities available, here's one combo package from each of four prime tourist areas:

Diamante Eco-Adventure Park
Playa Matapalo, Guanacaste
A 20-minute drive from Playas del Coco, Diamante is the only adventure park in Costa Rica with ziplines overlooking the beach.
Diamante is the largest adventure park in Guanacaste. Two particular features of this adventure park make this a stand-out experience: the zipline and the animal sanctuary.
Discovery Pass: Animal Sanctuary $38
Aerial Pass: Zipline tour: $68
Adventure: Animals, Zipline, Beach & Lunch $98;
Add ons: Horseback (1hr $48) + ATV ($58)
506-2105-5200
http://diamanteecoadventurepark.com/en
There's a Superman zipline which you can enjoy side by side with your travel buddy. Whistling down towards the clear blue seas, this is one of the most exciting rides in Costa Rica. As if that isn't enough adrenaline, a series of short ziplines takes you to free-fall quick-jump, tarzan swing and a walk across a crocodile pond via the a hanging bridge. Taking the tone down a notch is the animal sanctuary. For children this is a highlight as the large enclosure of wildcats, monkeys and sloths are a treat.
Another added feature since being by the ocean, Diamante has offers something unique for combo adventures; beach activities that include Stand-up paddling and Kayaking.
Diamante also offers transportation by boat, the Diamante Express, along the stunning north Pacific coastline. With pick up points from Tamarindo to Playas del Coco, it is an add-on that concludes your day in bliss.
More Diamante Articles
---
Being Green Matters for Diamante Eco Adventure Park
The Full Diamante
Costa Rica Animal Sanctuaries 



Ocean Ranch Park
Jaco, Puntarenas
A 15-minute drive south of Jacó, this is one of easiest beaches to get to from San Jose.
On a four-activity combo you start the Ocean Ranch Park experience with a 90-minute horse ride to one of the five waterfalls on the property. With harness and ropes you rappel down the 180m long waterfall. A thrilling endeavour, it is immediately followed up with a series of ziplines, the final one flying you above the private river running through the property. After a beer and a meal at the Rancho, instead of jumping and flying, you are treated to an afternoon of four-wheeled ATV exploration.
Visualizing and appreciating 850 acres isn't easy. It just sounds large. This is where the ATVs come in. It is not just a joy ride; it's a way to really get a sense of the park and how carefully planned it is. The sustainability and wildlife protection of the park is of utmost importance to the owner, Greg Jaquez, who has made a conscious effort to build a "well-planned community that offers all the beauty and abundance of nature that Costa Rica has to offer."
To that end, the park even offers volunteering opportunities for those wanting to assist with the park's on-site renewable energy generation.
And you are not done there with Ocean Ranch Park, the have other outstanding activities which combo adventure parks usually don't offer: fishing, catamaran and crocodile tours are also available.

Selvatura Park
Monteverde, Puntarenas
A 20-minute drive from Santa Elena where most accommodation in the Monteverde area is located.
The Monteverde cloud forest is known as one as one of seven natural wonders of Costa Rica. It's set at 1,400 metres above sea level, so bring a jacket and walking shoes. Perpetually covered in misty fog, there is a sense of magic and peace in this area of Costa Rica.
On most zipline tours, you have to figure out how to brake at the end of the line so you don't ram into the people standing on the landing platform. Not so with this one! The guides here take care of all of that for you, using a pulley system to slow you down upon your platform approach.
The enormous 26,000-acre Monteverde Cloud Forest Reserve holds the largest number of orchids in the world and 53 species of amphibians. For this reason, the Selvatura Park focuses its tours on educating visitors about the range of wildlife here. The iconic Monteverde hanging bridges offer spectacular bird watching with the assistance of guides who have dedicated their lives to the forest's conservation.
Combo Passes
Xtreme: Superman & Zipline ($75)
Rainforest Adventure: Canopy Zipline, Hummingbird Garden, Butterfly Gardens & Lunch ($116)
Eco-Adventure: Hanging Bridges, Hummingbird Garden, Butterfly Garden & Lunch ($66)
Selvatura Nature Package: Hanging Bridges, Butterfly & Insect Gardens & Lunch ($91)
506-2645-5929
http://www.selvatura.com/
Combo Passes – Arenal
Zipline & Aerial Tram & Hanging Bridges ($99)
Whitewater Tubing & Zipline ($127)
Zipline & Aerial Tram & Canyoning circuit & Lunch ($144)
Hanging Bridges & Aerial Tram ($67)
(506) 2479 4100
http://skyadventures.travel/

Sky Adventures Arenal & Monteverde
La Fortuna, Arenal
This dynamic adventure park is a 35-minute drive from the center of La Fortuna. La Fortuna is associated with hot springs and views of the Arenal Volcano.
Sky Adventures is one of the largest adventure park operators in Costa Rica with a park in Monteverde and one in Arenal. The Arenal selection of activities is adrenaline pumping and unlike other adventure parks, provides a whitewater experience. As you move from zipline to zipline you can see the Arenal Volcano on a clear day.
The aerial trams, Sky Trams, leisurely take you up to the zipline and rope-based circuits. Think ski lift but with green canopies instead of powdery snow. After a day out on any of the Sky Adventure combos, a soak in the hot springs of La Fortuna will be a welcome treat.
If you are seeking a more water-based thrill, Sky Adventures also has a water based activity center on Lake Arenal where if you have the guts for it, you can try out the futuristic flyboard.