Adaptive Surfing and Stance ISA World Adaptive Championships
Adaptive Surfing, Costa Rica's home team is set to lead the world in La Jolla for the Stance ISA World Adaptive Championships: From the start, the sport of surfing has been inclusive. Anybody with a desire to grab a board and ride a wave could do it. These days, in Costa Rica, there's a new segment of athletes going for the stoke; men and women with disabilities — physical or emotional — have overcome their limitations and are surfing.
"We adapt the
surfing, not the person."
Five years ago, inspired by a dear friend that was disabled in a car accident, Jacó pastor and surf coach Gustavo Corrales organized the Adaptive Surf Association of Costa Rica. He invited people with developmental brain issues, amputees and sensorial challenges to be instructed in the sport. In addition, these surfers were given the opportunity to compete on the national Adaptive Surf team, facing others like them at International Surfing Association (ISA) games outside the country.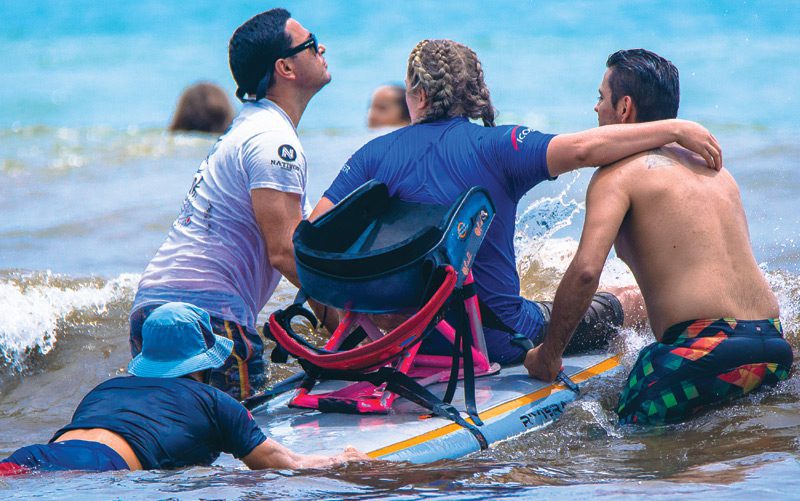 "They are called 'Sons of the Impossible,'" said Corrales of his athletes. "Our association is not just for the competing, it's also a fun way to engage in therapy. We adapt the surfing, not the person."
The first "team" was simply Corrales' friend Ismael Araya, himself left in a wheelchair after an accident. In 2015, the ISA created the first World Adaptive Surfing Championship.With the help of the Costa Rica Federation of Surf, Araya went to La Jolla, California with his specially crafted surfboard.
Corrales said, "I felt grateful to God and committed to give shape to a phrase that Ismael Araya said during the tournament, which was 'I hope to bring hope'."
Upon their return to Costa Rica, Corrales managed to form a team of five athletes including Araya. The others were Ronald Faerron, John Barrantes, Juan Manuel Camacho and Mathius Vanderhooght, a group in which he also trained in competitive surfing.
"I met Ronald, who has an amputation in the left leg, in Manuel Antonio at a master tournament of the Costa Rica Federation of Surf," Corrales recounted. "John, who has multiple injuries in the spine and legs, and I met in Puerto Carrillo, Hojancha, at the wedding of his cousin. I met Juan, a wheelchair user, in Jacó through Ismael, and Mathius, I had known him for a long time from a tournament at Playa Cedros, Montezuma."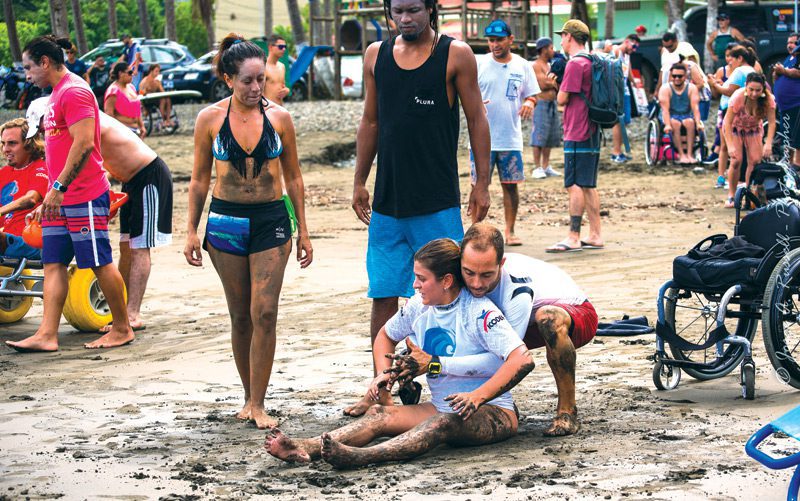 That year, at the 2016 World Cup, again in La Jolla, Costa Rica's national Adaptive Surfing team finished 8th out of 22 teams. Vanderhooght, who has a disease that diminishes the strength and mobility of his muscles, won a copper medal in Assisted Surfing, with a coach in the water and another near the shore.
The following year, the first adaptive female surfer joined the national team. Natalia Vindas, surfing on her belly due to a spinal cord injury, brought home the bronze medal for finishing 3rd in the A4 category of the 2017 championships, again in La Jolla. The Costa Rican team, which now also included the first blind competitive surfer, Henry Martinez, placed 7th among the 28 participating countries. 
The Costa Rican Federation of Surf now has enough surfers to host a Circuito Nacional of Adaptive Surfing event on home soil. And, once again, they will send a team to La Jolla December 12 to 16 for the Stance ISA World Adaptive Championships. Corrales hopes the team will be in the top 3 ranking when all is said and done there.
It should be noted that Corrales does all this work with the adapted surfers on his own time, without pay.
"I have people with disabilities in my family, and to me they are just normal," he said. "They inspire me, and this keeps me happy to help them enjoy their lives. They are happy. I want these surfers to be world champions, and I want to create a platform through the Adapted Surfing Association of Costa Rica to create future generations of high performance adapted trainers and surfers. I also want to create greater accessibility to beaches and provide surf therapy to many people. Everybody has a purpose in life, and this project is my purpose."
Follow the Costa Rica Adaptive Surf  Team at the Stance ISA World Adaptive Championships December 12-16, 2018 in La Jolla, California online at www.isasurf.org/events/isa-world-adaptive-surfing-championship/