Surf Profile – Kai and Teo Gale Grani
Surf Profile – Kai and Teo Gale Grani.  With an award-winning film producer father from Argentina, and a television and events producer mother from Italy, one has to wonder how two brothers raised in Bocas del Toro, Panama would become competitive surfers at such a young age. 
Actually, it makes sense because Kai and Teo Gale Grani were heavily influenced by the recreational surfing of their father, who from the time the boys were five and six years old, respectively, would wake them up each morning to go with him into the waves. In total, during the family's time in Bocas del Toro, their parents owned and operated four restaurants, one hotel and a surf shop.
They free surf and train regularly
in Indonesia, but have also logged water time in Tahiti, California, Portugal, Italy and Nicaragua
.
Kai has gone on to amass an impressive resume that includes Panama national titles for Grom, Under 10 and Under 12, an Under 14 silver medal at the 2016 Central American games, and appearances as a Panamanian team member in the World Junior Surfing Games in California and Portugal. He was also the first from Panama to win a category here in Costa Rica at the Circuito Nacional de Surf. Volcom not only picked Kai up to sponsor, but also sent the then-12-year-old to its house on Hawaii's North Shore to be the first Panamanian to surf Pipeline.
Meanwhile, Teo has been gathering his own surfing accolades. In Panama he was the Under 10 champion two years in a row, as well as the Under 12 winner, and earned a bronze at the 2016 Central American  Games. Also a Volcom team member, Teo now participates in Costa Rica's Circuito Nacional.
Today, both boys live with their parents and other brother, Luc, at Hacienda Pinilla near Avellanas in Costa Rica. They free surf and train regularly in Indonesia, but have also logged water time in Tahiti, California, Portugal, Italy, Nicaragua, and of course at home in Costa Rica's various waves.
"Right now my ultimate goal for surfing is to have the most fun possible, to enjoy every moment," said Kai. "I want to travel the world meeting new people and getting to know new surf spots."
Teo added, "We get awesome support from our family. I've always been a very competitive person. I want to become the best surfer I can, but be different than the others."
In this country, both boys have taken advantage of the surfing opportunities within reach.
"I actually prefer living in Costa Rica because there are more spots to surf and it's very different than Panama," explained Kai. "Also now with our new board sponsor being Cheboards, we go to the shop and hang out with JD. We  share our ideas on how to make our next surfboard, then see him just go do it. It's just super cool."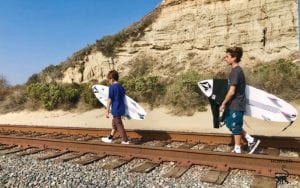 Teo steps out by making music as well. He has written, sung and produced a few songs that can be found on YouTube under Teo Gale. But as you'd expect, outside of school at CRIA, he loves to surf, particularly the contests.
All three brothers are very well rounded. Together, they have created a t-shirt business called Mouthless and are learning about implementing design ideas, product quality, producing and selling. A portion of the proceeds go to Boca's Asilo, a home for the elderly in Bocas del Toros.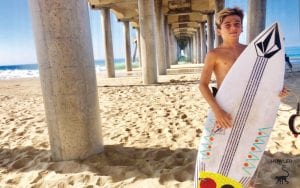 Athlete:  Kai Gale Grani
Sport: Surfing
Age: 14
About: Surfs with a mix of innovation and power
Athlete:  Teo Gale Grani
Sport: Surfing
Age: 13
About: Lots of flow with beautiful lines in his surfing
Sponsors:
Volcom, Cheboards, Bocas del Toro Surf Shops