Surf Profile – Brisa Hennessy
When Brisa Hennessy dipped her toes and board in the waters of Queensland, Australia last month, she accomplished something no Tico — male or female — has ever done. She is the first Costa Rican to compete on the World Surf League's (WSL) Championship Tour (CT). Before that first date, for the Boost Mobile Pro Gold Coast, Hennessy had ended up in the Top 7 of the Qualifying Series circuit last year. A double qualification by another surfer moved her to number 6 and a rookie slot for the 2019 CT.
Now, she is surfing among the best, including world title holder Stephanie Gilmore (Australia), as well as heavyweights Lakey Peterson (United States) and Carissa Moore (Hawaii), to name a few. In Queensland, Hennessy beat Hawaiian royalty Coco Ho. Brisa admits that she's admired these women her whole life and couldn't wait to be among them.
'To have my name, number and the Costa Rican flag
on my jersey, getting to surf against my heroes — it still feels pretty surreal.'
"I look up to Coco Ho and Paige Hareb a lot and it was pretty scary," she explained. "Everyone is unique and inspiring in so many different ways, which has made me grow as a surfer and person. I needed to bring out my surfing and get the best waves."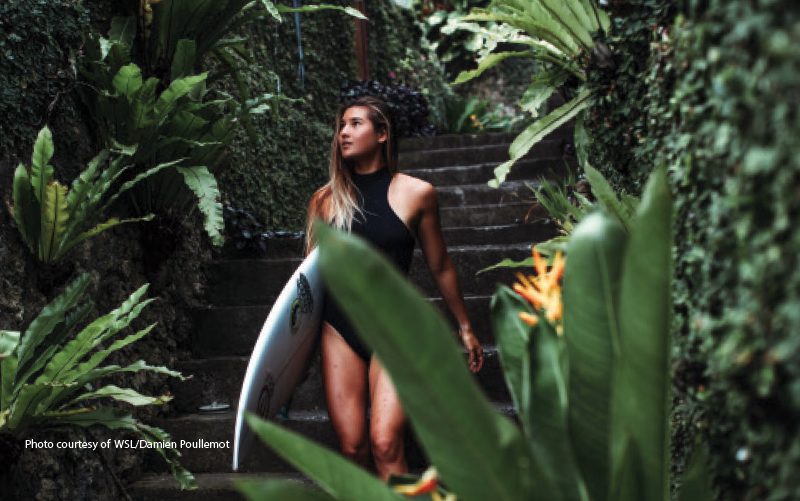 To get a heat win in any CT event does a lot for a surfer's confidence, Brisa added. "It doesn't happen too often for a rookie, so I will take it. To have my name, number and the Costa Rican flag on my jersey, getting to surf against my heroes — it still feels pretty surreal. It was a highlight to make round 2 heat and seeing the Costa Rican flag flown for the first time ever on the WSL world stage."
Hennessy's outstanding skills as a surfer have garnered attention at the WSL's highest level. Deputy Commissioner Jessi Miley-Dyer raved, "It's exciting to see Brisa join the Championship Tour after such a successful Pro Junior and Qualifying Series career. Having her as the first Costa Rican to join the Tour is incredible. The way Brisa carries herself both in and out of the water is exceptional, and she's already proved herself against the world's best at events."
Native pride
The CT is just the latest in a career of accolades that has included a gold as an International Surfing Association Junior World Champion from Hawaii, where Hennessy lived for years. Yet, it's her new role for Costa Rica that is her favorite badge of honor.
"I was born in Matapalo on the Osa Peninsula. My parents ran a surf school, so I practically was born in the ocean, with the beautiful surfing lifestyle. I grew up there until my ninth birthday," she said. "What a blessing to be born in a place this beautiful. Costa Rica is where I fell in love with the ocean, the surf and I stood up on my first wave when I was 3 years old. I am honored to be the first Costa Rican on the Championship Tour and represent a place so close to my heart."
Also on her mind is the possibility of being one of the Costa Rican surfers eligible to participate in the Tokyo 2020 Olympics. She got closer to that goal with a Women's gold medal at the Olympic qualifier last year, the Pan American Games held in Punto Rocas, Peru.
To prepare for this phase of her career, Hennessy based herself in Fiji before leaving for the Championship Tour, getting in shape with workout routines designed by trainer Ingrid Sieple. In the water, she's coached by Glenn Hall, a retired CT competitor who was Matt Wilkinson's personal coach while he was a title contender.
As for Hennessy's focus during this phase of her surfing, two things are clear to her. First, she wants to have a good time.
"For me, I want to perform and show my surfing. If I'm doing that, I'm having fun and being in the present moment. That's when it all comes together."
Brisa's second priority is to continue representing her country.
"Costa Rica has the biggest and most special place in my heart. I was so fortunate to have grown up there and to have fallen in love with surfing and the ocean. Hopefully, I can make everyone proud by living each day with a beautiful pura vida heart and way of life."
Athlete:  Brisa Hennessy
Sport: Surfing
Age: 19
About: Power with style that she uses to wipe clean all competitors
Sponsors: Rip Curl, ProLite, Vertra, T&C Surfboards, Makani McDonald board shaper, Ricante, Future Fins