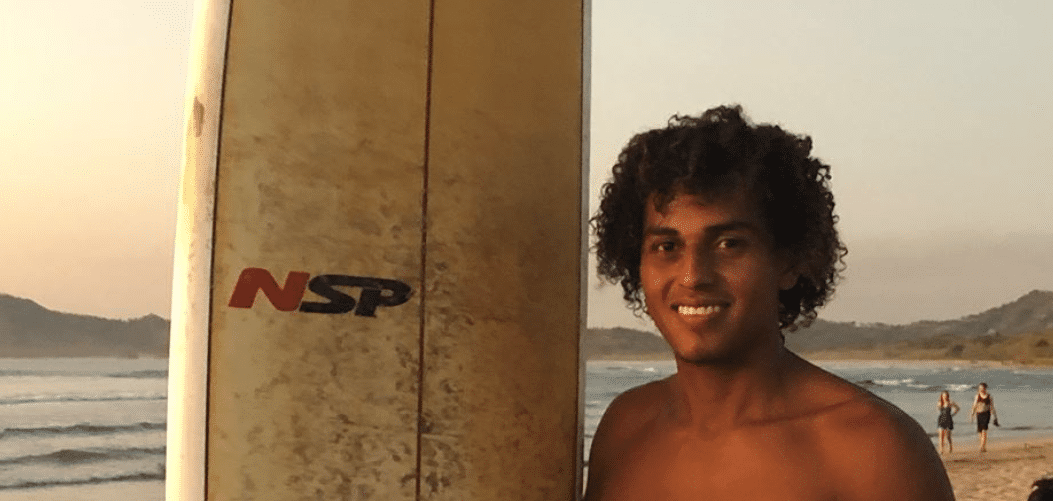 You will ride the waves on your first lesson, but you won't master surfing in just two hours.
When Carlos was 15, he would ride his bike 6.5 kilometers (4 miles) to Playa Grande. He watched. He listened. He learned how to surf. When he was 17, he owned two surfboards and would occasionally teach tourists how to surf. With a lot of hard work, 10 years later, Carlos is a 5.0 star surf instructor. He owns 24 surfboards and four paddleboards. 
The lesson lasts about two hours. Carlos provides the surfboards and rash guards. You begin on the sand, where Carlos will demonstrate the proper surfing stance and explain how to safely control the board in the water. He will have you practice getting up and make sure you know the correct positioning before taking you to the water.  
In the water, Carlos will watch the waves and push your board at the perfect time. All you need to do is stand up when he instructs you to — which is easier said than done. Thankfully, that is why you have Carlos to give you feedback. Once you get good at standing and riding the wave, that is when he will teach you how to paddle and time the waves.  
Like all sports, surfing takes practice. You will ride the waves on your first lesson, but you won't master surfing in just two hours. Carlos offers a discounted price for those who want multiple lessons.  
Since the age of 13, Carlos has been assisting his father with turtle tours. The turtle tour begins after dark. The tour guides work together looking for turtles on three different beaches (north of Playa Grande, south of Brasilito). While you wait patiently and quietly, you can enjoy the calm sound of the ocean and the beautiful stars.  
When a turtle is spotted, you will wait at a distance until she finds a comfortable spot and begins the laying process. You will go up very quietly, in small groups, and watch her dig a hole in the sand and then lay her eggs. You will also watch as she goes back into the ocean. If you are lucky, you might also see baby turtles make their way from a nest to the ocean. The best time for a turtle tour is from December to March.  
See this article in the magazine (click photo):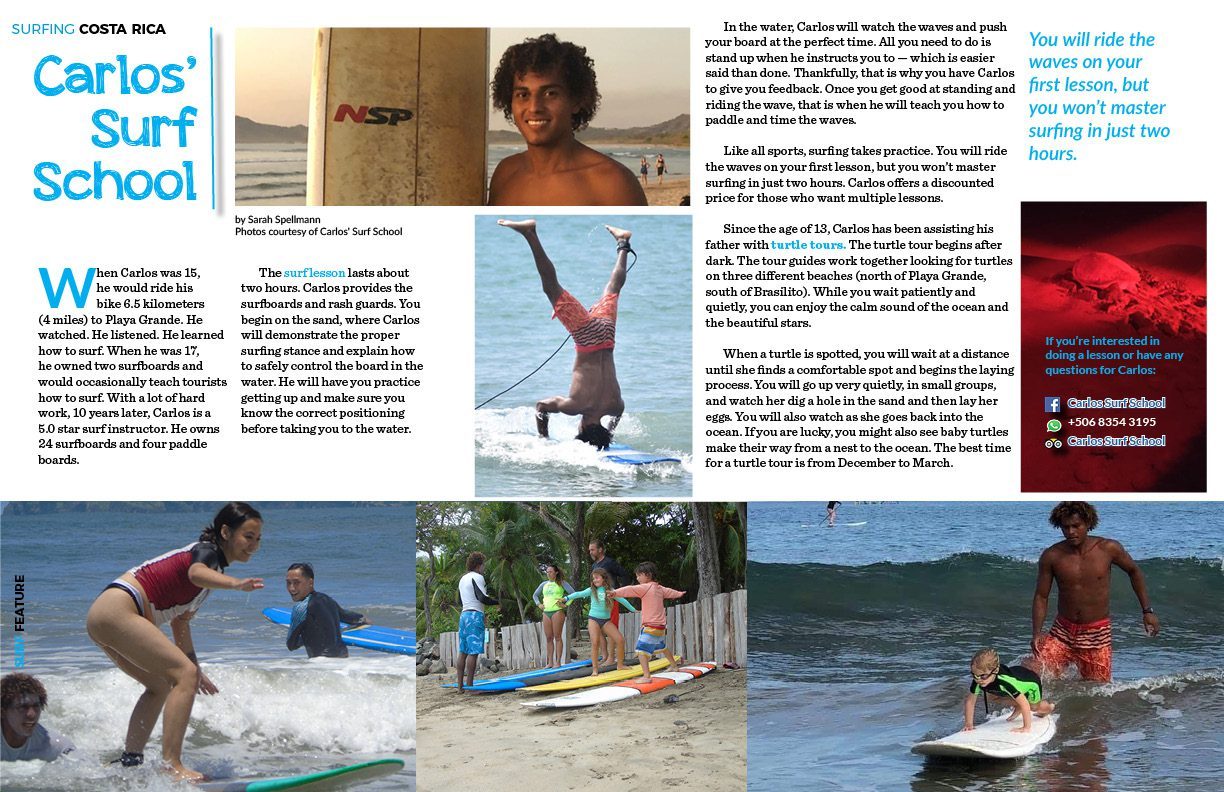 If you're interested in doing a lesson or have any questions for Carlos, 
FACEBOOK: Carlos Surf School
TRIP ADVISOR: Carlos Surf School
Use the code word Howler when you book, and Carlos will bring you a refreshing surprise to enjoy after your lesson.
Pura vida!