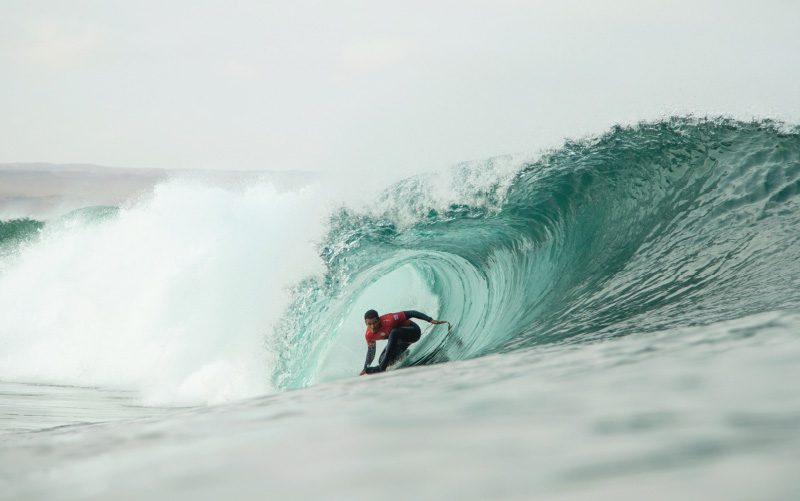 Carlos Muñoz: Surfing Profile Costa Rica
Surfer Carlos Muñoz grew up winning contests. From the age of 10, this Esterillos Oeste surfer was racking up national surf titles. In doing so, he perfected airs —  so much so that observers always saw him flying high and rarely missing a landing. Indeed, his global fame was kickstarted with a Superman maneuver at 2014's Hurley Pro in Trestles, California, where Muñoz was the wild card after winning a landslide online vote by fans. (As the first Tico in a championship tour, he even beat the then No. 1 world surfer, Gabriel Medina, in their first matchup.)
Breaking records is what Muñoz does best. At 16, he made national history with open and boys division  year-end championships in the Circuito Nacional de Surf here. During his many runs in the nationwide tournament, he would score multiple category wins, once even making the finals podium for three — boys, junior and open.
On the international stage, Muñoz (known as Cali) has been working his air and rail game progressively and has been in the Top 50 of the World Surf League Qualifying Series rankings since 2013. With the 2018 season "regular but going better" so far, he's already nailed a fifth place at Chili's Maui and Sons Arica Pro Tour and 13th place in Hawaii's Volcom Pipe Pro. There, the press called him "spectacular," a moniker earned, in part, by his perfect 10.00 threading a backdoor wave in an early heat.
With his ranking already 59 with half the year to go, Muñoz is ahead of last year's trajectory, as he heads into the all-important Vans US Open in Huntington, California. In 2017, Muñoz astounded everyone by finishing fourth there.
In addition, Muñoz has two gold medals this year that he picked up at the Olympics-sanctioned Central American Sports Games in Nicaragua — one for winning the open and the other as a member of the first-place Costa Rican national surf team. This bodes well for his being selected as one of the national team for the Tokyo 2020 Olympics, where surfing will make its debut.
"I've been training a lot, working out, working on my strategy, on my surfing, on my surfboards. This is a great year also because I'm a father too. I've been growing up a lot," says Cali. "I've been progressing a lot in terms of power surfing, putting more weight on the board and surfing more rail to rail, and trying to do a lot of combos. I'm getting better in my airs and also my barrel skills. I feel my surfing is very mature compared to other years. I just need to put in the right mind and the right frequency. The most important thing about surfing is you need to feel confidence. My surfing is at my highest level and I'm still working to jump to the next level. I feel very confident, so I hope to qualify for the CT this year."