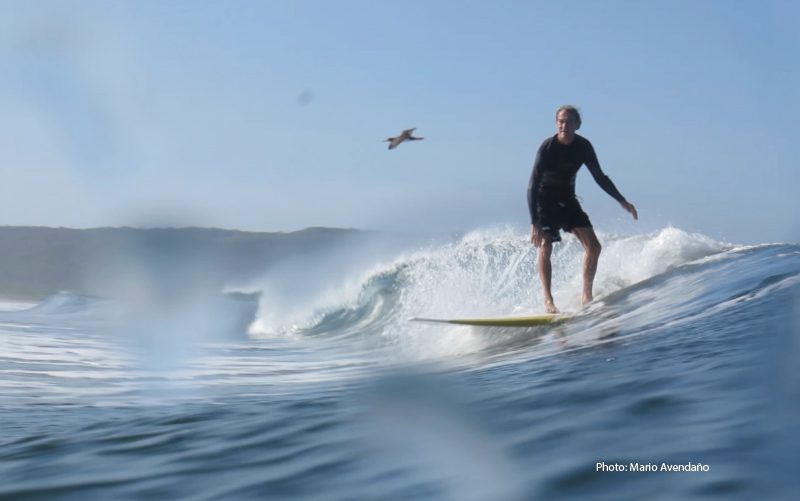 Surfing Witch's Rock With Robert August
Robert August's jokes are pretty corny. Yet, it's a privilege hearing them told by someone who happens to be a surfing legend. At age 18, the Huntington Beach, California native starred with pal Mike Hynson in the 1966 global exploratory surf film "Endless Summer." Arguably one of the most widely viewed surfing movies was followed 28 years later by its sequel, "Endless Summer II." During production, August hosted co-stars Robert "Wingnut" Weaver and Pat O'Connell for a segment filmed in his beloved adopted town of Tamarindo.
So, it was pretty damn opportune for me listening to August during our 45-minute boat ride from Playas del Coco out to surf Witch's Rock, the unique rock formation in the middle of the water at Santa Rosa National Park. We were accompanied by Robert's daughter, Christine, and Mario Avendaño of Epic Surf Trips.

"I don't need a leash. I never fall."
Nothing like getting schooled by August, who, upon arrival, donned his rash guard and jumped in the water with a blue and yellow 9-foot What I Ride model board, shaped himself at his own Witch's Rock Surf Camp workshop in Tamarindo. After showing us the peak he liked — a nice wedging left — August took off, making his now-familiar smooth longboard turns.
"I don't need a leash," he said. "I never fall."
Christine, on a shortboard her dad also shaped, was no slouch in these waves either. She is a power surfer, making hard, quick turns.
Me? I'm a perpetual kook. I slipped down one or two nice lefts, as the Augusts rode circles around me.
Geologically ancient
Witch's Rock is one of Costa Rica's oldest rock formations, estimated by some to be at least 130 million years old, dating back to the Cretaceous period. It was named for the howling sounds emitted when strong offshore winds hit the leonine-shaped rock.
According to Avendaño, the Witch's Rock wave action is generated by a series of weather patterns. Papagayo winds are influenced by storms moving through the mountains from Costa Rica's north side. These winds originate further north from Lake Nicaragua and blow onto Playa Naranjo, the Santa Rosa National Park beach where Witch's Rock is located.
"As a surfer, it is the best place where the swell and offshore winds meet." Avendaño explained. "It's perfect."
Robert agreed with Mario.
"It's a great wave that catches different swells," he said. "There's always something there. I mean, there was not a lot when we went, but it was fun. The whole adventure, the rock, everything. There are reefs out there that break up the wave, so there are lefts and rights all the way to the beach."
Surf spot for all seasons
Once a favored location for fishermen, Witch's Rock was eventually revealed to be just right for surfing. Once the wave hits the rock, it breaks up, then re-forms on the other side.
It can be a lucky surf spot on all kinds of swell: north from November to April and south the rest of the year.
Remotely popular
Just how did this out-of-the-way surf spot become so popular? After all, to get there you either take an accredited boat, or drive into Santa Rosa National Park, where it's a 100-yard hike to the beach. (Either way there's a $15 park fee.)
While locals knew about the location for years, it was the release of "Endless Summer II" in the 1990s that broke discoveries wide open. Here was Robert August sweeping down the line on these gorgeous waves at a place called Witch's Rock. It seemed like an open invitation to the world to join him. Soon surfers — from novice to expert — wanted to go to Witch's Rock, some just to say they'd been there.
"We came down before the movie crew and researched all over," recalled August. "We said, oh my God — this is incredible!' Witch's is such a classic place. When New Line [Cinema] came down and saw it, they said 'holy cow, this is fantastic.' So we filmed there."
With Playas del Coco local Avendaño as a knowledgeable guide, our group spent the day on the slopes and getting educated about the spot.
"Once you surf that place you always want to go back," Mario said. "It's mystical. It's like a temple of wisdom and good decisions … my temple that transfers bad energy to good energy and gives it to people in the boat."
We felt that good energy all day.
Be prepared
So, how do you plan a boat trip to Witch's Rock? Choose a boat that is properly certified with government papers permitting access into Santa Rosa National Park, and therefore Witch's Rock. Check to make sure your boat has documents from MINAE (Ministerio de Ambiente y Energia), ACG (Area de Conservacion Guanacaste) and SINART (Sistema Nacional de Areas de Conservacion). Otherwise, you risk the Coast Guard evicting your boat from Witch's Rock, and that will certainly ruin your stoke.
It is also important that your craft has emergency and safety equipment on board, as well as a first aid kit.
On our special surf day, Christine August had the final word, calling it one of the best experiences she's ever had at Witch's Rock.
"Surfing Witch's Rock reminds me of how grateful we are as surfers and really natives of this beautiful country," she concluded. "Being with my dad especially makes me nostalgic for all the other times I've gone with him, like when I was about five years old. It's still fun going with close friends, but nothing like today — surfing an empty lineup with your dad and other friends."
Read other articles with Robert August here!