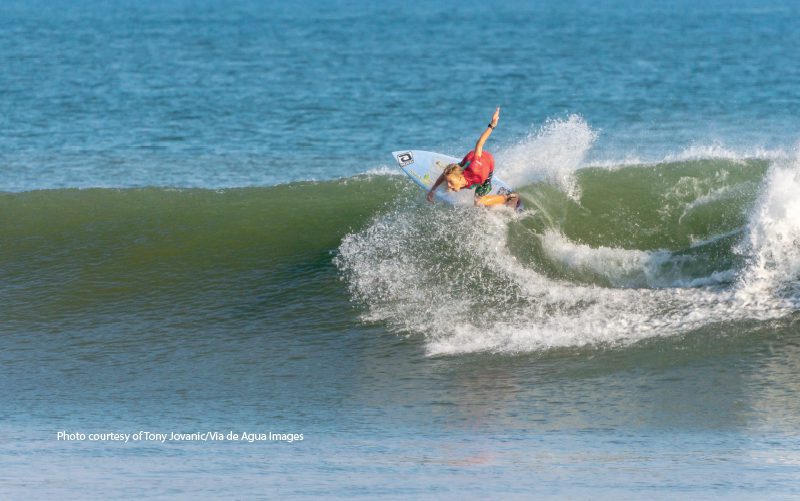 Surf Profile – Sam Reidy
It makes perfect sense that a young man who loves the ocean as much as Sam Reidy does would also have an affinity for the rest of nature. Besides being Costa Rica's 2017 Groms surfing champion, he is also an ambassador for Community Carbon Trees, a non-profit organization that helps save the planet by planting trees.
"I am a zero-carbon footprint athlete," Reidy explained. "What this means is that I plant trees to offset my carbon footprint. Let's say I go on a trip to Mexico; after I come back I will calculate how much carbon was released on that trip. Then I will go plant however many plants that it took to get me there and back from Mexico. I also go around spreading my knowledge about trees and how they play such a big part in our oceans and global warming."
'On my ninth birthday, I was late
to my own party because I was surfing
with my new board.'
The surfer, who lives in Dominical, does a lot of traveling. Occasionally, Reidy is off somewhere for free surfing, and just to get some barrels. But, it's the competitions that earn him the most frequent flyer miles. He competes in Florida, California, Mexico and North Carolina every year.
This year, here at home in Costa Rica, Sam will continue to schedule in as many of the Kolbi Circuito Nacional de Surf dates as possible in between his international events.
"Honestly," he said, "my goal this year is to surf and train the hardest I can and I know that results will follow."
While his 2019 agenda is pretty full inside and outside the country, Reidy expects he'll put in a good amount of time in the powerful waves he loves at his home break of Dominical.
"Many waves don't have the kind of power that Dominical has," he noted. "The wave can be so different in a short amount of time. It can go from peeling peaks to draining barrels in a matter of a couple of hours. Dominical is such a good all-around wave. There are other waves that are around Dominical that I surf frequently. If I have a contest in Florida and I know that the waves will be small and powerless, I will go to a surf spot two minutes away. Or if I have a contest in Mexico where the waves are normally big, I will surf Dominical."
Reidy has been at home in the ocean since he was four years old. At that time, his dad got him in the water to become familiar with the power of nature. A couple of years later, dad gifted him with a boogie board, which the water-loving child quickly mastered, eventually even standing up and riding in the whitewash.
"On my ninth birthday, I woke up and walked outside into the living room and saw a brand new board with a big bow tied right on the front of it. That morning I was late to my own party because I was surfing with my new board."
Crediting his parents for being "amazing," and getting him where he is now in life, Reidy feels supported by them with everything, from his surfing career and school to traveling and more. It's a good thing too, because this kid has big dreams of dominating the planet he so dearly loves.
Athlete:  Samuel Reidy
Sport: Surfing
Age: 15
About: Relaxed and swift surfer who becomes aggressive and passionate in competition.
Sponsors: GROM Clothing, Plant Fusion Energy Drink, Nightmare Shapes Surfboards, Jungle Mama Naturals Sunscreen