Surf Profile Costa Rica: Jefferson Tascon
Surf Profile Costa Rica: Jefferson Tascon. Spend a significant amount of time in the ocean and it's only natural to want to protect it. Jefferson Tascon is a surfer with an agenda beyond striving to be great at the sport. Tascon wants to keep his playing field clean and motivate others to do the same.
The game plan, of course, began with his surfing. Born in Cali, Colombia, Tascon moved to Costa Rica with his mom and two brothers 16 years ago, settling in the Jacó area. It was a Canadian he met who taught him how to surf. Like a fish to water (excuse the pun), Jefferson became passionate about surfing and spent hours with his brother catching waves.
"Surfing is really nice," he says in understatement. "It teaches me to be a great person, help people, and also take care of the environment. I have improved a lot, I think I am more mature where I try to enjoy life to the fullest with this lifestyle. It makes me happy."
Skill-wise, Tascon started with a short board and over the years has hit the local waves of Jacó, Hermosa and Roca Loca. He also ventures out to other favorites like Salsa Brava, Matapalo, and Witch's Rock. He considers this country perfect overall for fun, practice, and improvement on maneuvers.
'Costa Rica never has a flat day.'
All good waves
"Costa Rica never has a flat day," he explains. "That helps us to spend more time in the water so we can try our maneuvers more frequently. All the surfers in Costa Rica have the possibility to advance quickly because we have a really consistent ocean. The waves are powerful, good for barrels. There are longboard waves, SUP waves and pretty much all kinds of good waves."
Recently, Tascon's water repertoire has expanded to include SUP surfing in the waves and racing in the flat water. For 13 years, he has frequented Open and Junior top spots in the Circuito Nacional de Surf events with the short board. But it's the new challenge of the SUP Circuits here in Costa Rica that he has taken up as well. In fact, two years in a row — 2018 and 2019 — he has ranked second among the country's SUP surfers.  He ranked no. 1 in the Metropolitan Circuito this year as well. Also during the same season, he even did the national tournament on a 12.6-foot board in the SUP race category, and with the final event in November at Playa Danta, placed second for the year.
"I try to keep a balance between SUP and surf because I think it's a complement of skills. SUP is a challenge for me because it's really hard and really physical so it gets me in really good shape. Then when I do short board I feel more physical. It helps me a lot. Now I can be a little more powerful in my maneuvers and have a  little more balance than before. My goal is to go to the SUP World Games."
Eco-friendly boards
So with all this going on, where does environmental protection come in?
A while ago, Tascon became interested in making boards for his friends and family. The first was for his niece. Satisfied with the good result, he kept practicing his skills making more boards. In collaboration with the organization Jacó Impact, an idea was hatched that would utilize cigarette butts collected in beach cleanups for surfboard construction. So, with 10,000 cigarette butts on hand, he assembled a design that ultimately became a partially recycled wave riding vehicle.
In hopes of raising consciousness, Jefferson says, "If you smoke, put the cigarette butt in the garbage and not on the beach where it causes damage to the environment. We won't be able to enjoy the beach or the ocean if we are not trying to change the people around us. It is going to take many, many years to convince people to make a change, but we already started. I think everybody is seeing the change."
Athlete: Jefferson Tascon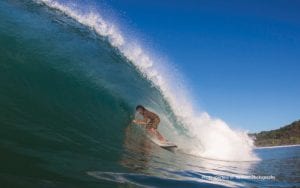 Sport: Surfing
Age: 30
About: Chases strong, good waves to power surf, get barrel and go to the air
Sponsors: Iderbol, JTsurfboardsla, The Pizza Shop Jacó, Bomber Eyewear Latinoamerica, Puravida Sunblock