Slowing it Down in the Nandamojo Valley Costa Rica
Guanacaste's Antidote to Hustle and Bustle.  Slowing it Down in the Nandamojo Valley Costa Rica.  If you're looking to get away from the crowds and experience Costa Rica without feeling like a tourist at Disneyland, add the Nandamojo Valley area to your travel wish list. Just 30 to 40 minutes south of bustling Tamarindo, the sleepy beach towns of Playa Junquillal and Playa Negra are part of a small but international community of nature lovers and solitude seekers. When the concrete ends and you hit the dirt roads, slow your car and your mind down to experience a slice of the real Guanacaste. There's no reason to rush here. You'll always find a parking spot at the beach and the only traffic you may encounter is a crossing herd of cows.
Inspired activists and artisans
Playa Junquillal is a breathtaking stretch of palm tree-lined beach, perfect for a long, scenic stroll or family picnic. The area's natural beauty has inspired much of the community to become environmental activists, working to reforest the local land, clean the beaches and help domestic and wild animals in different ways.
While exploring the coastline, look for the Vida VerdiAzul turtle conservation project to see the protected nests of endangered sea turtles. You might even catch them releasing the babies around sunset.
"It's incredible to think what this area would be like if it weren't for Vida VerdiAzul," says Junquillal resident Jessica Mundo, noting the indigenous trees they've planted and marked all along the shore and recycling bins that line the parking lot.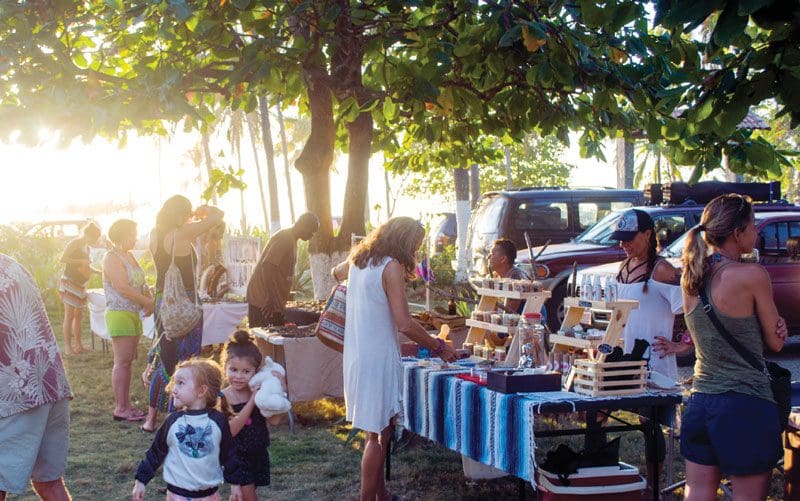 Twice a month you can attend the Junquillal Feria de Arte, a local art and craft fair graciously hosted by the beachfront Junquillal Eco Resort. Peruse handmade jewelry, natural soaps and beauty products, crocheted tops, purses, sarongs, tasty baked treats and other unique artisan goods. In Junquillal, if you're not an environmental activist, you're probably an artist or maker of some sort, so for a small town there are quite a lot of quality vendors. Live music often accompanies the feria and after checking out the booths you can relax with a drink from the restaurant and watch the sunset. Chat up the eccentric local characters and you might get lucky enough to hear some wild stories about the old days in the area.
Free spirit allure
Playa Negra was put on the map for its famous reef break, attracting surfers from around the world. Many of these adventurous spirits settled down in the area before there was much development at all, making Playa Negra a diverse community of rebels and free thinkers. Tourism has grown and made the area more visitor-friendly, but it still attracts surfers, skaters, yogis and artists.
If you're not quite ready for the barrels at Playa Negra, you can try Sandy Beach just steps away, with surf lessons and friendlier water for a swim. You can also just grab a drink at the Playa Negra Hotel's beachfront bar, the perfect spot to kick back and watch the surf from a shady palapa. And if you're feeling like riding another kind of board, book a stand-up paddle tour or head to the skate park up the street.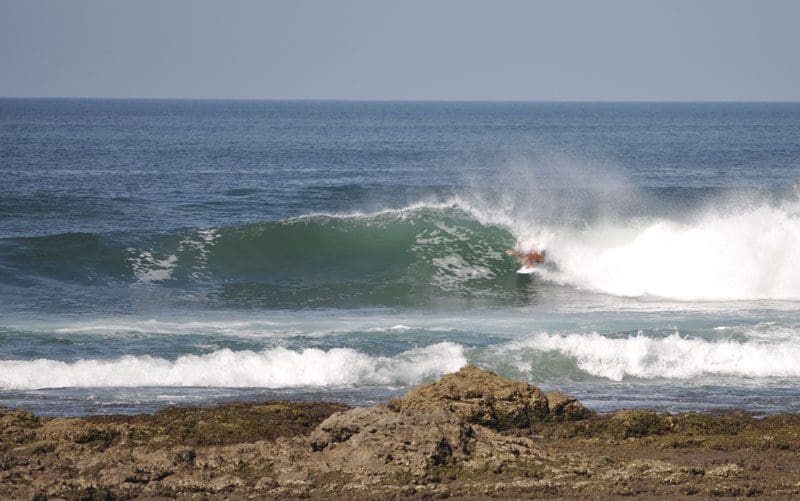 On the main road in Negra, a cluster of shops and restaurants has formed a walkable "downtown" area where you can find some Costa Rican treasures. Grab a cup of sustainably grown Costa Rican coffee at Corazon de Los Pargos, shop for unique art made by Costa Rican women at Lula's Tours & Shop, and eat delicious, healthy food featuring lots of local ingredients at Cafe La Ventana.
Though these beach towns are dotted with boutique hotels and small restaurants, much of the area is still undeveloped and it takes a certain type of adventurer to enjoy visiting or living here. As local expat Trever Adams puts it, "It's not Tamarindo or Jacó and most of us want to keep it that way."
Restaurants
PLAYA JUNQUILLAL
Costa Rican
Restaurante Lochitos
Beach Front
Junquillal Eco Resort
Pizza & Pasta
Hotel Tatanka
Seafood
La Flaca Marisquería
PLAYA NEGRA
Healthy & Local
La Ventana
French Fine Dining
Villa Deevena
Costa Rican
Bar y Restaurante Latino
Beach Front
Playa Negra Hotel
Local Events
Feb 12, 2- 5pm
Feria de Arte
Junquillal Eco Resort
Feb 17, 4- 8pm
Fiesta del Fuego – hosted by Nandamojo Chamber of Commerce, Playa Callejones
Feb 26, 2- 5pm
Feria de Arte
Junquillal Eco Resort
Mar 3, 6pm
Hope 4 A Street Dog's
Pasta 4 Paws Fundraiser
Mundo Milo