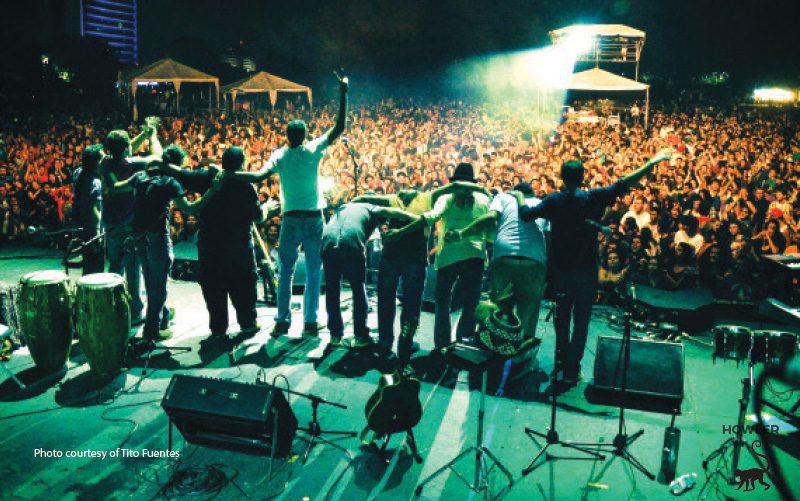 Music Spotlight: Sonámbulo
Music Spotlight: Sonámbulo.   What do you get when you combine 11 musicians from Costa Rica, Cuba, Colombia and El Salvador who create a fusion sound of reggae, cumbia and funk? The members of Sonámbulo, based in San José, Costa Rica, will tell you that the result is a new style of music that they call "psicotropical" — a catchy phrase for their very infectious music.
The band's name, literally "sleepwalkers" in English, came about when the members decided that the word was a good description for their music, in that it wends through musical genres at an almost trancelike pace.

Live performances are mesmerizing,
fun and hypnotic.
The band's first album, "A Puro Peluche," was released in January 2009, winning the Costa Rican Association of Musical Authors (ACAM) Best Tropical Album award. Standout songs on the album include "Zona Roja," led by the funky bass playing of Tito Fuentes, and "Jabali Montuno," with the reggae-influenced guitar of David Cuenca. The title song, "A Puro Peluche," has a trance beat that is hypnotic, with the excellent keyboard
playing of Manu Davila, whose musical input is infused throughout the album. "Animal" is another notable original track on the album, along with "Chusma Funk," two songs that defy conventional terms, helping to define this new, psicotropical category.
Exposure is usually a problem for any independent performer, no matter how good or popular you might be. Sonámbulo actually began as a music project 13 years ago, influenced by the street circus performers Magos del Tiempo. The music definitely has a carney, gypsy feel to it; as well as a Middle Eastern influence and jazz roots … and yes, a little rock 'n' roll, too. The result is truly global music. The 11 band members include three horn players and a keyboardist, electric bass player and guitarist. The five other musicians supply a wall of percussion, which often directs the sound of the band. It is fascinating to have five of these talented performers contributing vocals, adding even more layers of sounds into the mix.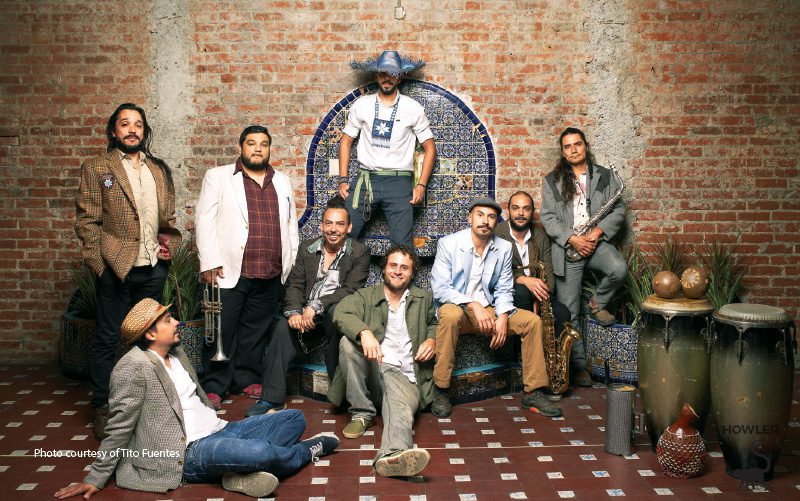 Genre-jumping sound
It's difficult to put a label on the band's sound (other than "psicotropical") since it embraces so many musical genres, with a myriad of tempo breaks running rampant throughout every live show and album.
The band's second album, "Psicosonorama," was released in 2014 and promptly won the "Best Latin Fusion Artist" award that same year. Starting with the opening "Afroparce" and listening until the last notes of "Habichuela" reveals a band that has matured. It seems more prone to Latin jazz riffs but ready to jump genres in the blink of an eye.
Last November, the band released its third recorded project, "Domitila y su Jardin," an EP that's intended for launching a series of musical "chapters." Sonámbulo's live performances are mesmerizing, fun and hypnotic, thus allowing it to participate in many music festivals in Costa Rica, including Envision, Transitarte, FIA, Imperial, Palmares and Jungle Jam. The band's scope has broadened, with its sound being brought to Guatemala, Mexico and Colombia, and an invitation to play at SXSW in Austin, Texas later this year. The musicians have been gearing up all over, playing at El Sótano and Amon Solar in San Jose, the Jazz Café in Escazú and Jaulares in Poás. Their live shows capture all that words cannot, and the music is certainly danceable. It is obvious that these guys are enjoying themselves, their onstage antics and musical escapades making them worth checking out every time you get the chance. Seldom do we see an overnight success going stronger than ever after 13 years with signs of more and more fresh promise!