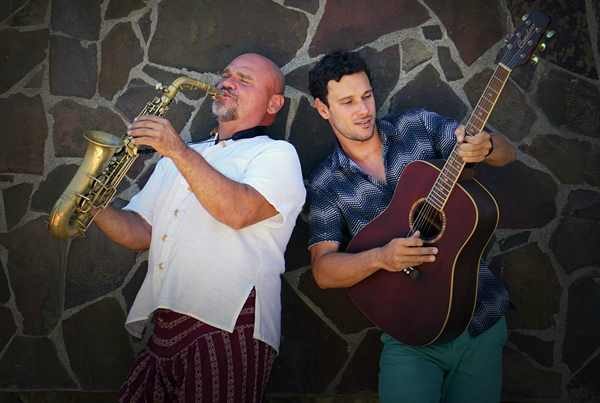 Spotlight – Joe Hrbek, Gold Coast's Iron Sax Man
If you've been in Tamarindo over the past few years, chances are you've heard the crispy notes and licks of Joe Hrbek resonating through the streets. Since his arrival in 2013, Joe has gained a loyal following playing solo, duets and in bands. Having been known to play two and sometimes three gigs in one day, he's reputedly the hardest-working musician on the Gold Coast. So, let´s see what makes him tick.
Where are you from?
I grew up in New Jersey and started playing clarinet at 8 years old in the school band. A few years later In 1992, I moved to New York City to pursue a professional music career, performing in really cool places with some of the best musicians in the world.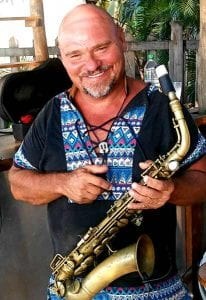 What are your musical influences and instruments played?
I was a classically trained clarinetist, and then later started playing the saxophone. Now I play alto and soprano saxophones and still have my clarinet. New York was an amazing place to be as a working musician for over 20 years … playing music at some of the best venues and getting my butt kicked by some the greatest musicians in the world!
At 8 years old, I started listening to Benny Goodman and his big band. From there, I developed an appreciation for all types of music from jazz, classical, pop, soul and rock and roll. This has afforded me to play all kinds of styles and keep me working. My biggest influences are saxophonists Charlie Parker, Cannonball Adderley, Maceo Parker and Dexter Gordon, to name a few.
Why Costa Rica and Tamarindo?
I have always had a passion for the ocean and the beach life. It's hard to describe, but the universe sort of led me here. I came here on vacation, went home and I just could not let Costa Rica go. When I moved here four years ago, I had no idea I would be playing so much music. Tamarindo has opened its heart to me and my music, and I am so ever grateful.
You're known as the Gold Coast's Iron "Sax" Man.
It's because that's what I do. I have been fortunate to work just about every night my whole career. I LOVE IT! I still get excited at every gig. I will play every chance I get — life is short.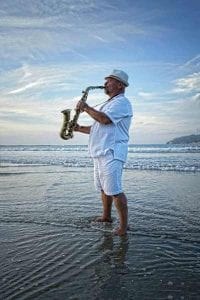 Will you do Costa Rica forever?
I have fulfilled a lot on my bucket list. Walking and swimming on the beach by day and playing music at night in such a magical place for the rest of my life sounds like a plan for me!
What are your upcoming shows and schedules for 2017/18?
I am very excited about the coming season. I have a solo show and lots more going on. I play as a duo with Luiz Paes Leme, who sings and plays guitar. The chemistry between us is awesome. We can be found at La Palapa, El Chiringuito, El Vaquero, El Be Beachclub, Walter's, Hotel Pasatiempo, The Shack in Potrero for brunch, and many other places. Also, I´m playing with the legendary rock band The Leatherbacks. We kick off the 2017-18 high season at the Hotel Pasatiempo Halloween Party. Be sure to check my FB and the new calendar section of the Howler for all show info.