Leilani McGonagle: Surfing Profile Costa Rica
To Be Updated after the Tokyo Olympics
Surfer Leilani McGonagle has quite a collection of trophy hardware. Her stash includes team gold, and individual silver, bronze and copper medals from numerous International Surf Association (ISA) World Surfing Games from Costa Rica to Japan.Leilani McGonagle has won a national Women's and three Junior Women's championships, team and individual gold medals from the first-ever Olympic-sanctioned Central American Sports Games. Leilani McGonagle has also been the World Surf League's (WSL) North American Junior champion.
And if you were to bet onLeilani McGonagle being on the Costa Rica national team that travels for surfing's debut in the Tokyo 2020 Olympics, your wager would probably win big money.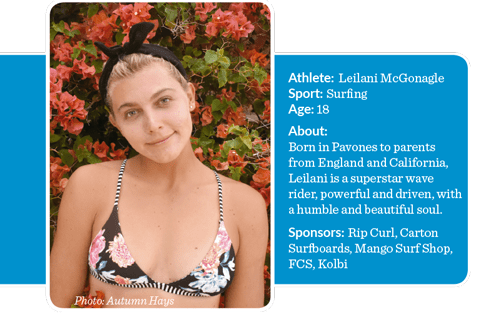 On the WSL Qualifying Series circuit, the prestigious contests that determine by top 6 ranking who competes in the Women's Championship Tour (CT), McGonagle is having a banner year. In the recent Barbados Surf Pro QS3000 at Drill Hall Beach, she copped her first-ever Women's QS victory by selecting only two waves in the final — the second one coming in the final seconds — for a score just big enough to overcome Hawaiian competitor Summer Macedo.
"Leilani's style is very fluid and she adapts to the conditions at hand very well," says Andrew Nichols of the World Surf League, describing McGonagle's performances in the international arena.
"Her backhand is powerful when she gets the right section and her forehand carves are some of the best among the QS women when she's in rhythm."
Surfer Leilani McGonagle currently sits at no. 21 out of 345 in the WSL QS rankings. This places her in the higher rounds to begin her work competing at the exclusive QS6000 events.
"2018 has been a big learning curve for me," says the Pavones native, who was raised on that renowned, beautiful left-handed wave. "I'm eternally grateful for all the experiences I've lived through this sport. It brings me such joy! There have been so many highs and lows. It's difficult sometimes to keep myself emotionally in check with early losses, but I just try to reset and take everything I can from them. Being 21st with this win in Barbados just makes me more motivated to get better and surf harder!"