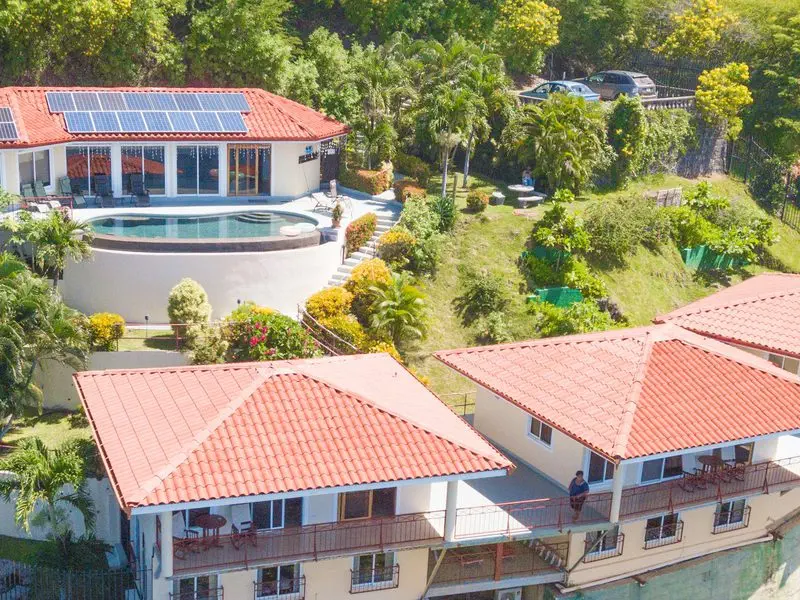 A luxury home purchase can be financially achievable. Read how.
Guanacaste boasts some of Costa Rica's best beaches — from those with great waves perfect for surfing to those that are quiet and hidden along the Pacific coast. Part of the appeal of the area is the variety of luxury properties located in Guanacaste: world-class resorts, cozy little bungalows, luxurious villas, and vacation rentals.
The best values and locations are in the Coco/Hermosa/Ocotal beach communities, which are only 30 minutes from the international airport in Liberia.
Guanacaste luxury properties are located throughout our beach communities. Whether purchasing a luxury villa as a full-time home, or vacation/second home, buyers associate luxury with things they believe are uniquely positioned to serve their lifestyle, conducive to lavish living, and as a refinement of living rather than a necessity. 
Purchasing a luxury villa can be affordable if you purchase with partners — family, friends or  associates — and the process is not complicated in Costa Rica. You can purchase the villa with a Costa Rica corporation (common for any property purchase) and divide the shares with partners according to the amount they have invested.
While the price of a regular home is based on the size, neighboring houses and services, luxury properties have a unique set of criteria. The criteria include location, view orientation, customization and upgrades, upscale amenities, and architectural and interior design.
Coldwell Banker Coast to Coast Properties agents are experienced and prepared to leverage the company's legacy, network and unsurpassed knowledge in assisting clients find their unique home at the best value among Guanacaste luxury properties. They know that luxury property buyers expect their agent to negotiate the best price for a villa that has exceptional qualities.
For help with obtaining one of Guanacaste's luxury properties in the beach communities of this northwest Pacific province, contact Tony and Anna at (206) 801-1773 or 011-506-8485-1469.
Email: tony@coldwellbankercr.com
U.S. toll-free number for Coldwell Banker Coast to Coast: 1-877- 589- 0539.
You're ONE HOUR from Liberia (LIR) International Airport!
See this article in the magazine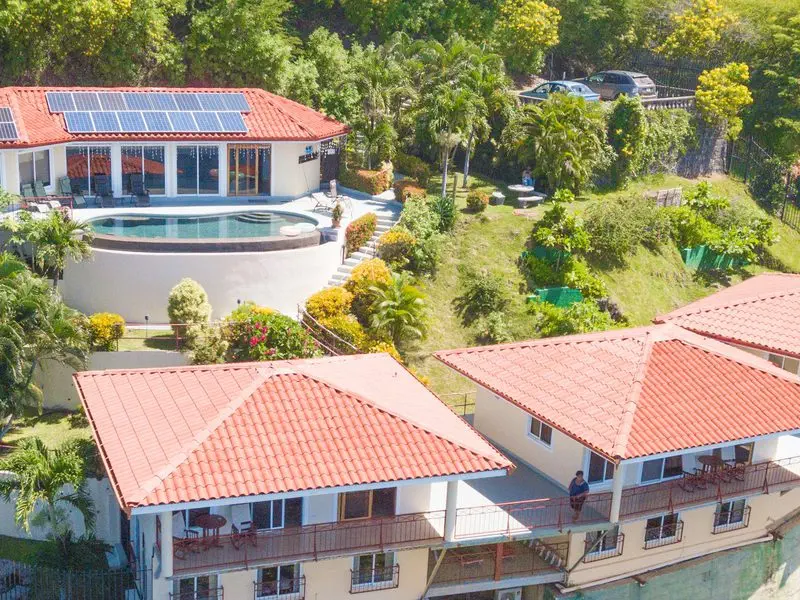 CLICK PHOTO FOR WEBSITE
Sleepy Cove is Villa Compound that consists of a multi-level complex of three private villas, and a separate main house with a modern, fully equipped kitchen, great room with entertainment center, and ample dining facilities; all intimately connected by well lit walkways and surrounding an exquisite infinity edged pool. The home sleeps 14 people comfortably with room for additional overflow in three queen-sized sleeper sofas. Each Villa has a master bedroom suite furnished with a king-sized bed, full bathroom and walk-in closet. The adjoining private sitting room contains a pullout queen-sized sofa bed. Additional sleeping quarters are located below each villa, where up to eight people may be accommodated in two rooms, each with a full private bathroom. There is a powder room in the main house, as well. All rooms are air-conditioned and have spectacular panoramic ocean views. The beach is situated at the foot of the hill, a short quarter mile (600 meters) from the compound. Playas del Coco, Guanacaste, Costa Rica, Central America (20 minutes from the New Liberia International Airport) easily accessible with modern paved roads. Playas Del Coco is located in the Northwest Pacific region of Costa Rica. "Sleepy Cove" is a brand new, accommodating compound nestled in the beautiful hillside with stunning panoramic ocean views of the Pacific that words cannot describe and a picture does not do justice. Access to the town of Playa del Coco is less than a mile from "Sleepycove". Playas del Coco, a soft sand beach nestled in the midst of two rocky headlands. Located 35 kilometers west of Liberia, this active beach village is easily accessible. Playas del Coco has been a retreat destination for many years and it draws global travelers. Part of the draw of Playas del Coco is the extraordinary scuba diving, with turtles, various species of sharks, rays and angelfish among the diverse marine life that inhabits the local waters. In addition to being a scuba destination, Playas del Coco also offers some of the best sport fishing. Yellow fin tuna, marlin, mahi mahi, rooster fish and Pacific sailfish are bountiful. There are a wide variety of activities available in Playas del Coco; most of the action in town is centered on the sea. Local shops offer boating excursions out to the small islands off the coast for surfing, sport fishing, scuba diving, and snorkeling. Horseback riding, tennis, kayaking, and hiking are also popular. Many National Parks are in the vicinity as well.