Carlos Hiller: Performance Artist Painter
Carlos Hiller, a performance artist painter, steps onto the stage barefoot, dressed in white like a house painter, and he sizes up his easel and arranges his paints. A live band is playing and an audience is watching. Carlos dances in place a bit, shakes his blond ponytail, squeezes paint onto his hands and starts spreading it on the canvas.
It's hard to stop watching Carlos Hiller's performance, even if it goes on for an hour or more. Carlos starts with his hands because it's faster, and then he switches to brushes, but he never slows down. A sky, a sea, some trees appear, and it's astonishing that he can paint them so fast and make them look so real.
"My music professor said, 'You're good at painting.'"
It turns out there's going to be a stunning jaguar lying at the base of this landscape. Using no reference but the imagery in his mind, Carlos paints a perfectly proportioned cat that looks exactly like a jaguar, from the color of the spots to the details of the eyes, ears and whiskers.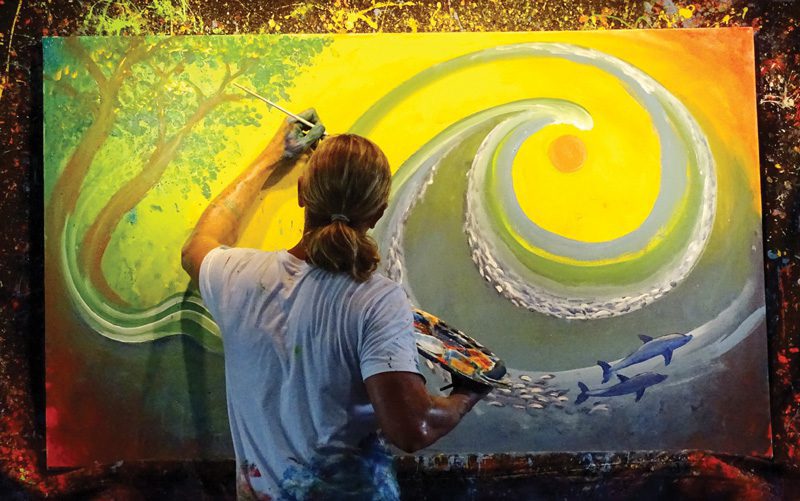 "I start with color," Carlos told me. "I'm not good at drawing. My thing is color."
Performance art meets visual art in Carlos Hiller, who is the consummate maestro of both. He's done this at the National Theater in San José and lots of other places, and I've seen him at the Wyndham Herradura in Heredia and a few places around in Playas del Coco.
I didn't ask what he charges just to show up, but he said the painting usually sells for around $800. Good work if you can get it.
Hiller is from Argentina, with great-grandparents from Germany. He just turned 46 and he lives in Playa Hermosa. He's something of a local celebrity, and he comes by his cred honestly.
He hitchhiked all over South America as a boy of 15, 16, 17. He devoted eight months to studying marine biology in Patagonia, but he spent all his time painting. He came to Costa Rica because he had uncles here.
"My first paintings, I sold some in San José," he said. "I had arrived in Costa Rica, of course I had no papers, and I didn't like San José. I had a few paintings in my backpack and I framed them and sold them on the street. But I sold them really cheap."
Then he came to Playas del Coco, where he started a business painting signs. He ended up painting murals and boats too, and he became a certified scuba diver through Rich Coast Diving, which he paid for with a single painting.
"One day after having traded the painting for the dive course, I thought, that's great, I really loved that painting I did," he said. "I'm going to do more. I did seven, eight paintings and I put them in the Puerta del Sol on exhibit.
"I put them there, went home. The phone rings, you've sold a painting. Two hours, you've sold another painting. In two days, I had sold them all."
His next gig was with a 5-year-old piano prodigy. A local girl named Daniela Navarro, who plays piano at an international level today, needed money to go to a competition in France, where she ended up winning first place. Carlos says he raised $14,000 for her in one night.
Meanwhile, a musician pal named Oscar posted on Facebook that he was playing at the Vida Loca, a now-closed bar in Coco, and was hoping some friends would join him. Carlos asked Oscar, "What do you think if I come to paint?" Oscar was all for it.
Other HOWLER Artist Spotlights
---
Otto Apuy – Multimedia Artist
Envision Festival Spotlights International Artists
Max Gea – Musician
Juan Carlos Camacho – Blending of Art and Architecture
Joe Hrbek – Gold Coast's Iron Sax Man
Stephanie Waltrip – Musician
David Villalobos – Young and the Restless
Rebeca Alvarado Soto: The art of the dance
Fiery Flamenco Guitar
Leatherback Rock
Marvin Dolgay – Musician

"So I show up with my easel, Oscar plays," says Carlos. "There were maybe 10 people. It was magnificent, the perfect music for me. I concentrated, did a nice painting and when I turned around, everyone was super-happy."
Before long, Carlos was living at the Four Seasons in Payagayo, where he was the resident artist for a season. He is one of those rare people who make a good living doing something they love because they love it.
Wanting to know more about the juju in his mojo, I asked Carlos how he paints a perfect jaguar from memory.
"When someone draws an animal a lot, in this position or that position, you make a 3-dimensional image," he said. "For example, there are animals like the whale, the dolphins, manta rays, sharks, jaguars, lots of fish — I know them well enough that I see them in my head, and it's like those 3D programs on the computer. I can do that. I see it and I draw it."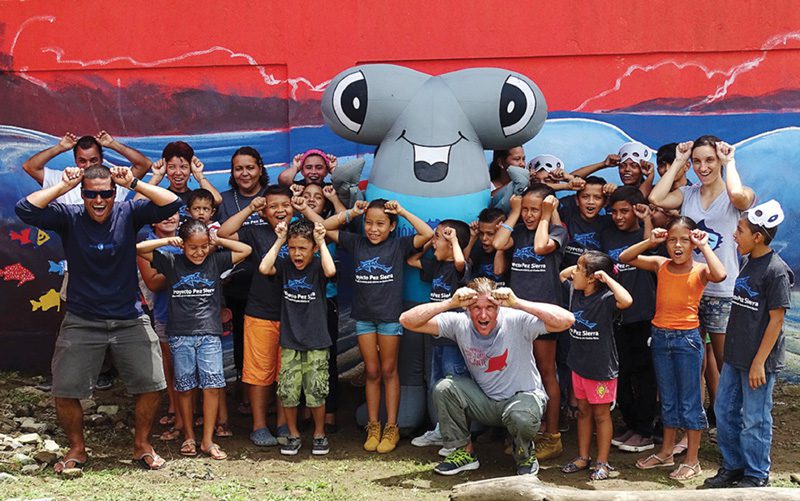 "When did you start painting?"
"I always painted. All my life, since I remember as a child, I've been painting. My mom always gave me paper and pencils."
"Do you dance when you're painting in your studio alone?"
"Yes, I always put music on. In the moment of painting, yes, I'm always dancing. That thing about moving in front of the wind came out in a very natural way. I'm a musician, a frustrated musician.
"My music professor said, 'You're good at painting.'"