Carara National Park
Carara National Park. For first-time visitors heading south to Costa Rica's central and south Pacific coasts, the famous crocodile bridge over the Tarcoles River is virtually an unavoidable attraction. Typically, they take a quick trip over the bridge and a few photos of the American crocodiles congregating around or under it. Then, perhaps also stopping for a bite to eat or souvenir purchase, they are on their way.
But if time allows, this vicinity is well worth exploring on a wider and deeper level. Carara National Park and the Tarcoles River both deserve more than a glimpse from travelers en route to their beach destination. Fortunately, a combined excursion to the park site and beyond the crocodile bridge is not only possible on the same day but quite easy to arrange. Each locale has its own exotic appeal and neither should be missed.
Some history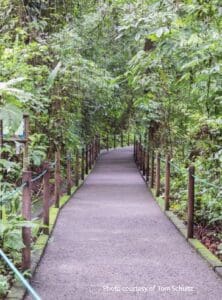 Carara National Park, whose name has indigenous roots descriptive of the crocodile-inhabited Tarcoles River, stretches from that natural border more than 20 kilometers south. It was once part of a vast hacienda property owned for much of the early 20th century by a prominent national military and political leader. After being expropriated by the Costa Rican government in 1977, some small pieces of subdivided land went to farmers and others, while two larger tracts were protected conservation sites.
Although Carara's national park inception did not occur until 1998, the area had become increasingly well-traveled starting two decades earlier, when the southbound route 34 did not extend past Jacó. With development over the years came improved road conditions, culminating in 2010 with the completion of a fully paved route south through Dominical and beyond.
Meanwhile, the increase in bypassing traffic saw the park's popularity as a tourist attraction fade. As the number of visitors declined, conditions deteriorated. That changed in 2014, partly out of concern for the park's neglected state but also driven by Costa Rica's new Persons with Disabilities Act. Various organizations, including ProParques, ICE and Teletica, launched a Carara restoration campaign that would introduce the national park system's first disabled-accessible sendero (trail). Today's park experience became possible in 2016 through successful fundraising initiatives. By 2018, the park was drawing 50,000 visitors a year.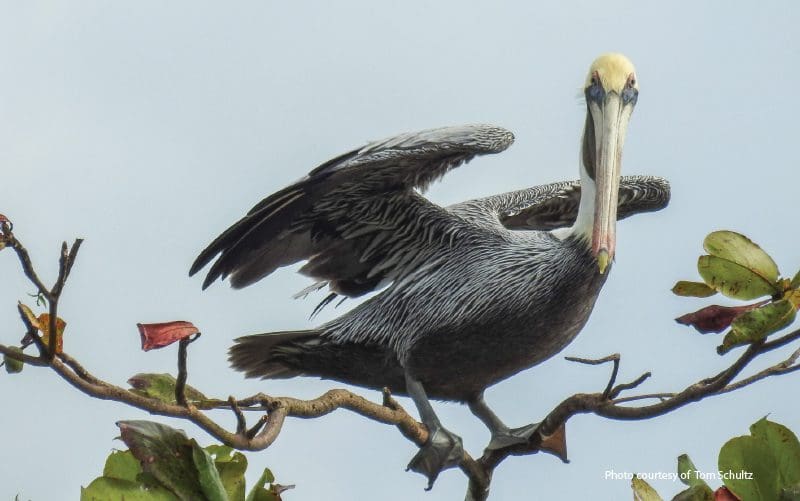 Why visit Carara?
Carara is perhaps the easiest park to visit in Costa Rica. You access the headquarters and entrance directly on route 34 south, and there is ample parking. The drive from downtown San José takes less than 90 minutes on one of the newest roads in the country.
The park is uniquely situated in a transition zone between two habitats: the Amazonian-type rainforests to the south and Mesoamerican dry tropical forests to the north. With an overlapping mix of native flora and fauna, and containing the northernmost coastal rainforest remaining in Costa Rica, it is one of the country's most interesting wildlife and botanical attractions.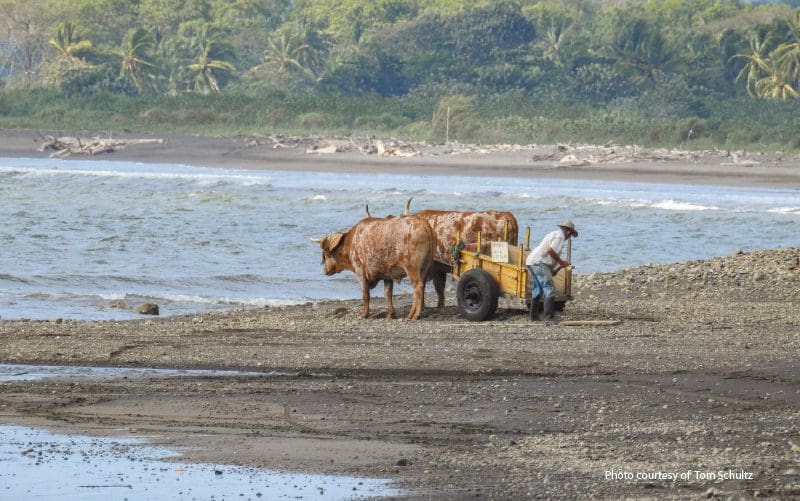 As a favorite hiking spot with several popular routes, Carara boasts the above-mentioned new Universal Access trail. This circular paved pathway, slightly longer than one kilometer, features signage in Spanish, English and braille. A smartphone app is available to download with QR codes to scan for information on each trail stop. The Quebrada Bonita trail, which leads to the river and into the base of hills rising above the plain, is filled with beautiful trees and plants. One of them, contrary to its misnomer, cafecillo, is not a member of the coffee family but a citrus species endemic to Costa Rica's central Pacific area.
Wildlife viewing is a treat at Carara, where three of Costa Rica's four monkey species may be found: capuchin, howler and squirrel. You can also see pizotes and other mammals, as well as many kinds of lizards and butterflies.
Carara's renown as a birder's paradise reflects one of the primary reasons for its creation as a park. At the time, it was one of the few places in Costa Rica where any breeding pairs of scarlet macaws still remained. After more than 30 years of protection and reintroduction, that very small number has increased to more than 200 breeding pairs within park boundaries. Birding enthusiasts can also easily see species such as manakins, jacamars and puffbirds, with the Meandria trail offering especially good vantage points.
If you go
Carara National Park is on route 34, just under 100 kilometers from San José, 2 kilometers south of the Tarcoles Bridge and about 13 kilometers north of Jacó.
Park entrance hours
8 am to 4 pm, May through November
7 am to 4 pm, December through April
Laguna Meandrica is closed September and October.
Entrance fee
Citizens and residents — 1,000 colones
Foreigners — $10
For more details, read the online article at howlermag.com
More to Explore at Tarcoles
After needing only a couple of hours to visit Carara National Park, why not extend your trip to make it even better? More discoveries await your departure on a Tarcoles River boat tour. About a dozen different tour operators provide river cruises, lasting from 90 minutes to over three hours.
The highlight is getting up close and personal with the crocodiles. These crocs are accustomed to the boats and possibility of being fed, so they respond to the motor sound. You can see some of the largest in the river, measuring in the range of 15 to 18 feet long.
Otherwise, the scenery is spectacular  — especially in the morning — with the Cerro Turrubares and other distant mountains to the east. Cruises take you to the river mouth and then into the mangroves, a special place for snakes, birds and other creatures.
Arranging a boat tour
Tarcoles boat tours can be booked in advance, via online contact information or in person.
From Carara park, drive south on route 34 towards Jacó until you see a sign for a right turn to Tarcoles. Take it and drive to where the road ends in the middle of town. Turn right, where you will find several boat tour offices. Stop there or continue for about another kilometer before the road ends at the docks, where all the operators are located.
After your cruise, enjoy some fresh fish at one of the many seafood restaurants in the area, supplied by local fishermen.