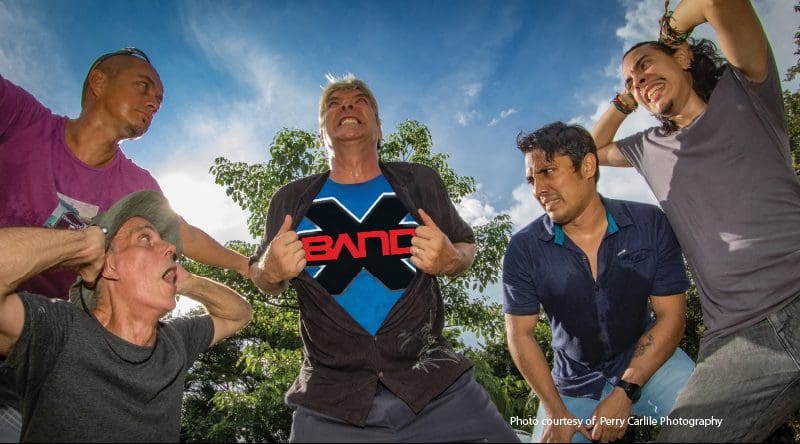 Music Spotlight: Band X
Band X to the Rescue!  It's a Friday night in Guanacaste as the six-piece rock group takes the stage. Mike Shannon, one of three guitarists in the band, approaches the microphone and announces, "We're going to have a party up here. I hope you'll join us!" The sextet then breaks into Route 66.
The group is Band X, whose name was chosen by happenstance when the founders pencilled it in as a placeholder on a flyer, their real name "to be decided later." But the moniker Band X stuck; it is emblematic and reflects the group's whimsical side, fluctuating lineup and onstage persona.
Mike plays "Alice," his left-handed 12-string acoustic guitar with an electric pick up, not a common musical instrument. He'll tell you he is actually a drummer, getting his first drum kit at the age of  7 while living in Ontario, Canada. That's where he would later play in rock and  post-punk bands like Tainted Meat and Syph Hillis & the Nocturnal Emission before moving to Miami in 1982. Eventually, 30 years later Shannon found his way to Costa Rica, initially spending time with his father in the Central Valley and then relocating to Playa Flamingo in 2016.
Matthias Weidel, a strapping German fellow, is a stalwart bassist revered in the area for the past quarter-century. He was an original member of two early Guanacaste rock bands, The Banana Kings and the legendary The Leatherbacks. Matthias is renowned for the big sound he gets from his bass, rivaled only by his physical presence onstage. He and Mike responded to a "musician's ad" seeking recruits to jam together. The two musicians subsequently played together with The Blah Blah Mikes before forming Band X.
Shared talents
Band X functions as a democracy with all six players having input. The cousins Juan Carlos Casillo, aka "Talo the Freak" and Sidney "Sid the Kid" Garcia, both guitar-slingers from Santa Cruz, share rhythm and lead guitar duties. Their interplay is an integral part of the band's music, performing improvised solos while staying within the structure of a beginning, heightened middle section and definitive end. And they draw their own growing fanbase of sighing young Ticas.
The "other German" in the band is Hartmut Paul, who plays keyboards and accordion and sings backing vocals as well. His melodic keyboard work provides a binding fabric to this band's full, unencumbered sound. Hartmut has played with Matthias in other bands, providing a well-oiled rhythm section.
Olman "The Omen" Ovares currently occupies the drummer's "hot seat," the latest of eight Band X percussionists with the group still counting. The band seems to have broken the Spinal Tap jinx without anyone spontaneously combusting.
Band X plays a wide variety of musical styles, from The Doors and The Decembrists to Jimi Hendrix, U2 and Pink Floyd. Audiences enjoy the group's own version of classics like War's Low Rider and Chris Issak's Wicked Game. Group members are also working on more of their own original compositions.
Band X performs often — generally every other week — at Wilmart's Friday night outdoor concert venue (between Matapalo and Playa Grande). As Shannon puts it, "We like them, and they like us."
Always eager to play for community events, Band X recently appeared at El Be! in Tamarindo during the "Mutts and Margaritas" fundraiser for Barbara's Animal Rescue Shelter.