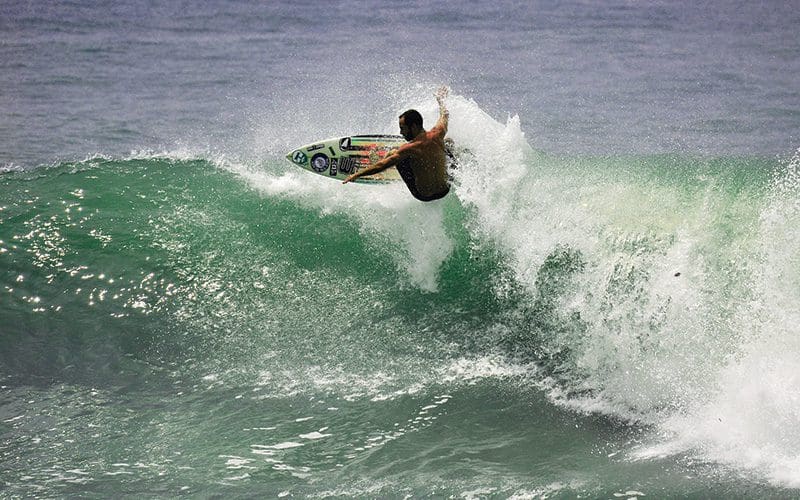 Surf Profile – Marcel Oliveira, If it's a Surfboard, Oliveira Rides it
Surf Profile – Marcel Oliveira, If it's a Surfboard, Oliverira Rides it.  Marcel Oliveira was a true waterman. At 5, he'd join his father on their small boat, skiing behind it or snorkeling when they stopped. Then, at 10, his dad gave him a Morey Boogie Board and soon noticed his son was standing on it.
"He said, 'Okay, we've got to switch to a surfboard,'" recalled Oliveira, whose first true rideable was a 70s-style Hobie twin fin. "I just kept surfing with it for a year, then began switching to nice, newer boards."
Although he entered a few surf competitions back home and during the time he lived in Brazil, Oliveira's real international contests early on were as a mountain biker. That was before finally moving to Costa Rica in 2001, when an intended vacation never ended. Evolution to a longboard came on a Jacó trip in 2001, where the waves were small and he noticed everyone catching more of them on those logs. He got longboard fever.
While he was working at his friend's place, Mar Surf Camp, the owner bought a quiver of standup paddleboard (SUP) boards and basically told the instructors, "We had to keep up with this thing if we wanted to stay working with her because we'd have to learn paddleboarding to take people out for the tours." So Oliveira did as he was asked, starting with huge boards about 11 or 12 feet for touring.
"Little by little for myself," he recalled, "I started switching to shorter boards like my friends Joyce Solano and Marco Pacheco. They gave me some good tips for techniques. I was especially impressed with how Marco managed himself on a short paddleboard, since he is such a big guy."
Moving to the short SUP was a humbling experience, Oliveira admitted. His agenda mixed flat water touring and SUP surfing. Now he surfs on a 7' or 7'2 X 3'5 board. His race board is a "really sick" 12'6 Starboard.
Two years ago, Oliveira, who now lives in Jacó, entered the Costa Rica Circuito for SUP and Longboarding. The results were good: first place in SUP Surf, third place in SUP Race and second place in Longboard.
But this year, he went all the way and is the 2018 Costa Rica national champion of SUP Surf,  SUP Race and Longboard. He sees SUP growing all over Costa Rica, noting that more schools are teaching it, and the divergent way the sport approaches waves — as fun, entertainment and dynamics. He compares the endurance needed for SUP to that of long swims, marathons or road biking.
Last month, Oliveira was part of the Costa Rica National Surf Team that traveled to Punta Roca, Peru for the Olympic-sanctioned Pan American Surfing Games. This was only his second time competing out of the country, previously participating in the Central American Surfing Games in Nicaragua. He cited Peru as a huge learning experience, gaining knowledge from his teammates and Coach Jim Hogan. Just being there was an honor, he admitted, with the opportunity to learn about new locations and the challenge of cold water.
"I'm very stoked and very, very blessed and fortunate," Oliveira concluded, adding that he loves being in the water to also enjoy free diving, spearfishing, swimming or utilizing his ISA certification to teach surfing of all varieties.
"At 39, I'm proof that it's never too late to try stuff and become good at it and succeed at it."
Athlete:  Marcel Oliveira
Sport: SUP Surfing / SUP race / Longboard
Age: 39
About: Master of water sports making his mark with SUP on the national and international stages.
Sponsors: Costa Rica SUP & Surf Club, Jacó Beach House, Nativo Açaí, Spy Optic, SupHerr, Pura Vida Sun Block, Premier Dental Care.