Nicolas Boos: Costa Rica Surf Profile
Nicolas Boos Costa Rica Surf Profile: It's not easy getting 8-year-old Nicolas (Nico) Boos to talk about surfing, but it's not difficult to watch him whip some turns on the waves at one of his favorite local breaks. Under the tutelage of his father, Christian, owner of Boos Adventures and himself the 2018 Guanacaste Masters surf champion, the youngster is already working rail to rail down the line. But he has loftier goals.
He joined his dad in the winner's circle
for the 2018 Guanacaste Dolphins trophy,
winning all four individual contests.
"I saw surfing and it looked fun," the younger Boos explained of his desire to take up the sport. "I wanted to learn how to do aerials and get barreled."
While airs are still to come, Nico started competing and winning local area surf contests when he was merely 5 years old based on his own style of power surfing. This year he joined his dad in the winner's circle with his podium visit for the 2018 Guanacaste Dolphins trophy, winning all four of the year's individual contests. As a matter of fact, he has been competing so frequently that his family took him to Panama, where he ended up winning both the Under 8 and Under 10 categories.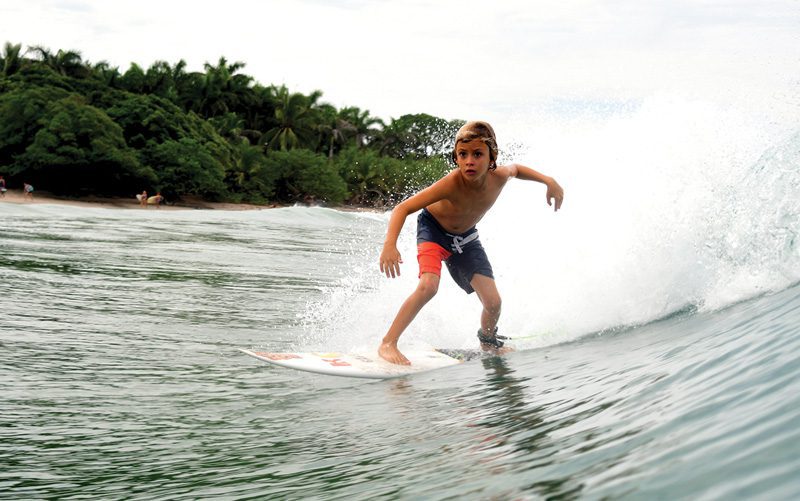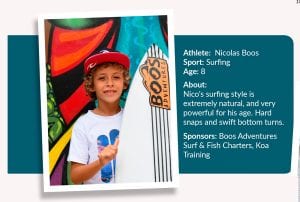 When asked how it feels to win, he just said, "I surfed really good and had fun."
Fun is the key for Nico, who is in the third grade at Tide Academy in Tamarindo. Fun is the reason he decided to give surfing a try in the first place. That's why he trains so much with his father, and alongside his mother in Casitas. That's why he'll take a Boos Adventures boat trip to Witch's Rock and fearlessly tackle that wave. That's why Pavones is his favorite surf spot.
"The most important thing for me is to spend quality time with my son, and we are lucky to be able to share the same passion, which is surfing," said Christian. "After every wave we always share his vision and my vision and we talk about how to improve because for me what is important is that you learn to respect the sea, overcome your fears and realize that every wave is a new opportunity to do it better."
In October Nico and his family traveled to California to experience some world-class surf spots, learn how to surf with a wet suit and Nico placed in the finals of a Western Surfing Association Series. Maybe he mastered those aerials too.