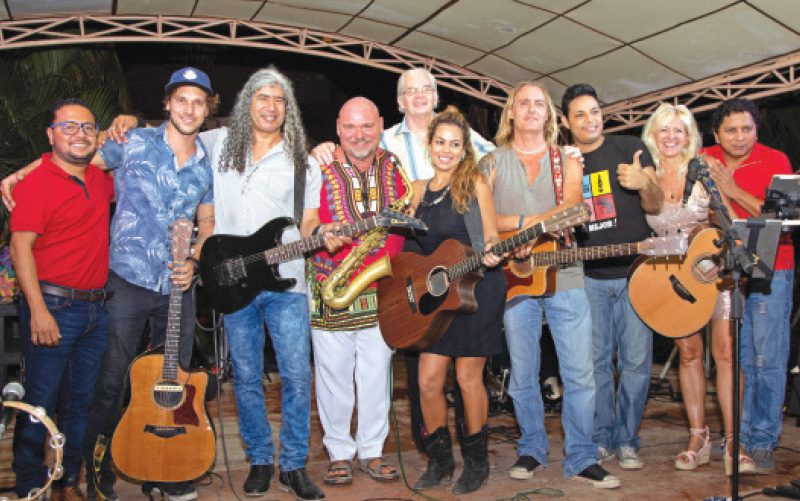 Música Genial – A Showcase of Guanacaste Talent and Originality
Música Genial – A Showcase of Guanacaste Talent and Originality.  Papagayo Music Studio recently released the CD "Música Genial", a compilation of 12 original songs and two original arrangements, growing out of a collaboration among dozens of Guanacaste musicians. The project is intended to support the local music community by showcasing the fantastic talent and original music of musicians living in the area.
 Nearly a year in the making, the CD is a catchy blend of musical styles, including the straight-ahead rock and blues of Charly Lopez from Playa Potrero, who recorded three original songs for the album: "Good Good Life", "Esta Noche" and the Chuck Berry-inspired "Feels Good To Me." Tamarindo's Joe Hrbek and Luiz Paes Leme teamed up for "Amor No Sabe Esperar," featuring creative guitar work and vocals by Luiz alongside Joe's sexy sax riffs. A Latin-pop fusion of textured, syncopated percussion and vocals is performed by The Latin Trio from Playas de Coco.
The CD is a catchy blend
of musical styles
The album also includes a contribution from Fatiniza, who is originally from Colombia but moved to Playa Flamingo (after a stint in Dubai), including her expressive "Marinero" and heartfelt "Our Own Song." Tamela Hauer, also from Playas de Coco, gives us an upbeat Carlene Carter-flavored "Keep Your Body Moving." Bernal Gutierrez with his young daughter Margie and son Eliam, from Santa Cruz/Liberia, together sing a Disney-like original about the importance of dreams, called "Sueños."
Warren Alani from Liberia, and Mike DiNardo from Playa Hermosa, round out the collection with lovely, complementary instrumentals portraying the magnificence of the Guanacaste "Sunrise" ("Amanecer") and "Sundown."
Música Genial was produced by Allen Merrill, owner of the Papagayo Music Studio (where the songs were recorded). Support came from several local sponsors, including Peninsula Papagayo and the Four Seasons and Andaz Hotels.
To learn more about the Música Genial project or
Papagayo Music Studio,
visit www.papagayomusic.com