Escazú: A Blend of Old and New
Escazú: A Blend of Old and New.    It's not hard to see why Escazú is a favored place to settle in Costa Rica for expats from North America and Europe. This suburb of San José offers many of the creature comforts that come with glistening modern buildings and expansive homes. In 2013, Costa Rica's Ministry of Planification recognized Escazú as the country's most socially developed canton, with high marks in education, health, internet access and citizen involvement.
Looking much further back in history, Escazú has always held a noteworthy spot on the Costa Rican map. Being a traveler's stopover and fiercely independent are among its claims to fame.
Officially established as a town in 1600,
it was an agricultural community
specializing in coffee, sugar cane and grains.
The name Escazú is believed to come from the native word Itzkatzu, which roughly translates to "place of rest." There is no question that Escazú was indeed a rest area for weary travelers during the pre-Columbian era. They would stay the night before moving on to trade with neighboring tribes. In 1561, the Spanish arrived and Escazú became populated by people from Galicia in Spain. Officially established as a town in 1600, it was an agricultural community specializing in coffee, sugar cane and grains.
Growth on its own terms
In 1755, the townspeople were ordered to dismantle their homes and relocate to San José, as part of a capital city consolidation plan, but they refused. Escazú grew quickly after that, with a church building in 1793 and by 1825, being named an official district of Costa Rica. In more modern times, it became a favorite place for foreigners to reside, and also the home of many embassies including that of the U.S., Canada, Mexico and Germany.
Escazú is also an important part of Costa Rican folklore, notably as the "city of witches." Stories passed down through generations described how three resident witches used their powers to both help and curse the local population. It is also one of the cantons where "mascaradas" originated, a parade of giant paper mache heads. 
Transcending such fanciful legendary attributes, Escazú is known for its perfect mix of tradition and innovation. Proximity to San José and the country's busiest international airport make it a central hub, removed from the big-city noise but brimming with eateries, shopping malls and super stores. You can get your fix of a huge number of U.S. chain restaurants, as well as high-end dining spots to enjoy cuisine from around the world. Escazú's mall and office complex is sleek and modern, and the Multiplaza mall is a favorite place for lazy Sundays or an evening dinner and a movie.
Cultural appeal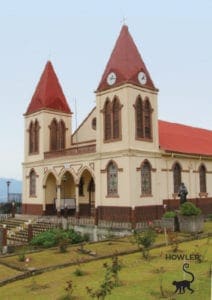 For a day of culture, Escazú will not disappoint either. You can drive around and see some of the only adobe colonial houses still standing in Costa Rica. While visiting St. Michael the Archangel Church, built in 1793, you can stroll through the gardens and view the Monument of the New Century, built in 1901. Right around the northern corner you will find the Monument of Heroes and the Josefa, a bell traditionally used to call community members to civic events. On the church's western side is the Kiosk of San Miguel, a venue for civic and community events as well as concerts. In Escazú's central plaza, you can visit the Monument of the Boyero, a sculpture created in conjunction with University of Costa Rica professors and students.
Steeped in tradition but ever-evolving, Escazú is just a stone's throw from San José, but worthy of visiting in its own right. You can mix up some serious shopping with a trip back in time: colonial stateliness intermingled with an unmistakably 21st-century urban landscape. The array of large hotel chains, as well as vacation rentals and boutique hotels, make Escazú just as much the ideal place to stay over as it was thousands of years ago. The next chance you get, stop and look around at how the old and new in Costa Rica have grown together.