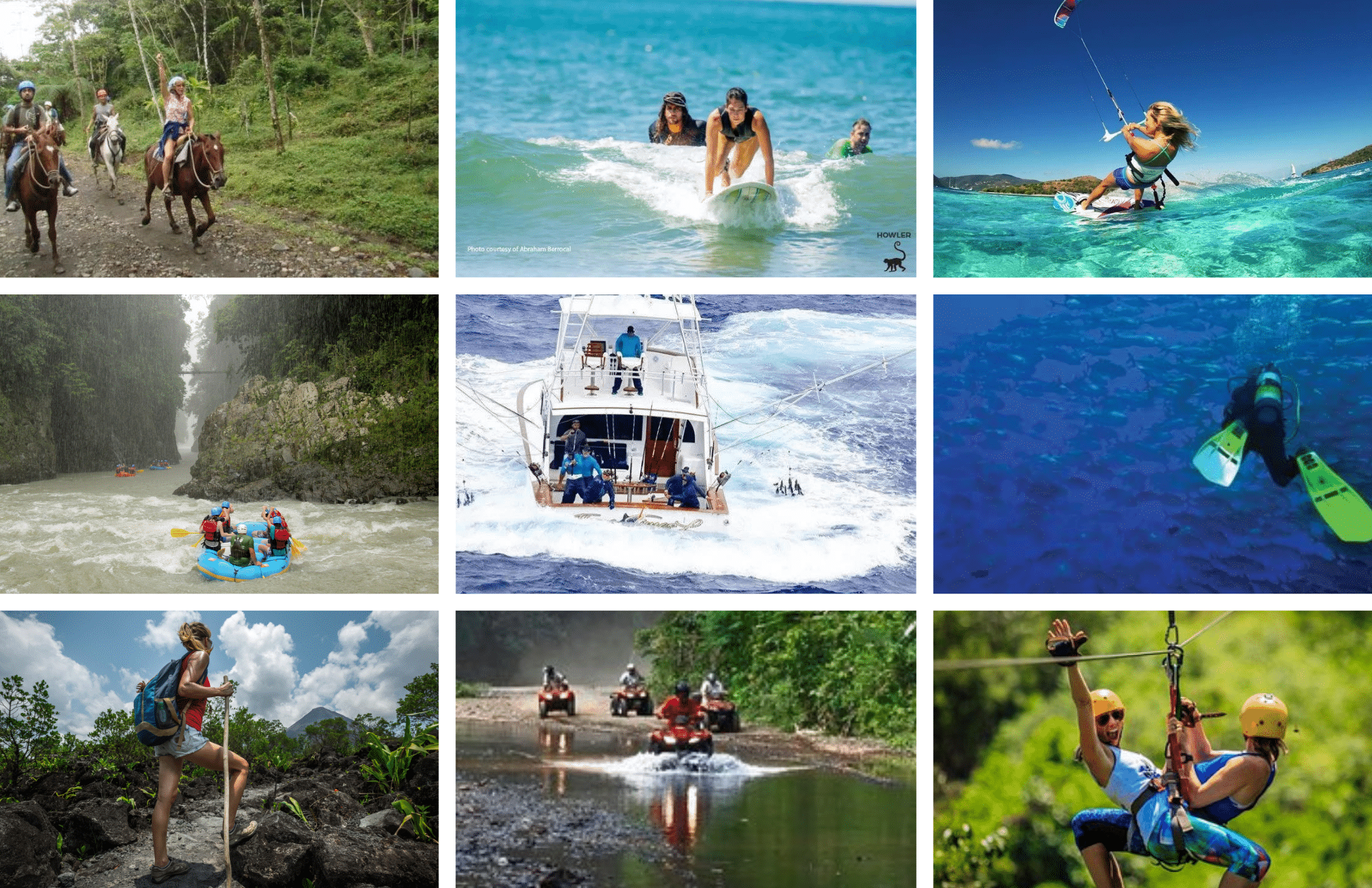 Welcome to Deals In Costa Rica: A Trip Advisor Company. Guaranteed lowest prices. Easy search, booking and cancellation.
Howler has never run short of travel and adventure stories to publish during the magazine's 26-year history. There's little chance of that ever happening, no matter how many times we might cover the same or similar topics. Places to visit in this magnificent country, and everything you might see and do, are always new in the eyes of different beholders.
From the perspective of writers and photographers who have shared their experiences with Howler readers, we invite you now to take an armchair trip through our online collection of travel and adventure articles. Be delighted and inspired to experience the wonders of Costa Rica your own way.
Travel & Adventures are Inseperable in Costa Rica
While travel and adventure often go hand in hand, that's virtually always the case in Costa Rica, where the two words might as well be synonymous. Even if you're not a thrill-seeker, adventures await around every corner here. There's no need to stray too far off the beaten path, but the rewards of doing so are abundant.
Costa Rica's ever-increasing popularity as an adventure travel destination speaks to the best of both worlds converging: nature and human nature. The win-win benefits are diverse and easy to appreciate. 
Timeless allure
For countless generations, legacies of literature, philosophy, art and science have been inspired by the allure of venturing outside your own backyard. Unfulfilled wanderlust has enriched the imaginations of those who could only travel that way. Traveling for pleasure dates back more than 2,000 years, when well-to-do Romans flocked to the coast of Italy for the earliest known version of a summer vacation. The modern concept of tourism originated in the 17th century, with the young elite classes of northern and western Europe. So-called "grand tours" were customary for educational purposes, encompassing the artistic, cultural and historical attractions of France, Germany, Italy and Greece. 
As travel for its own sake has become more accessible in modern times to people from more walks of life, so has there been greater recognition that it's good for us. Seasoned adventure travelers nowadays may have any number of personal reasons for wanting to chalk up new experiences. Or perhaps they've never stopped to ponder their adventure quest motives. Either way, there is no shortage of scientific research to justify your passions and preferences. 
According to Candice Gaukel Andrews, an award-winning nature-travel author, adventure travel is good for your body, mind and soul. It's also a way to benefit society and help save the planet. Below is a synopsis of her Natural Habitat Adventures blog post dated July 7, 2015: 10 Reasons Why Adventure Travel is Good for You.  
Getting dirty is healthy because it strengthens your immune system.  

Outdoor activities can prevent (or treat) a wide range of health problems. 

Adventure has no age limit. 

Walking reduces the risk of memory loss by expanding your brain.

Adventures make you better equipped to deal with uncertainties.

Adventure travel lets you safely "be" someone else.

Adventures foster reflectiveness, a mental skill that is commonly deficient today.  

Adventure travel feeds your dreams and builds your confidence. 

Adventures are a societal ill remedy, counteracting the loss of adventurous children and wanderlust. 

Adventure travelers have a vital part to play in saving the planet.
In the same vein, a similar blog post by the Australia-based World Expeditions Travel Group offers Nine Reasons Why Adventure Travel is Good for You
Spending time outdoors reduces stress.

Nature makes exercise easier.

Nature can rejuvenate your soul.

Gain a sense of accomplishment.

Travel increases your self-awareness.

The outdoors can make you smarter.

Forge new friendships.

Learn new skills.

Know you're making a difference when traveling ethically.