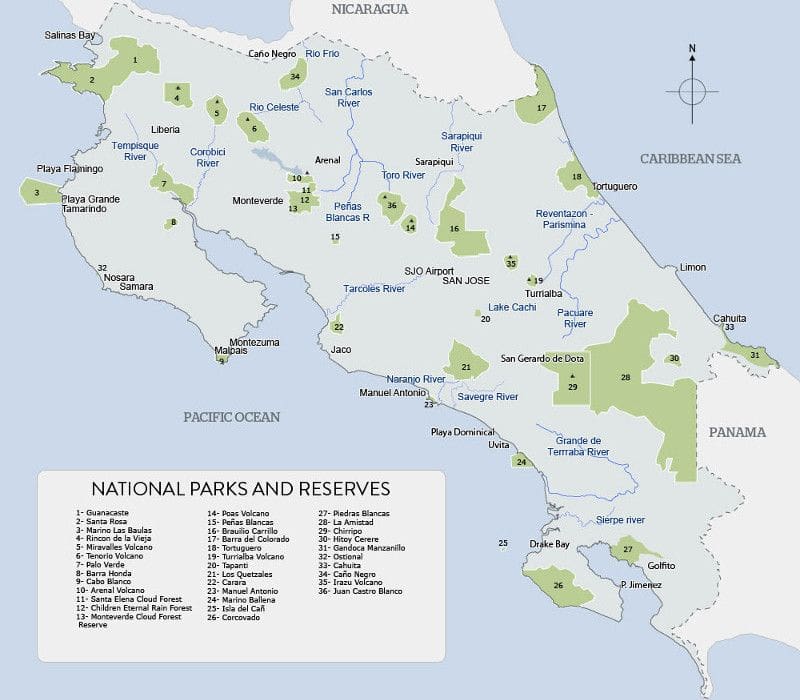 If it's hard to imagine ever managing to visit all of the national parks on Costa Rica's still-growing list, consider how unlikely it would be to lose interest in trying to see as many as possible.
We might also marvel at how recently it was that any government-protected areas existed at all here, where astonishing 26% of the country is now held in conservation. From ground zero barely a half-century ago, the tally now stands at 30 national parks, in addition to a staggering number of natural spaces in other categories: wildlife refuges, protected zones, wetland areas/mangroves, forest reserves and biological reserves. In addition, there is a distinct group of conservation regions covering both land and sea. 
For a country whose land mass is so compact, Costa Rica's park system is extraordinarily deep, wide and dynamic. It encompasses a vast network of protected habitats and ecosystems where water, forests, wetlands, beaches, birds, animals, insects, plants, coral, whales, sharks and turtles coexist. These are the most impressive and compelling attractions for anyone visiting or living in Costa Rica. Each park provides its own special reason to visit, and every park should be visited.
And like most of life's pleasures, these wonderlands are apt to keep beckoning you back for more. With the prospect of new discoveries and experiences each time, it's only natural that we want to revisit our favorite outdoor places. In that spirit, Howler takes you now to five of the national parks we have featured in previous magazine issues. Click to view the entire collection online at howlermag.com
Click the photos below to go to the article. Enjoy the video! Check Google Maps to chart your journey. Open the puzzle to full screen to complete.
How The National Parks Began
Click to read the article
Use Google maps
Watch the video
Complete a puzzle.