The Best Cup of Costa Rican Coffee I Never Had
Cool Places: The Best Cup Costa Rican of Coffee I Never Had.  I'm sitting at Doña Mireya's kitchen table in the Monteverde Ecological Sanctuary, a patch of rainforest where her family tends to a modest plantation of coffee and fruit trees. We sip on a fresh pot of Costa Rican coffee — but not their coffee. No, the small batches of coffee beans hand-picked solely by Doña Mireya and her son Chris are just now being harvested, and they won't roast their current stock until the morning. Instead, I'm drinking another local brew, one that I'm told isn't half as good as what's exported.
That's the problem with good Costa Rican coffee: it doesn't stay in Costa Rica! It's shipped to the United States, to Europe. Tourists from around the world expect to buy amazing cups of coffee in every Costa Rican café even though they might get a better batch if they just bought it from their local grocery store.

Coffee is just as important to culture
as it is to the past, present
and future of the country.
We sit with Chris, Doña Mireya and a few others in their kitchen decorated corner to corner with rooster decor. The placemats, hand towels and all other threads displaying the cockerel were knitted by Doña Mireya herself. Even the plate of chicken in front of me, chopped and cooked into a mound of rice, was prepared by her hand minutes before we arrived.
"I feel like I'm at my grandmother's house," our guide José says, smiling through every bite. Our stop at the Monteverde Ecological Sanctuary wasn't on the itinerary; we wouldn't have even stumbled across the quaint center had his boss not discovered the site and told José about it only days before.
I'd been to a coffee plantation in Nicaragua a year earlier and was hesitant to come to this one, especially after we were assured that it would be an "authentic Costa Rican lunch with guided plantation tour". It sounded generic, inauthentic and touristy — I nearly passed. What a fool I would have been.
Sustainable focus, meticulous process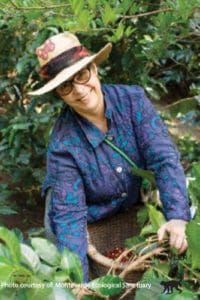 Since 1999, Santuario Ecologico has been growing, harvesting and processing their own coffee beans with an earnest focus on environmental and social sustainability. However, cultivating organic coffee through permaculture is no easy feat. As I reach for another freshly baked tortilla, Chris shows us just how meticulous his process is.
One by one, the master brewer brings out a few of his favorite tools. His eyes light up as he cradles his prized possession: a V20 reservoir that was handcrafted by a local who is praised as "the coffee guru." Chris's smile widens as he excitedly explains how he can change the coffee's flavor with the most minuscule adjustments to his methodology. Factors like time, quantity and amount of ingredients are measured so acutely that a few too many beans pressed for a few too many seconds can radically change the taste.
We weren't surprised to learn that every ingredient is locally sourced but the dedication Chris has in prioritizing materials from his own farm is astonishing. Even when he travels across the country to brewing competitions, his essential resources include liters of fresh water collected from his preserve.
"It just tastes better," he says, and unsurprisingly even his competition agrees. But there's more to the perfect cup than just water and beans. The "farm-to-table" concept has been talked about ad nauseam so Chris instead tells us about his full-circle table-to-farm approach.
Organic on all levels
At Monteverde Ecological Sanctuary, "We use our own compost to fertilize all of our crops. The scraps from your lunch — even the wood used to cook the chicken — will be returned to the soil."
White-faced capuchin monkeys hang above our heads as Chris leads us down the dirt pathways that cut through the plantation. His vivid descriptions of the coffee process pour straight from his soul, his deep passion for the bean and the brew nearly as palpable as the red coffee beans he hands us.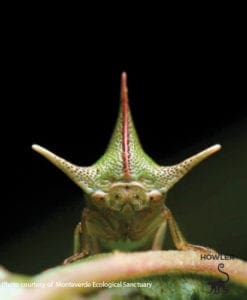 "I have a deal with the bats," he says, encouraging us to pop the little stone fruits in our mouths. "They steal some of our cherries [the matured, red/purple fruit casings around the beans themselves]. When they spit out the seeds, I collect them to replant. As an animal byproduct, it makes our coffee that much more organic."
We spit the cherries into the dirt, adding a small piece of ourselves to his elaborate harvesting endeavor.
Every detail of their process, from cultivation to cup, is aimed to protect the integrity of the bean. Their fertilizers meet the strictest organic codes. Their carefully crafted insecticide contains all-natural ingredients like Doña Mireya's homemade hot sauce, a deterrent that keeps the insects away and leaves the plants unspoiled.
Chris guides us through a maze of trails, each flanked by hundreds of coffee, lemon and grapefruit trees. Though he and his mother are the only two permitted to physically pick the beans, Chris employs one other set of hands to help him tend to the plantation.
Ocelots, coatis, olingos, agoutis and more roam through the plantation day and night, yet there's a sense of harmony here. Chris displays a reverence to the land; those he shares it with offer him the same respect. Of the hundreds of plants he shows us, I see only a few that were disturbed by his feral neighbors. The black guan birds watching us from above leave the coffee plants as untouched as we do.
Coffee culture redefined
Back at the sanctuary center, we say our goodbyes to Chris, Doña Mireya and the rest of the family. With Monteverde in our rearview, we make our way back to San José with a new appreciation for not the coffee itself, but for what it represents. In Costa Rica, the crop provides much more than just the cup.
Coffee culture is different around the world, but in many countries, it's measured by the consumer and marketed through the lens of the café. Few of us may know where exactly our morning fuel comes from, much less how our daily drink made it from bean to brew. Great tasting blends are readily available at every corner and a cup of amazingly prepared coffee from around the globe isn't out of arm's reach.
But in Costa Rica, it seems that "coffee culture" has a much more meaningful translation. Coffee is just as important to culture as it is to the past, present and future of the country. Like the coffee plant itself, the Costa Rican people have overcome the environmental, social and political obstacles that threatened their growth. And though not all of us will appreciate the patience, labor, and love that goes into every drop, passionate coffee growers, like Chris and Doña Mireya at the Monteverde Ecological Sanctuary, will continue to give their all to the small stone fruits that have given so much to their family.
Read more about Costa Rican Coffee here!