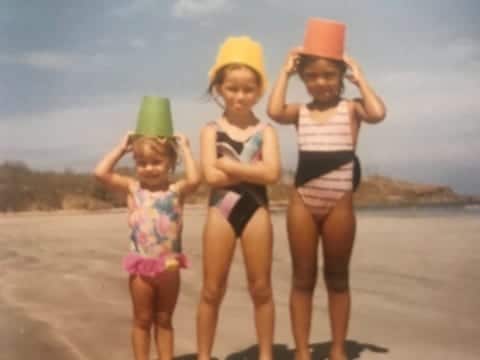 Tamarindo Pop Quiz
[uxgallery id="3″]
Longtime Tamarindo resident Valerie Townley recently moved back to California after spending many of the community's early formative years raising a family here. We appreciate the vintage photos she made available to share with Howler readers. 
"Touristy" might be most people's swift, no-brainer response if "Tamarindo" came up in a word association game. They might find it hard to believe how recently this description came to fit what is now one of Costa Rica's most popular Pacific beach towns.
In fact, it was barely a generation ago that Tamarindo was getting ready to make its mark on the map as such. The same goes for the surrounding Guanacaste province as a preferred destination for travelers. Tamarindo had been a fishing village for literally centuries, well before Guanacaste annexed itself to Costa Rica in 1824. That may be common knowledge for many local people living here. But for relative newcomers, visitors and others unaware, we offer these "modern" Tamarindo tidbits of history that may seem surprising.
Coopeguanacaste brought electricity to Tamarindo in 1974. Before that, there simply wasn't any.
The rural aqueduct of Playa Tamarindo was constructed three years later, in 1977, through a combined effort by Instituto Costarricense de Acueductos y Alcantarillados (AyA) and Tamarindo residents. Before that, wells went dry and became salty before the start of a new rainy season. Water was at a premium, even more so back then.
Telephone lines did not arrive until 1996. Then came payphones and people waiting in line to use them when in service, which was sporadic at best.
Into the early and mid-1970s, the Pan-American Highway from the Nicaragua border all the way to Puntarenas was merely a gravel road. The dirt road leading into Tamarindo washed out during rainy season, so anyone wanting to leave had to walk to Villarreal to catch a bus.
The only flights from the U.S. to Costa Rica in 1970 were provided by Pan Am Airlines and flew to San José on a less-than-consistent basis. This is why so many people drove to Tamarindo, in vehicles that they could sleep in.
Blocks of ice were delivered by truck on Thursdays and could be counted on being puddles of semi-cold water by Sunday morning.
The first cabinas for visitors were built in 1965 and were rented almost exclusively by Ticos from Santa Cruz or San José. Hotel Tamarindo Diria was constructed in 1973 with the intention of catering to international travelers who were initially fishermen, not surfers, looking to catch marlin and sailfish off the coast. Papagayo Excursions began at about the same time in response to this influx of outside anglers.
It is no secret that Playa Tamarindo has become a mecca for surfers of all levels due initially to the two "Endless Summer" movies by surfer-filmmaker Bruce Brown. His close friend Robert August was one of the surfers featured in the original 1964 movie, and the reason Brown came to Tamarindo to film on location in the sequel nearly 30 years later. August tells the story of meeting the late Russell Wenrich, an early developer here, at the 1990 Surf Expo in Orlando, Florida. Having touted Tamarindo on that occasion as the ideal surf spot, Wenrich later paid the airfare for August and a group of fellow surfers and filmmakers (including Brown and Robert "Wingnut" Weaver) to come visit. He even put them up for free in his cabinas because Wenrich saw the future potential of Tamarindo becoming a surfing destination point. The result was "Endless Summer II". Russell was a visionary, to say the least.
Playa Tamarindo is bordered to the north and to the south by mangrove estuaries, the largest of this kind in Latin America. They play host to more than 175 species of birds, including crowned herons, egrets, white ibises and roseate spoonbills.
To the north, Las Baulas National Marine Park is home to the endangered leatherback (baula) turtle. More than 800 female adult turtles come to lay their eggs here as they make a slow, perilous comeback toward survival of their species. The female, which can weigh up to 1,500 pounds, lives in the ocean for 13 years before returning for the first time to lay her eggs (which can number up to 120) at the same location where she was born.
And there are your fast and fun facts and minutiae trivia about Tamarindo for today. I hope you learned something at least a little interesting in this article, which would not have been possible without the help of Christina Spilsbury and Robert August. Thanks, guys.
Click to learn more about what it was like for business pioneers in the early days of Tamarindo's growth as a thriving tourism and expat relocation hub.