There is nothing arbitrary or spontaneous about the declaration of a national symbol. The right time and circumstances reveal themselves naturally as a country's unfolding history keeps fine-tuning its national identity. On 16 such occasions, Costa Rica has held up a two-way mirror of self-representation to the world by adopting a national symbol that is "new" only in this official figurative sense. Without exception, their iconic significance is timeless, effectively anchoring the natural and human legacies of this magnificent land to the past, present and future.
As Costa Rica proudly celebrates its bicentennial anniversary of independence, we are pleased to feature the following national symbols overview in chronological order. Links direct you to related Howler articles in this e-magazine and past issues.
Flag
Inspired by the colors and ideals of the French Revolution, Costa Rica's flag was designed by then-First Lady, Pacífica Fernández Oreamuno, in 1848 and declared a national symbol the same year.
National shield
Originally created and declared a national symbol in 1848, alongside the Costa Rican flag, the country's shield (synonymous with emblem or coat of arms) has undergone changes over the years. Key elements of geography, socio-economic progress and patriotic values are vividly depicted in the unifying imagery. 
National anthem
Nearly a century after the music was composed and performed for an auspicious international occasion, "Himno Nacional de Costa Rica" attained official national symbol status in 1948. June 11, 1852 marked the national anthem's debut performance for visiting diplomats from the United States and England. President Juan Rafael Mora Porras had asked the military band director, Manuel María Gutiérrez, to compose the music for this purpose. It wasn't until 1903 that the current lyrics were written as the winning contest entry of José María Zeledón.
Guaria Morada 
The exquisitely beautiful guaria morada orchid was chosen as Costa Rica's national flower in June 1939, an outcome of Argentina's initiative to create an international peace garden featuring a representative flower from each participating country. Associated with the beauty of Costa Rican ladies, the prized purple flower adorns church altars during Lent and Easter, as well as the building roofs, walls and trees where it grows. It is considered a traditional symbol of luck, peace, love, hope and harmony.
Guanacaste tree
Declared Costa Rica's national tree in 1959, with special importance to botanical conservation efforts, the majestic guanacaste has a commanding presence on flat landscapes with its imposing size and umbrella-like shape. Guanacaste is the indigenous Chorotega word for "human ear," which the tree's seed pods resemble. 
Yigüirro
Revered for its beautiful song rather than its plain plumage, the yigüirro was designated as Costa Rica's national bird in 1976. By signaling the coming rainy season and bountiful harvest, the little brown-feathered bird makes up vocally for what it lacks in stature and color. Besides being a symbol of the earth's fertility in that sense, it represents humility and the hardworking nature of rural Ticos.
Oxcart
Few could argue that Costa Rica's ornately decorated oxcarts have long been the most eye-catching national symbol, even years before being officially designated as such in 1988. Their cultural significance to the country's economic and social development, not to mention as a form of artistic expression, was further recognized 17 years later. In November 2005, the United Nations Educational, Scientific and Cultural Organization (UNESCO) declared the oxcart a Masterpiece of the Oral and Intangible Heritage of Humanity.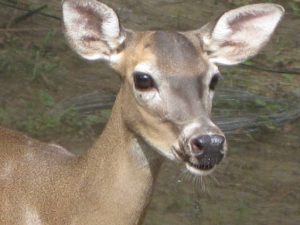 White-tailed deer
Ambitious conservation efforts have saved the white-tailed deer from near extinction due to illegal hunting and human habitat encroachment. Found mostly in the Santa Rosa National Park area of Guanacaste, and Puntarenas, this beguiling creature became Costa Rica's first national wildlife symbol in 1995.
Marimba
Declared Costa Rica's national musical instrument in 1996, the marimba is a sweetly resonating symbol of culture and tradition that transcends generations. Believed to have originated in Guatemala, the percussion instrument consists of a set of wooden bars, arranged as a keyboard and struck with mallets to produce musical tones. Inextricably linked to Costa Rica's legacy of traditional music, particularly in religious observances and folk festival performances, the marimba has a special place in the authentic Guanacaste can culture.
Independence Torch
Costa Rica's independence torch was declared a national symbol in conjunction with Independence Day celebrations on September 15, 2005. It represents the ideals of freedom and sovereignty that unite Costa Rica with its sister countries of Central America. As a prelude to Independence Day each year, the lighted torch is carried on foot from the Nicaraguan border to Cartago, the capital city at the time of independence. Cheering the torchbearer in each town along the way is a highlight of this annual patriotic and cultural celebration.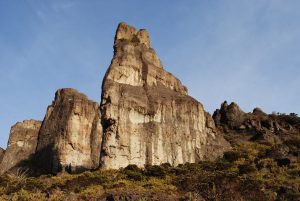 Crestones 
As an extraordinary emblem of Costa Rica's natural and ecological wealth, the crestones in 2011 were the first tourist site to be named a national symbol. Also a UNESCO World Heritage Site, these spectacularly rugged rock formations in the Talamanca mountain range are named for their resemblance to rooster crests. Showcasing both Chirripó National Park and La Amistad International Park, they were formed by a folding process of the earth's crust to resemble gigantic rock "fingers." Among them, Costa Rica's highest peak, Mount Chirripó, at 3,800 meters above sea level, offers simultaneous Caribbean and Pacific views on a clear day. 
Manatee
The manatee's recognition as a national symbol in 2014 sent two vitally important messages about Costa Rica's legacy of endangered wildlife conservation. First, vulnerable marine species deserve as much protective attention as land fauna, particularly when facing near extinction as the manatee was. Confirmed counts in the Caribbean waters of Tortuguero showed the surviving population of these gentle sea creatures had dwindled to 20. Second, young children can have a significant influence on government conservation policies, as demonstrated by the pivotal manatee protection proposal in this case, put forward by two elementary school students from Limón province.
Diquis spheres
Since their discovery in the early 1940s prompted the earliest published research, Costa Rica's Pre-Columbian spheres have been an endless source of fascination and speculation about their enigmatic purpose as indigenous Diquis icons. Sculpted from hard volcanic rock, the geometrically perfect balls range from a few centimeters to more than two meters in diameter, weighing up to 15 tons. In 2014, the Diguis spheres attained UNESCO World Heritage Site status and also were declared a Costa Rican national symbol.
National Theater

Having graced the capital city's architectural landscape for more than 120 years, the National Theater of Costa Rica was designated a national symbol in 2018. The late 19th-century icon of coffee boom prosperity earned its "crown jewel" identity early on as a neoclassical masterpiece, adorned with Italian marble. Goethe's "Faust" was the theater's inaugural performance when its doors opened to considerable fanfare on October 21, 1897.
Coffee
It took a remarkably long time for Costa Rica's "golden grain" to win national symbol status, but July 28, 2020 marked the addition of coffee

to the list in 15th place. Representatives from the education and coffee sectors joined legislative and municipal officers at a news event recognizing the fundamental importance of coffee to the country's economic, social and cultural development. 



Sloth
Perhaps fittingly, the sloth now occupies last — but decidedly not least — place as

number 16

 on Costa Rica's national symbols list. However late to the party, these universally beloved creatures were no less celebrated in every worthy sense when the news was announced in July 2021. Get your fix of sloth knowledge in these Howler articles featuring

fun facts

,

two-toed versus three-toed distinctions

, and a little-known

haven for sloth sightings

.  



Costa Rica reaches a milestone of 200 years.. The National Symbols of Costa Rica