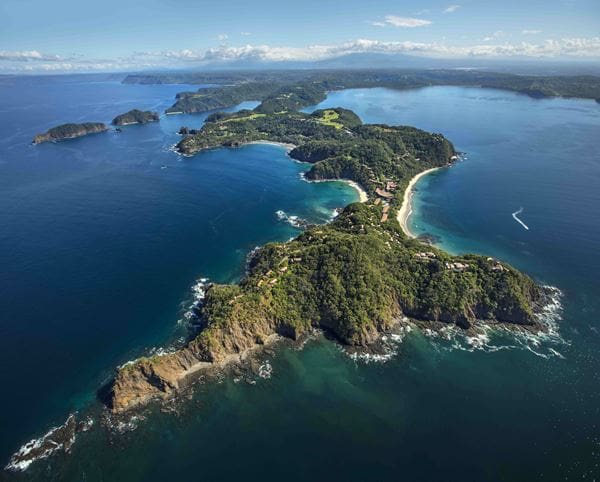 Howler Cover Story – If You Build It, They Will Come?
A $1 billion Discovery park in Liberia … a $100 million makeover of Peninsula Papagayo … a new W hotel at Reserva Conchal … new luxury condos on Flamingo's highest hill … just above the world-class marina everyone is waiting for … and the biggest hotel in town is becoming a Margaritaville — all of those tourists covered with oil!
Is there a boom going on in Guanacaste, or are we imagining things?
"There is a mini-boom, let's call it," said Robert "Blu" Stewart, a real estate agent in Playa Hermosa with decades of experience in Costa Rica. "The first half of '17 we did more sales than we did in all of '16. And it kept getting better — '16 was better than '15 and so on and so on."
The international airport in Liberia, which breaks its own passenger records every year, is currently undergoing a $10 million expansion. A new freeway through this regional capital has been completed, and a $1.5 million Walmart that just opened is now the largest supermarket in Guanacaste. A new gas station is being built across from the airport, and another is under construction in Huacas.
Meanwhile, at the construction workers' unemployment office, the staff is about as busy as the Maytag repairman. New projects aside, construction at existing developments is happening all over Guanacaste, fueling confidence that the good times are here again.
Some experts quibble with the word "boom," recalling the real estate bubble of the mid-2000s that led to the catastrophic collapse of 2008. But everyone seems to agree that the real estate, hospitality and retail markets are more robust and more consistent this year than they have been in a long time.
"I think that the market is the healthiest it's been in 10 years," said Dave Corredor, 47, owner of Grande Real Estate and the Ripjack Inn in Playa Grande. "I think that there's more transactions than there have been in 10 years. I think that it's almost all cash, whereas in the real estate boom there was a ton of different types of financing that were in play, and now there really aren't."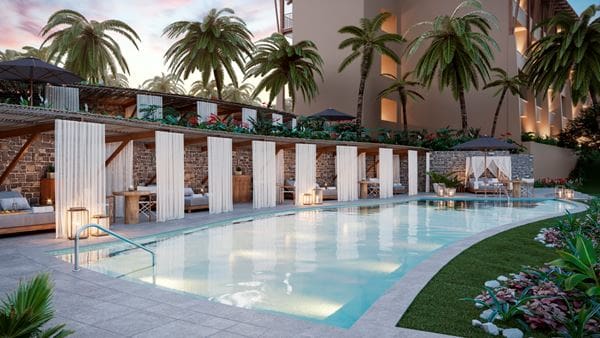 Flourishing in Flamingo
Ed Podolak, a former pro football player for the Kansas City Chiefs (and a friend of singer-songwriter Jimmy Buffett), says his high-end 360 Splendor del Pacifico condo development on top of Flamingo's North Ridge is on track for a soft opening around Thanksgiving. Prices range from $295,000 for a 1-bedroom to $2.5 million for a penthouse, and he says two-thirds of the 36 units are already sold.
"It's interesting because there's been no development since 2008, -09, -10, -11, when the economic crisis hit the U.S. and other places," Podolak said. "Then as the economy turned around and the airport opened and now the marina is coming, yeah, there's a boom."
Speaking of Jimmy Buffett, it's no accident that the Flamingo Beach Resort is being rebranded a "Margaritaville," one of a chain of resorts inspired by the laid-back tropical tastes of the man who wrote "The Wino and I Know." Buffett has been to Flamingo and he likes it, and Podolak says he'll be back.
"This is just a little pimple of what he has," he said, "but it's a crown for us."
The long-awaited new Flamingo Marina appears to be closer to reality than ever, though the wheels of the approval process continue to grind slowly. SETENA, the National Environmental Technical Secretariat, was expected to approve the marina on Aug. 3, but it put off the decision because one of two crucial reports was not attached to a file at its biweekly meeting.
But the marina's approval appears to be inevitable, and that's driving Buffett-style "changes in attitudes" about a renaissance of sleepy Flamingo.
Discover this
In April, when plans were announced to build a $1 billion eco-park branded by the people behind the Discovery Channel, President Luis Guillermo Solís said, "It will boost tourism and competitiveness, will generate employment and is part of our tradition of sustainability, renewable energies and environmental respect."
Yet questions emerged in August, in a meeting of developers with Vice President Ana Elena Chacón and several lawmakers, about whether the project had the necessary permits and the financing to make it viable, and developer Sun Latin America began referring to the project as "Liberia Adventure Park" instead of "Discovery Costa Rica." It remains to be seen what the problems are, how they can be resolved and whether Discovery Communications will remain involved.
Plans announced in April called for a gigantic park in four locations, including a 2,186-acre "Discovery Ranch" in Liberia, a hotel-condo complex at "Discovery Beach," a "Discovery Ocean" operation at Papagayo Marina and a lodge with hot springs and ziplines called "Discovery Volcano." The park was originally scheduled to open in 2020.
Papagayo reimagined
Firmer plans are in play for a $35 million renovation of the Four Seasons in Papagayo, the finest resort in Central America, which is now closed for four months, from August to December, to undergo a major makeover. Plans call for new furniture and new artwork at all of its 181 units (which were pretty nice before), plus new plunge pools at its 15 "Canopy Suites." The lobby will also be redesigned, the restaurants will be remodeled and a new bar and library lounge will be added.
Last year the Miami-based Gencom, led by real estate tycoon Karim Alibhai (born in Kenya of Indian descent), bought most of Peninsula Papagayo for $450 million. The original deal included the Four Seasons, the Arnold Palmer-designed golf course, the Papagayo Marina and assorted other properties, and Gencom recently acquired the Andaz Peninsula Papagayo Resort as well.
The $35 million renovation of the Four Seasons is said to be just the spearhead of a $100 million investment in capital improvements all over Peninsula Papagayo — adding eight miles of nature trails, improving the golf course, upgrading the 180-slip marina and creating a macaw sanctuary.
Just east of the marina, the former Allegro Hotel is scheduled to reopen as a Hard Rock Hotel in early 2018. Just to the southeast, the Spanish-run Sirenis Hotels and Resorts is now building a beach club and has plans to build a brand-new hotel.
South of there, the Casa Conde Beach Front Hotel just underwent a big renovation, and the neighboring El Mangroove is said to be planning a major expansion.
In Playas del Coco, the popular Coconutz Sports Bar & Grill was recently acquired by Pete Wenzel, who employs roughly 300 people at his bar-code and automatic ID businesses in the U.S. He says he has invested about $5 million in Guanacaste and is spending hundreds of thousands on Coconutz alone.
"The long and short of it is, there are bargains to be had in Costa Rica, where a lot of places, especially in the U.S., there are not," he said. "I believe there is a boom going on, and I'm trying to get on the front end of it before all the bargains get snapped up."
Just around the cape south of Coco, the multimillion-dollar, Mediterranean-style village called Las Catalinas is also thriving, having opened the luxe Casa Chameleon hotel this year.
"We have seen consistent and increased interest from people, mostly focused on the concept of living here in Guanacaste full-time," said Renae Johnson, director of residential sales.
Welcome with a capital W
Not to be outdone by rivals to the north, owners of the super-exclusive Reserva Conchal near Brasilito are building a new W hotel to supplement the Westin Golf Resort & Spa, as if its 406 rooms weren't enough. The W Costa Rica, due to open in 2019, will have 151 rooms, restaurants, bars, an infinity pool, a spa and a convention center.
The 936-hectare Reserva Conchal is also a major housing development, currently boasting 204 units, a mix of condos (starting in the $300,000s) and stand-alone homes (starting in the $800,000s). Gabriel Araya, head of sales for Sotheby's at Reserva Conchal, said six new condos are in preconstruction and three new townhomes are being built.
Asked if he's seen recent growth in construction and sales, Araya said: "The past three years have been very consistent in terms of activity. This year, there is probably more construction, and sales-wise, we've done very well in numbers, and we've had very constant activity for the past three years."
Speaking of new hotels, a beachfront Marriott Residence Inn is also in the works between Brasilito and Flamingo's South Ridge, on a nearly empty stretch of coastline prime for development. Marriott announced plans in 2015 to build a hotel in Flamingo, supposedly to open in early 2017. And while that didn't happen, local real estate professionals say those plans remain very much in play.
Building good in the neighborhood
Less than a kilometer from this future Marriott is the Mar Vista gated community, where 45 homes have been built, eight more are under construction, and sales this year have been brisk.
"We have a lot of interest coming into the local area," said Aaron Berkowitz, a builder and co-owner at Mar Vista. "You could call it a boom — I think we're just starting to hit the boom."
Gina Briguglio, director of sales and marketing for Mar Vista, said, "It's becoming consistent, is what I see, whereas prior it was not consistent, it was hit or miss."
Down the road at Las Ventanas, a gated community in Playa Grande, nearly a dozen homes have already been built, six others are under construction and four more should break ground this year, Corredor said.
"This year has been a big step forward for Las Ventanas," he said. "Definitely the biggest year in sales the project has ever seen, year to date, for sure." And that applies to both the number of sales of homes and lots and the prices they're going for, he said.
At Hacienda Pinilla near Tamarindo, a huge 4,500-acre Marriott-condo-golf course property with 430 lots, homes and villas developed and 19 homes under construction, sales have also picked up this year, said real estate sales manager Cynthia Durán.
"This year has been much better than previous years regarding sales that we have closed, regarding clients that are coming to visit, and regarding clients that are looking to buy," she said. "So in those three, it has been better than previous years." But Cynthia is skeptical of the word "boom."
"In 2004-05, I opened the third phase of a subdivision and I sold 48 lots in 10 days," she said. "That's a boom for me. I don't see that happening right now. I see a more healthy market than previous years" — in part, she added, because buyers are final users and not speculators.
Stewart, the real estate agent in Playa Hermosa, had a similar thought: "It's not a giant Silicon Valley boom. It's not a bubble. When we opened this in '07, we had people tripping over their money to spend it. I'd have four or five clients in here at a time. … And then when the excrement hit the air conditioning, that was it."
"The market is healthy and buyers are discerning, said Grant McLean, who has 20 years' experience as a luxury real estate broker for Properties in Costa Rica. "Over-priced properties don't sell while great values are scooped up very quickly….
"We are seeing an incredible number of inquiries for properties, Costa Rica is popular and sales are good, but 'boom' is not a word I like to use either," he added. "I would say the market is healthy with obvious commercial expansion in certain areas like Tamarindo's commercial district and Potrero. … However, the increased activity is in pockets, not across the board."
South of Tamarindo, on a little-known coastline between Playa Negra and Nosara, another development in Marbella is angling to become a major player in the region. Marbella Group Developers has four projects: Posada del Sol, Vista Bella, Ruta del Sol, and the planned centerpiece, Costa Dorada. This will be a condo development with paved roads and underground utilities, and eventually three pool clubs and two beach clubs, plus a commercial center with a medical center, private school, supermarket and pharmacy.
Head developer Jeffrey Allen said 43 homes have been built so far and three are under construction. Asked how sales are going compared to recent years, he described 2002-07 as "great," 2008-12 as "slow," and 2013-17 as "really good — feel like the boom has been coming back."
This time, let's hope it lasts.