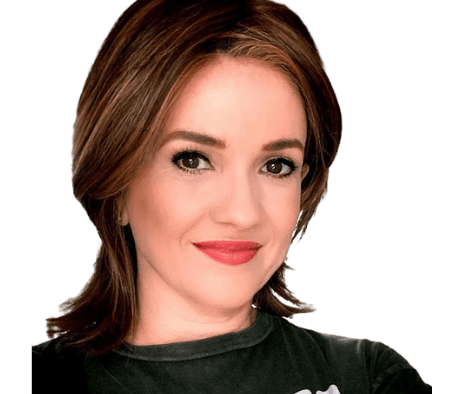 I was around 13 years old, maybe younger, when I first met Silvia Castro in Costa Rica. Our dads were friends and have been for more than 50 years. Silvia's grandmother walked my dad down the aisle when my parents got married in 1970. That's how close they were. I remember that my Spanish wasn't so hot but her English was better, so we had that in common, plus rock n' roll that dominated pop charts. Silvia and I also had this thing for punk rock that defined this rebellious spirit we share to this day. 
We went to school in the same cities at different times, and our paths didn't cross again until this past decade, with Silvia at the top spot at the Latin American University of Science and Technology (ULACIT), Latin America's No.1 private bilingual university. Although I'm a little older, she's always been a big sister to me, and was my reference while I navigated Latin American business and culture. I don't think I would have lasted this long or gotten this far without knowing she was a phone call away.

It was great to chat with Silvia  recently, and to have this opportunity to share with Howler readers these highlights of what she had to tell me.
What challenges do you face? 
I think the challenges faced today are the challenges that most company owners face. This is particularly more the case when you're a woman, because then you don't have only the obstacles — the regular obstacles that everybody has in terms of bureaucratic red tape — but also there's chauvinism. There's also great distrust of private initiative. And so you always have to kind of prove to everybody else that you have no self-interest in whatever it is that you're promoting, but also there's distrust of the public sector. So in an environment of absence of mutual trust, it's just very difficult to negotiate and to push forth your agenda, whether it be personal or professional. And, that's clearly something that is also customized, not just gender. 
What drives you? 
Initially, in the very beginning of my life I had this issue where I needed to prove something. I grew up feeling that I wasn't good enough, and because of this feeling, I thought other people didn't think I was good enough. So I had to show them, you know, I had to show them, they were wrong. And, I spent the first 40 years of my life showing everybody wrong. 
Thinking in terms of that, I probably exceeded everybody's expectations in terms of the number of years I should go to college. I exceeded everybody's expectations in terms of the number of hours I should be spending at work. I overachieved in every aspect of my life, because I had to demonstrate myself to others. And, I was going to prove them wrong, that I was worthy of having what I have. So, I got to a point where I had this checklist of things that society tells you you have to do. And you check all those boxes in that checklist, you know — that "successful be successful checklist."
And you get to a point where you're all out of boxes to check, right? And then you realize, you're like, well this is pretty ridiculous. So scratch that list, and decide what I want to do next. And that's where I'm at right now. So, you know, what drives me is not what has driven me for the first part of my life, which was completing that checklist of things you need to do to be accepted socially, and to be respected and know what you're talking about. And to have the kind of financial independence that gives you the liberty to be who you are, and to do what you want, right. So yeah, so that's where I'm at right now. I've rewritten that list and I'm not so stressed about having this list anymore.
This past year or so, things shifted, and taking a sabbatical was the best way to rethink things and decide where it is that I want to go next. And so, a lot of that has to do with family. My daughter. And meaning, right? Things that mean the most to me. You want to have a legacy. I think about what my legacy is going to be — what am I going to leave the world with? What am I going to leave my family? And that's where I'm at right now. 
For more information on business courses, workshops and retreats contact: turner@howlermag.com
See this article in the magazine
About Silvia Castro
The following is some of Silvia Castro's street creed, after earning degrees from the University of Pennsylvania, Harvard, Georgetown and Columbia.
The Business Monitor of Corporate Reputation recognized Castro as one of the 50 leading women in Central America, while Forbes Magazine recognized her as an influential woman in Latin America. She was the winner of MJ Magazine's 100 Outstanding Women Award in Costa Rica. 
Silvia appeared in Summa magazine's "Who's Who in the Region," for being one of the most influential leaders in Central America and the Dominican Republic. She was also named "Person of the Year" by La República Newspaper in Costa Rica.
Dr. Castro is President of the Board of Directors of Latin American University of Science and Technology (ULACIT), Latin America's top private bilingual university. She has voluntarily served on multiple boards of directors of non-governmental organizations, in her role as an activist for freedom, education and human rights. She is Vice President of the Board of Directors of the Costa Rican-North American Chamber of Commerce (AMCHAM); a member of the Board of Directors of the Costa Rican Union of Chambers and Associations of the Private Business Sector (UCCAEP); and a member of YPO, a global community of business leaders. In addition, she is a member of the Business and Industrial Advisory Committee of the OECD (BIAC), as an expert in international educational policies; and she was part of the Council of Notables in State Reform and the Council of Women in the Presidential House. Silvia's leadership is also present in the Women and Business Congress of the Chamber of Commerce.