Nine Cool Things To Do in Costa Rica
When contemplating fun things to do in Costa Rica, you've probably heard a lot about ziplining adventures over the cloud forest, horseback riding on white sand beaches or ATV rides through jungle trails. All are obvious choices on many a traveler's bucket list. However, Costa Rica offers much more in the way of less familiar cool and unusual experiences, unlike anywhere else you might ever visit. Here are nine cool things to do in Costa Rica:
1. Play with a thousand stray dogs
Territorio de Zaguates is a dog rescue center located on a vast expanse of rural property in the mountains of Alajuela, Costa Rica. Just imagine yourself walking down a hill surrounded by more than 1,000 happy and hospitable stray dogs.
Delight in the enthusiasm of your four-legged companions exploring a paradise beyond any dog-lover's imagination!
You can also support this remarkable animal welfare cause online by visiting www.territoriodezaguates.com
2. Taste a traditional Tico dessert on the beach


The tourist center of El Paseo de los Turistas in Puntarenas is a popular place to sample one of Costa Rica's most famous sweet treats, the Churchill. This irresistible confection consists of shaved ice, kola syrup, powdered milk and condensed milk, topped with ice cream or fruit.
There's no better way to beat the heat than with a delicious Churchill at the beach!
3. See ancient stone spheres, untouched by time
Time has stood still at Finca 6, a UNESCO World Heritage Site where pre-Colombian stone spheres of mysterious indigenous origin have never been removed since their discovery. You can visit the museum and be captivated by the majestic spheres as you tour the former farm property located at Palmar Sur, Osa.
For details, read here.
4. Enjoy a sunset from a hilltop graffiti-painted ruin
El Miro Ruins at Jacó is a perfect lookout point and hike destination. Time your arrival for a breathtaking panoramic view of the Pacific coast at sunset. Vibrantly painted murals all around the ruin site are another hiking highlight.
We dare you to take the full tour
without getting goosebumps!
5. Visit a haunted and abandoned hospital
Sanatorio Duran in Cartago was once an orphanage and health rehabilitation facility, and later a prison. After eventually being closed permanently, it became internationally famous as a haunted tourist attraction in Costa Rica.
We dare you to take the full tour without getting goosebumps!
Learn more in the June 2018 Hower article.
6. Explore Costa Rica's version of Alcatraz Island
San Lucas Island Prison is located in the Gulf of Nicoya. Before closing in 1991, it operated for nearly 120 years as Costa Rica's maximum-security federal prison, housing the most dangerous criminals in the country. As a modern tourist attraction, the abandoned ruins provide tangible evidence of what inmates endured as depicted in their wall drawings and graffiti, while leaving plenty to visitors' imaginations.
Learn more in the May 2018 Howler cover story.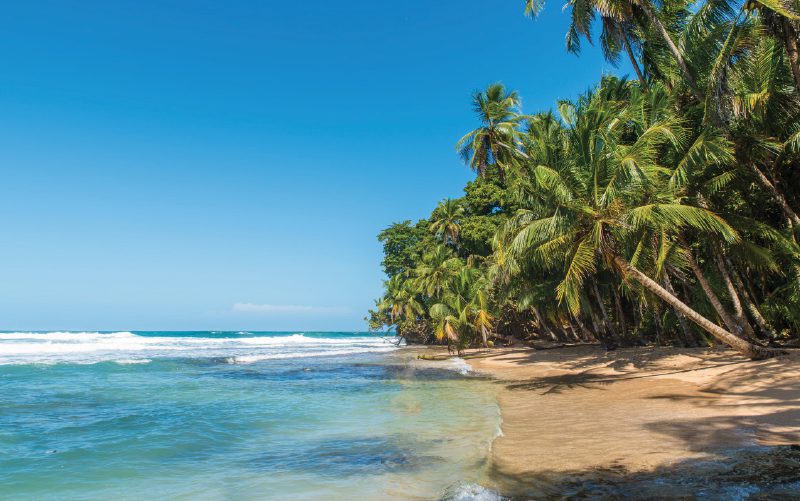 7. Ride a bike along the Caribbean jungle
You haven't truly experienced Puerto Viejo on Costa Rica's south Caribbean coast until you rent a bicycle and travel eight miles through the jungle to reach stunning Manzanillo Reserve.
Remember: the best (driest) time of year to visit the Caribbean is generally September and October, unlike most other regions of Costa Rica where rainfall tends to peak during those months.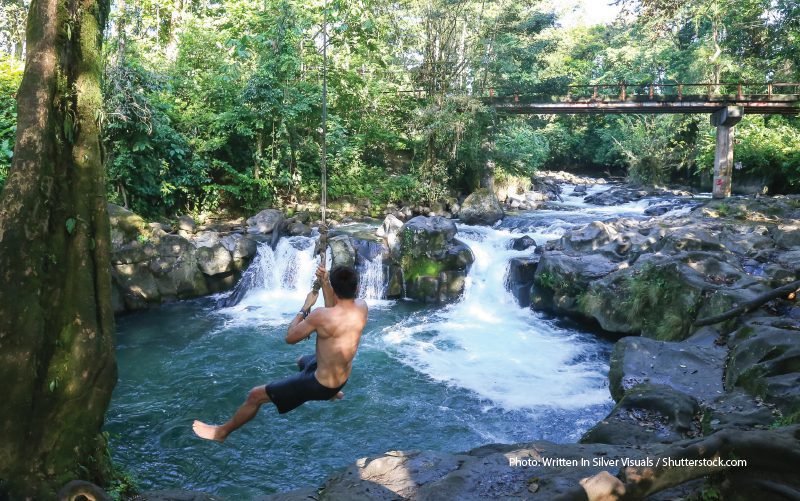 8. Take a thrilling plunge in a volcano setting
El Salto Rope Swing may be one of the most fun and scenic spots you will ever find to plunge into a 12-foot deep swimming hole beneath a waterfall. In fact, it's at the base of two small waterfalls in Rio Fortuna, right next to Arenal Volcano. Swing, jump and swim in the river!
9. Relax under an immense jungle waterfall
Nauyaca is by far one of the most spectacular waterfalls in Costa Rica. While visiting Dominical, Manuel Antonio, Perez Zeledon or Corcovado, make sure to stop and spend time at this watery wonder. Swim, jump, horseback ride or just relax! It's an invigorating experience you will never forget.
Learn more in the January 2018 Howler article.