Yes, we're open to the public!
Margaritaville began as a synonym for a relaxed, laid-back state of mind.  Delicious food and cocktails play a big part, because how can you party in paradise without eating and drinking well?
Margaritaville Beach Resort in Playa Flamingo is not about fancy gourmet cuisine.  They are about warm sun, cool drinks and the clock set to island time. The beachfront bar and grill, Five o'Clock Somewhere, features classic casual delights such as the Flamingo Burger, Fish Tacos, and Quesadillas accompanied by a frosty Fins Up Margarita or their famous Dirty Monkey.  It's an ideal place to watch the idyllic Pacific sunsets, or to catch up on your favorite sports games. 
Another dining option at the resort, Banana Wind Café, is open for breakfast, lunch and dinner, with a wide variety of great dishes reflecting an international cuisine focusing on the flavors of Costa Rica.  A varied wine list accompanies favorites such as corvina al ajillo and churrasco steak.   
Dining at the resorts Capriccio's Pizza Bistro & Café offers wonderful flat breads and gourmet pizzas, freshly made pasta, salads, and Italian desserts, as well as signature cocktails in a vibrant setting with spectacular views of the resort and beach.  
This resort's enviable location on the Gold Coast's most beautiful beach is enhanced by the latest amenity, their very own yacht, The Endeavor, available daily for sunset snorkeling cruises and half or full day fishing excursions.  You can experience that taste of paradise on board by calling the dedicated WhatsApp line at 506-8948-7141 or the resort at 506 2654-4444 or email at info@MargaritavilleCR.com .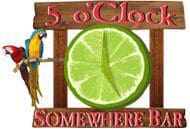 Take in panoramic views of the resort and the Pacific Ocean while enjoying hand-crafted cocktails, cold beers, and our full food menu in our rooftop dining venue.  Relax and watch sporting events on one of our eight large screen TV's, or enjoy live entertainment on select nights.   Enjoy delicious drinks and tantalizing food, as well as live music and entertainment based on the season. The 5 O'Clock Somewhere Bar & Grill  is a great location for special events and celebrations.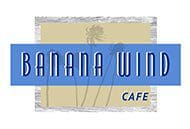 Experience the bold flavors of coastal Central America in the warm ambiance of Banana Wind Cafe, offering indoor dining and an outdoor oceanfront patio. Banana Wind provides a vibrant food experience, incorporating native, straight-from-the-ocean seafood, grass-fed beef and organic herbs and vegetables. Savor incredible seafood dishes like fresh fish Ceviche, Classic Fish Sandwich, and fresh Corvina Ala Plancha. Expand your horizons with one of our traditional platters suh as the Arroz con Camarones. Make room to indulge with one of our house made desserts like Tres Leches, Flan, and Chocolate Coconut Cake. We also serve many kid favorites like cheeseburgers, chicken strips, and quesadillas.
The Endeavor