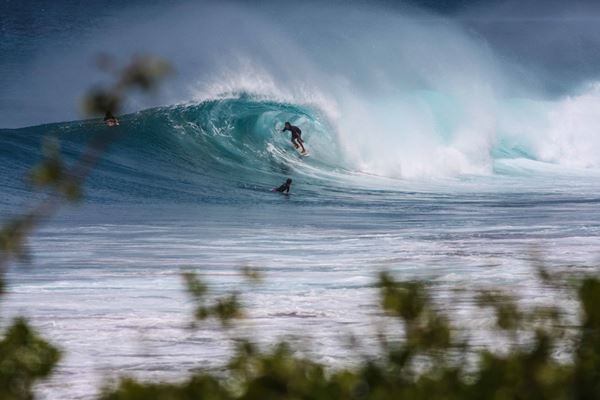 Manuel Antonio National Park is basically the poster child park of Costa Rica. It is one of the most visited national parks in the country even though it is one of the smallest. But Manuel Antonio is a great surf spot also. When most people think about Costa Rica it is likely an image similar to Manuel Antonio's rainforest and beachscape comes to mind. 
Aside from the colorful diversity of plant and wildlife that resides in this gorgeous central Pacific-front location in Costa Rica, there are actually some surf-worthy waves to be found around here. 
So, not only can you hike through the rainforest and observe sloths, monkeys, and a kaleidoscopic array of tropical birds, but you can also score a few waves while exploring this nature and adventure-rich region of Costa Rica. 
How to Get There
Getting here is easy! The fastest route is to fly into Quepos on a Sansa flight and then drive or take a shuttle or taxi to Manuel Antonio. There is a lot to see and do in This area, so you will likely want to spend a couple of days here. 
If you are road tripping around, you can get to Manuel Antonio by driving north or south, depending on where you are coming from, along highway 34 and then just follow the signs to Quepos and Manuel Antonio. The beach where you surf is just outside of the national park to the north. The beach is actually called Playa Espadilla, but the main surf spot is called Playa Manuel Antonio. 
Where to Surf 
Playa Manuel Antonio is an all-level friendly beach break. The majority of the time the waves are in the chest-high or smaller range and are quite gentle. This is an excellent place for your first surf lesson! When there is a bit more swell in the water, more advanced beginners and intermediate surfers will find the waves really fun here. 
Playa Manuel Antonio is located just north of the Manuel Antonio National Park entrance. About a kilometer more north is Playitas. This rocky-bottom beach needs a bigger swell in order to produce ridable waves. Playitas is also a beach break but can be a bit less crowded than Playa Manuel Antonio. 
Local Companies 
If you are new to the sport of surfing, it is a good idea to take a lesson. While Manuel Antonio is not reputed for being a surf town, there are certainly some opportunities to learn how to surf. Barrabas Surf School and Manuel Antonio Surf School are two excellent choices. Both schools come with stellar reviews! 
After all the surfing, fun in the sun, and nature walks you will definitely want to grub out and refuel at Emilio's Café, El Patio de Café Milagro, El Mirador Bar and Restaurant, or Cuba Libre Restaurant and Bar.