The people are long gone, and the buildings, landscape, and structures may remain. But someone took the time to push a button and capture a photograph. Perhaps never realizing that in 2023 the print would be displayed to the world. Thank you to Rolo and various Facebook historical photograph groups for the photos.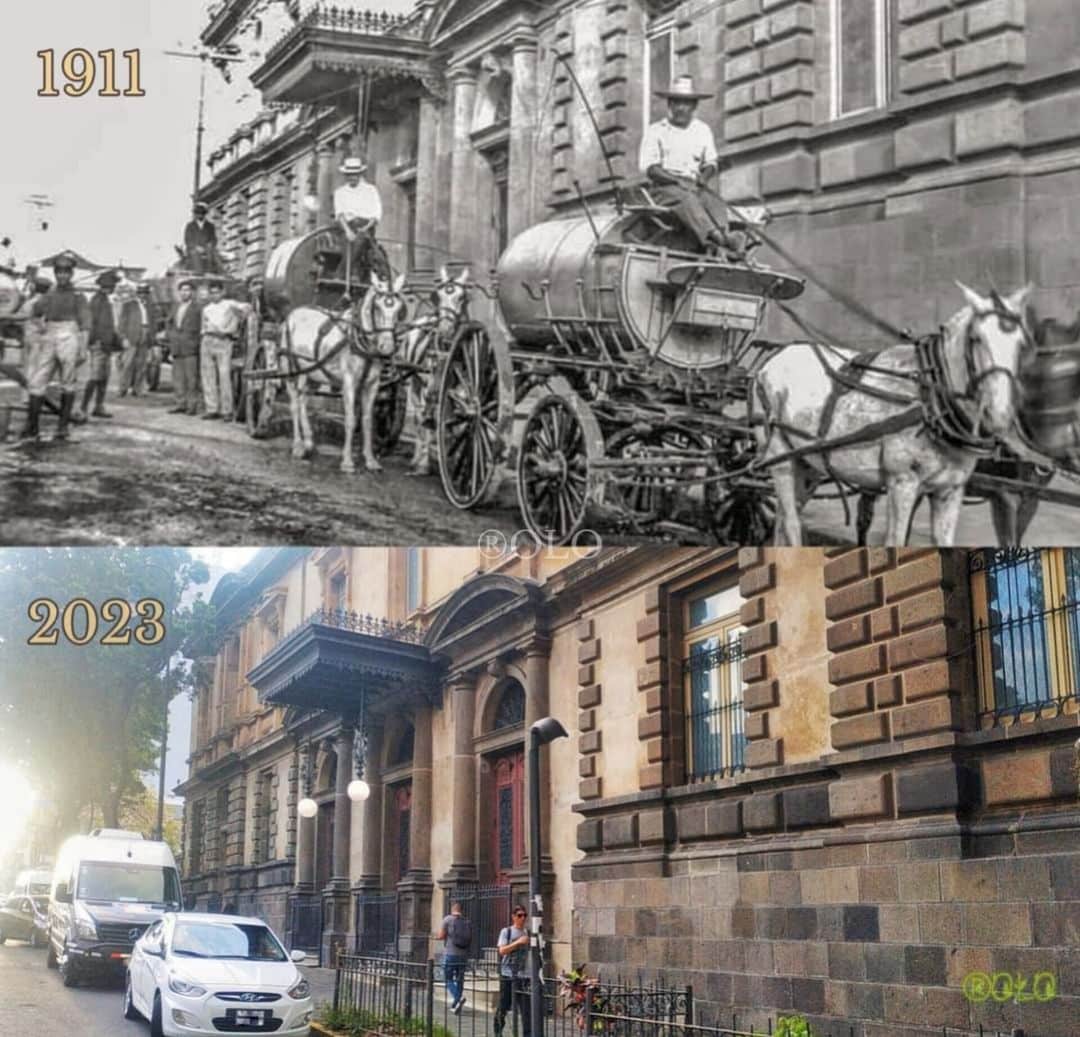 1911 and 2023:  National Theater of Costa Rica. Second Avenue, south side of the theater. Old photo: Manuel Gómez Miralles. Comparison 2023: Rolando Alpízar (Rolo)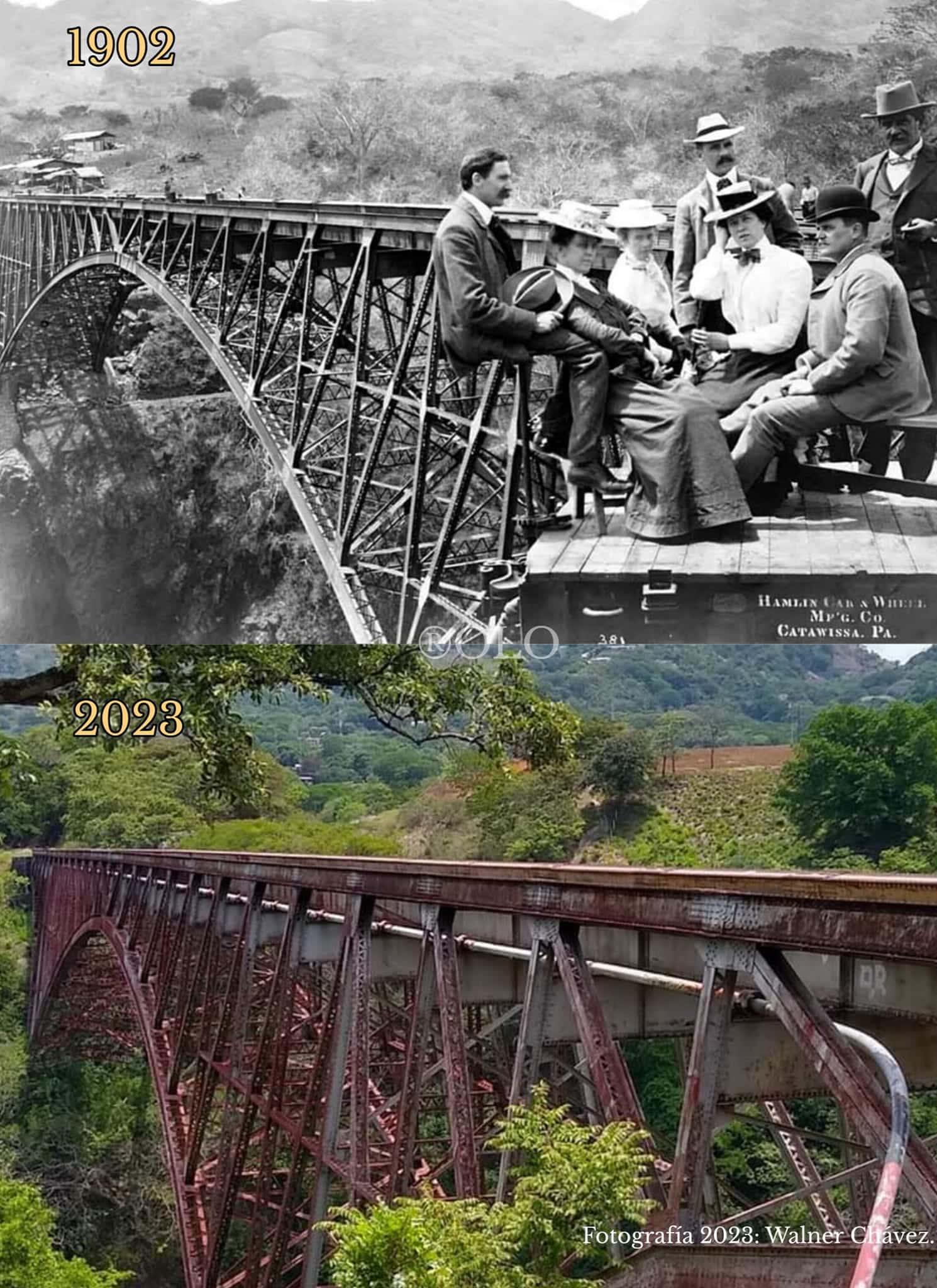 1902 and 2023:  Bridge over Rio Grande de Atenas in Alajuela province. Photograph 1902; Harrison Nathaniel Rudd. 2023: contributed by Walner Chávez.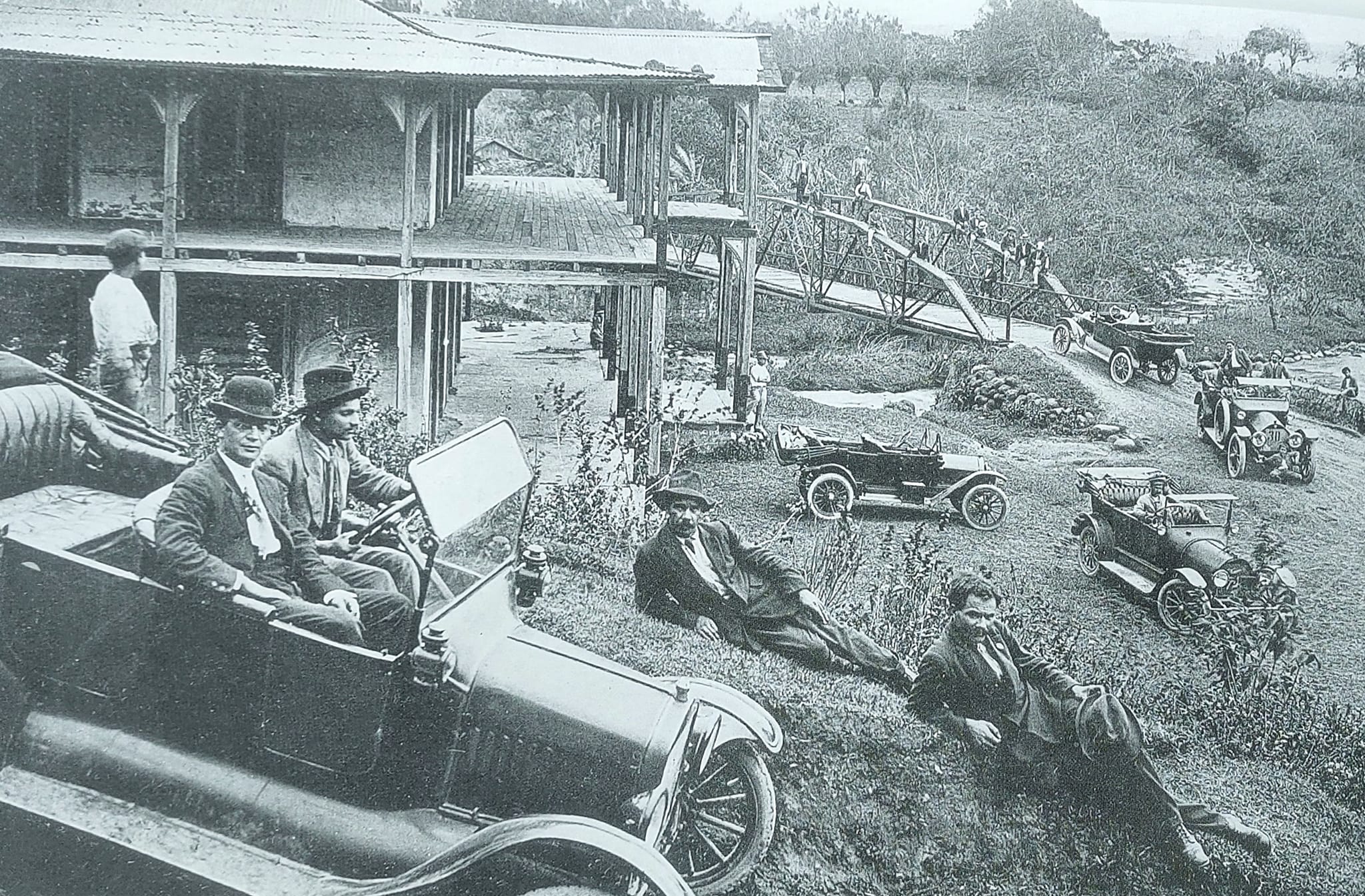 The first tourist center; hotel and thermal spa in Costa Rica, The Bella Vista or Banos Termales de Aquacaliente in Cartago. Opened in 1886. Thanks to the new train tracks that did not run close by, it went bankrupt and closed in 1910. Photo taken from a book by Manuel Gómez Miralles and Fernando Zamora.   AMAZON LINK:  BOOK 1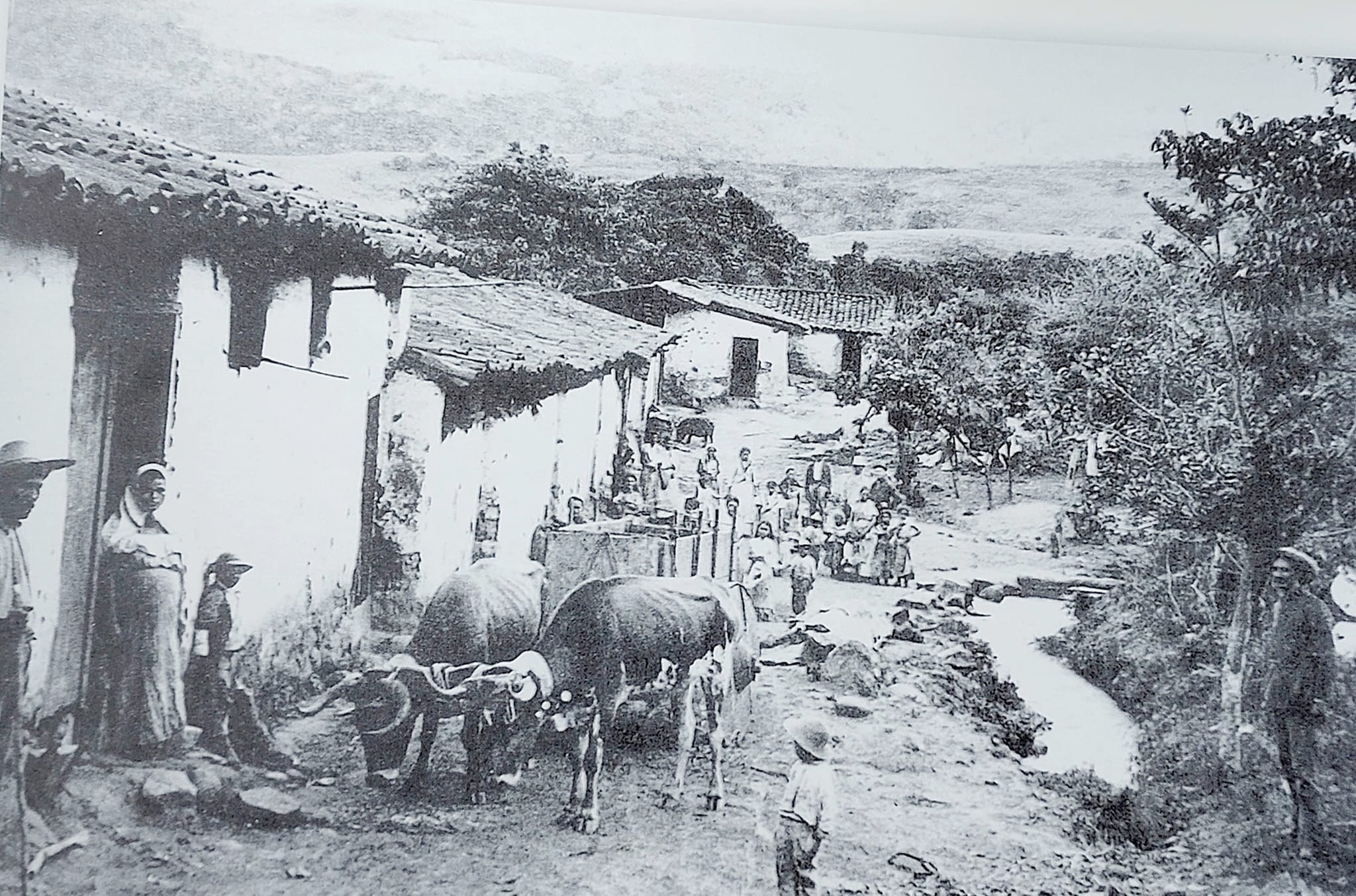 Rural print, 1890. We observe the simplicity of the inhabitants, adobe houses, clay tile roofs, a cart and its oxen, essential for transporting all kinds of merchandise, mainly groceries and firewood. It is observed that the photo is not spontaneous because there are people posing, especially some girls in the background together with a large group of people, there is also a domestic animal, it looks like a pig and small streams along the road which was very common near the villages, drinking water nearby. In the background hills with a lot of vegetation and some pastures. This photo is ideal for those who specialize in giving them color. (Taken from the book: Costa Rica by Manuel Gómez Miralles – see link for the book)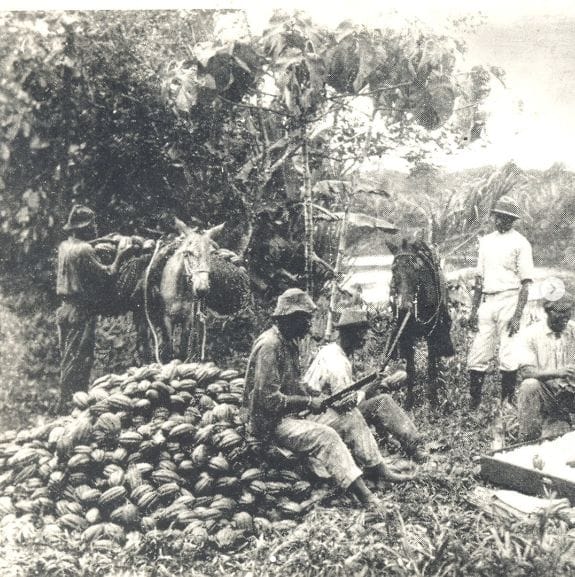 Can you imagine living during the Depression and going to your only entertainment venue, the movies and watch an exciting film about some country far away before the feature?
  Before televisions, very little radio, and no travel brochures, millions of people had the opportunity to dream of traveling through TravelTalks. It was the first introduction to other parts of the world during the 30's and 40's before television began.
James Anthony FitzPatrick was the "Voice of the Globe". In 1930, FitzPatrick started making travel documentaries for people in Britain and America.
The movie company Metro-Goldwyn-Mayer showed his films and called them FitzPatrick Traveltalks.
Starting from 1934, the Traveltalks were filmed in Technicolor. This was one of the first times color films were made in America. FitzPatrick stopped working with MGM in 1954, but he still made a similar series for Paramount Pictures called Vistavision Visits for one more year before he retired.
During the first half of the twentieth century, the United Fruit Company (UFCo.), a multinational corporation founded in 1899 in order to exploit the agricultural wealth of the Caribbean, was responsible for considerable amounts of propaganda, newspaper ads, postcards, books, etc. These were linked to the commercial and tourism activities of the United States in Caribbean countries. The goal of UFCo was to influence the imperial vision of the Central American and Caribbean area from an iconographic point of view. In that world of images, postcards were very important as artifacts in which a visual discourse imposed an ideal of social imagination that was stimulated by the banana company. One of the artists who participated in this process was Gomes Casseres, a photographer who left his name printed on several postcards that have been found and have been subjected to iconological examination. This paper will analyze such cultural artifacts and will show that these images responded to the idea of Caribbean geography that "mamita yunai" constructed and which imposed itself from afar as the "reality" of Costa Rica.
Fortunately, much of Costa Rica's rich history is captured in photographs. Someone a long time ago thought the scene was worthy of a snapshot. There are Facebook groups and websites that feature many of these culturally enriching photographs.
Photos courtesy of Facebook Group: Fotografias Antiguas Indígenas de Costa Rica- CLICK HERE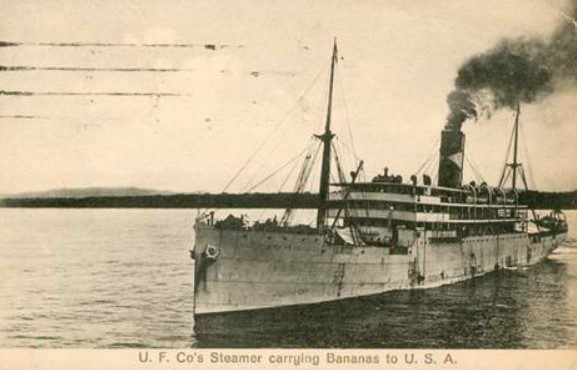 San Jose Costa Rica. View to the east on First Avenue.
In the photograph of 1871, the old Hotel San José was portrayed, which was located in the northeast corner, of the intersection between First Avenue and Central Street.
Credits: photo shared by Jorge A. Salazar Navarro. Follow Rolo on Facebook:   Comparative edition 2023: Rolando Alpízar (Rolo).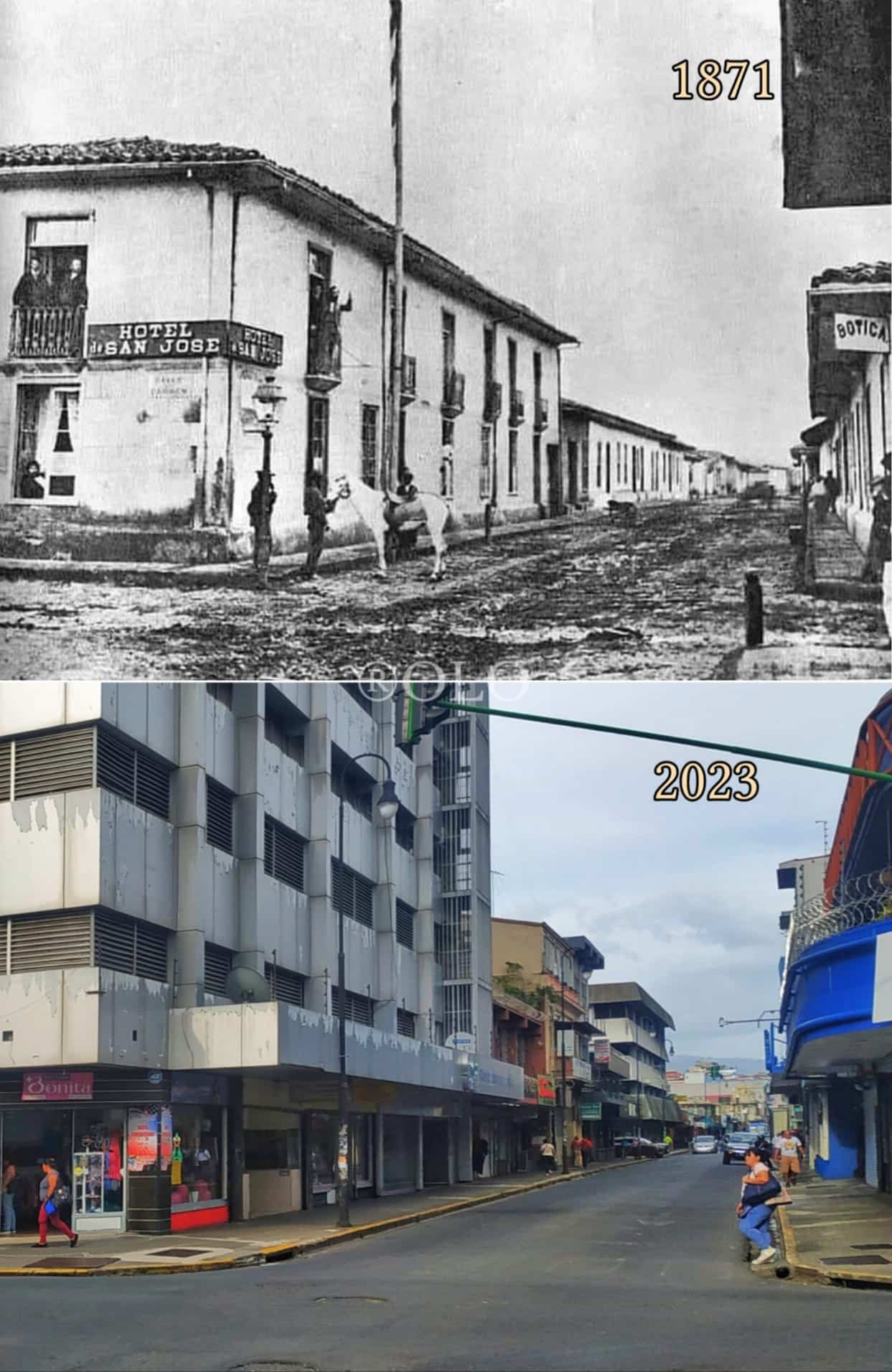 Orosi de Cartago 1927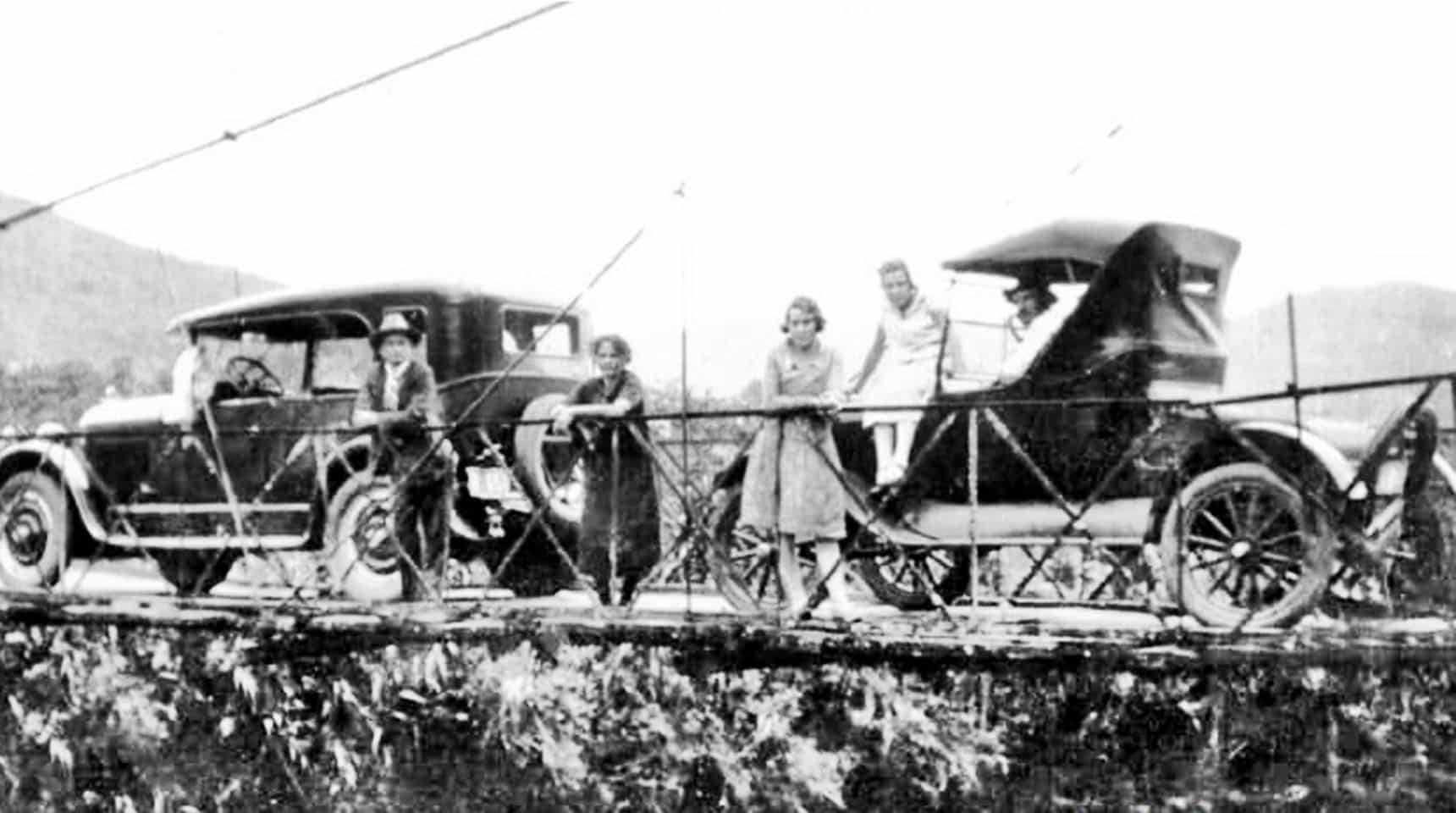 Transit officials 1948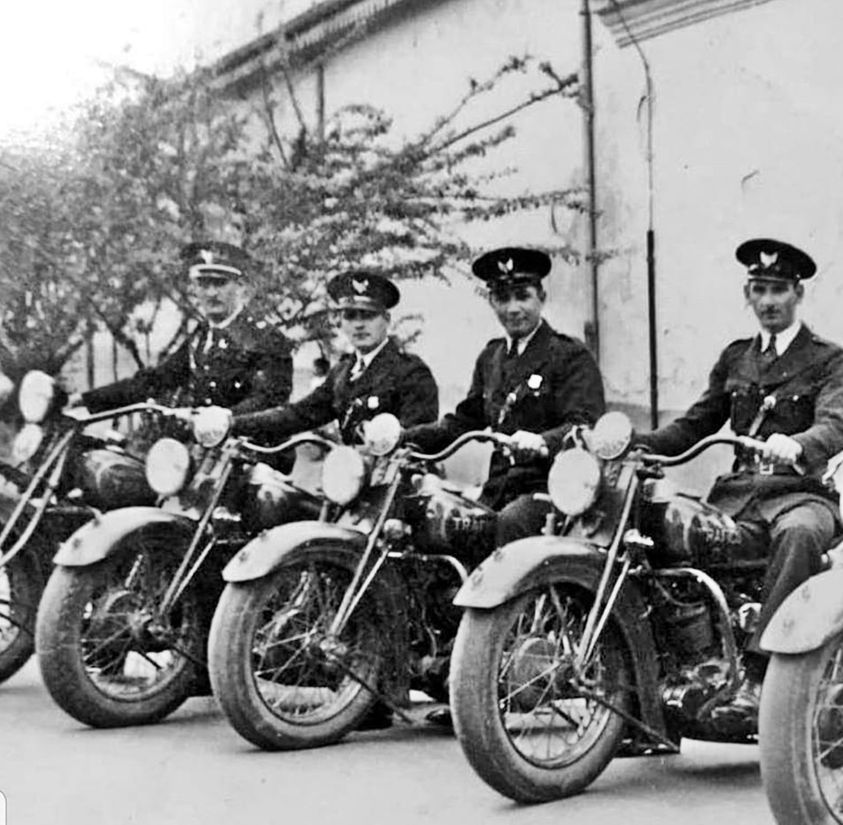 Funeral in Moravia 1959
Limon 1913
Click lower right rectangle to open