Local Vet Gilberth Cavallini Goes to Africa
When Gilberth Cavallini was a little boy, he used to rescue all sorts of animals and tend to their ailments. His mom recently reminded him of the time he sutured the wing of a chicken that his German shepherd had injured.
As an adolescent, when he wasn't out saving animals, Gilberth would use his restricted television time to watch nature shows about Africa. That's when the seed was planted. He recalls explicitly telling his mother that he aspired to go to Africa one day and care for the animals in need there.
Fast forward to October 2019, when that exact dream became a reality for the renowned veterinarian, who has been practicing animal medicine and conservation in the Tamarindo vicinity for over a decade.
'When you are standing eye to eye with them,
it is clear they are exploring your soul.'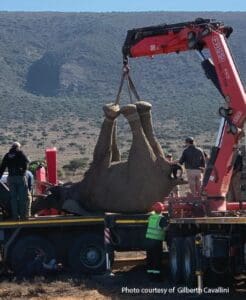 It must have been fate, because only one spot was left when Gilberth Cavallini contacted the non-profit organization Vets Go Wild after seeing its Facebook advertisement for an upcoming trip to South Africa. With qualifications that included a year-long focus on wildlife medicine during his last year of vet school, two months practicing at the Royal London Zoo and 10 months working in wildlife management at the University of Torino, he was invited to join 12 other vets from around Latin America for an unforgettable wildlife care and conservation adventure.
Big Five focus
The 15-day Vets Go Wild excursion focused on Africa's so-called Big Five species: the lion, leopard, water buffalo, rhinoceros and elephant. There was also an opportunity to help capture and relocate zebras for a breeding program. Surprisingly, Gilberth found working with zebras to be particularly difficult because of their off-the-richter scale nervousness. Even under sedation, the zebras' teeth chattering made this apparent.
Of all the firsthand insights Cavallini gained into some of Africa's most magnificent creatures, it was the elephant that had the most profound impact.
"When you have an elephant in front of you, you feel that they see you so deeply," he said. "When you are standing eye to eye with them, it is clear they are exploring your soul. And, you immediately feel respect and admiration for them. It is amazing. I think everyone should have the chance to feel this."
That sense of connection resonates with the key Vets Go Wild objective for bringing animal  caregivers from around the world to South Africa. The group's main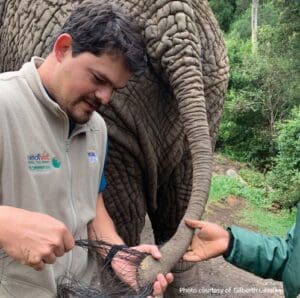 mission is rooted in wildlife conservation, which is also something Cavallini is passionate and eloquent about.
"Conservation is not something that has to be done just by foundations and associations," he explained. "There are a lot of things that a regular, normal person can do to help. It is important to understand that there is no way back. As humans, we are responsible for protecting the planet and nature, and ensuring the next generations get to see all of these wonderful animals. But if we don't all work together, little by little, the Big Five and many more will disappear forever within the next 50 years."
Controversial approach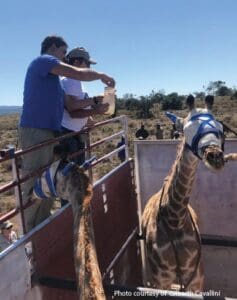 Game reserves have been established in South Africa that allow extremely wealthy individuals to hunt a Big Five animal. As an animal lover, Cavallini obviously does not love the idea of killing any of the country's iconic animals, whether legal or not. But for now, he explained, it's an unsettling but effective funding solution for protected game reserves. Trophy hunters will pay upwards of half a million dollars to shoot an elephant. Coincidentally, this is the same cost range per year to manage a 10,000 acre protected wildlife reserve, including guards, vets, breeding programs, vehicles and other resources.
So, for every animal slain by a trophy seeker, thousands more are spared to live and thrive in their natural environment. This controversial approach to conservation has proven to be a consistent means of keeping protected reserves fully operational.
Cavallini spoke enthusiastically about the sheer volume and majesty of the animals roaming the reserves and the innate sweetness that the South African people exude. Occasionally we meet people who are doing precisely what they were put on this earth to do. Gilberth Cavallini is clearly one of them.