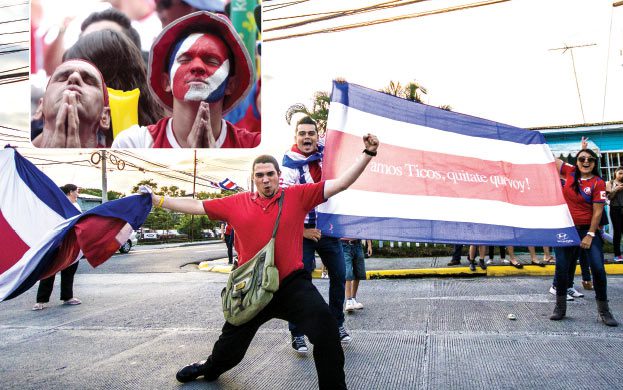 Costa Rica Soccer Fans on Fire
Costa Rica Soccer: Screams of agony and ecstasy will erupt simultaneously in the early-morning hours all over Costa Rica. Productivity in the workplace will grind to a halt, and a mysterious illness may prompt thousands of people to call in sick. Grown men will give bear hugs to total strangers in front of big-screen TVs — if not sob tears of grief in their arms. These are the Costa Rica soccer fans.
Unless you've been adrift at sea for the last few months, you probably know that the Costa Rican soccer team is going to the World Cup in Russia this month, and people are a little bit excited.
Costa Rica has the best
fútbol team in Central America,
backed by a man who is among
the best goalies in the world.
Costa Rica has the best fútbol team in Central America, backed by a man who is among the best goalies in the world. This will be the Team Tico's fifth visit to the World Cup, four years after they defied all expectations in Brazil by surviving to the quarterfinals.
As luck would have it, their second match in Russia will be against powerhouse Brazil. The favorites to win it all in the 32-country tournament are defending champion Germany, followed by Brazil, Belgium, Portugal and Argentina. One oddsmaker in December gave Costa Rica a 1 in 250 chance of winning.
But hope springs eternal.
As Costa Rica heads to Russia,
true Costa Rica soccer fans keep hope alive
Set your alarm – Costa Rica World Cup Schedule
Unfortunately for soccer fans (and sports bars) in Tiquicia, Team Ticos' first two games will begin at 6 a.m. Costa Rica time. They play Serbia on June 17 in Samara, Russia, and then face Brazil on June 22 in St. Petersburg. (The game against Switzerland on June 27 in Nizhny Novgorod will be at noon Costa Rica time, so don't be surprised if the entire country takes the world's longest lunch break.)
The timeline presents a problem for sports bars and other venues that would normally be packed wall-to-wall with screaming fans swilling beers. In most places it's illegal to sell alcohol before 11 a.m., and many fans may be disinclined to toast their team with a cup of coffee or a glass of orange juice. (Maybe bring a flask?)
Time zones were not a big problem four years ago, as most of Brazil is just three hours ahead of Costa Rica. World Cup 2014 was a huge money-maker here for bars and big TVs. This year, probably not so much.
But maybe it's good practice for 2022 in Qatar, which is in the same time zone as Moscow.
'Fan' is short for 'fanatic' – Howler Soccer Fans
Two fans who will be going to Russia this month are Juan Carlos Ruiz, 40, and Manfred Robert, 43, of Playas del Coco — and they should be easy to spot in the stands in their red-white-and-blue face and body paint.
Juan Carlos said he learned to paint his body from a man who paints naked women (good work if you can get it). At the 2006 World Cup in Germany, Juan Carlos posed for a photo with former president Oscar Arias and got paint on the Nobel laureate's fancy jacket.
Juan Carlos and Manfred went to the World Cup in Brazil in 2014, and they'll be spending three weeks in Russia this year with a group of 16 friends. In 2022, they say, they'll be there for the World Cup in Qatar, too.
"Brazil was madness," said Manfred. "We were the Madonna."
"Costa Rica was the sensation of the World Cup," said Juan Carlos, "because they beat the 'Group of Death,' against England, Italy and Uruguay — all world champions."
Juan Carlos and Manfred already have paid around $5,000 each in fixed costs, and they're looking at spending a total of about $10,000, "counting fiesta."
So what drives this kind of fandom?
Related Costa Rica World Cup articles
---
Profile Keylor Navas Costa Rica Goalie
Costa Rica Soccer Debuts in 1899
Costa Rica 2018 World Cup Chances
A lifelong passion – Costa Rica Soccer Fans
"It's a passion, since we were little, the passion for football," said Manfred. "You live football since you're little, in grade school, in high school, in the neighborhood. To play football all you need is a ball, and it can be made out of paper. So it's a sport that is very, very popular here in Costa Rica."
The fútbol fans will be skipping the first game, with Serbia, but will be there to watch the Ticos play Brazil.
"Sincerely and realistically, I predict an honorable loss," said Juan Carlos.  "We need to beat either Serbia or Switzerland, and at least tie with the other."
The pals will also be there for the game against Switzerland. If Costa Rica soccer team advances, they probably would play the winner of four-time world champion Germany vs. Mexico. Do you believe in miracles?
"The experience of a World Cup is … it's better than the Olympics," said Manfred. "It's like going to the Super Bowl, but every day for a month."
To learn more about Costa Rica soccer, Wikipedia is a good place to visit.