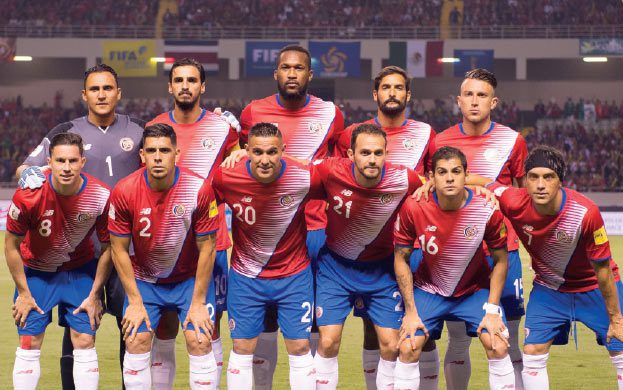 Costa Rica 2018 World Cup Chances
2018 World Cup Costa Rica Soccer Team or better known as Team Tico. Costa Rica had a promising World Cup finals debut in 1990 in Italy, where the Ticos defeated Scotland and Sweden to advance out of group play with Brazil. But Czechoslovakia eliminated Costa Rica 4-1 in the first stage of the knockout rounds.
Costa Rica didn't return to the tournament until 2002, where it again drew Brazil in group play. It lost to the South American powerhouse and drew against Turkey but was unable to advance. Four years later, Team Tico lost all three group games, including one with eventual champion Germany.
It would be a mistake to underestimate
Costa Rica Soccer Team,
which is enjoying a golden age of talent.
The team failed to advance to the 2010 finals in South Africa. But everything fell into place at the 2014 World Cup in Brazil.
No one gave Costa Rica a chance when drawing world champions Uruguay, Italy and England in 2014's "Group of Death." However, it won the group with victories over Uruguay and Italy and a scoreless draw against England.
Costa Rica Soccer Team advanced to the quarterfinals, losing in a penalty shootout 4-3 to highly regarded Netherlands.
2018 World Cup Costa Rica Soccer Team Chances in Russia
It's going to be difficult for No. 25-ranked Costa Rica soccer team to duplicate its stunning performance in Brazil four years ago. Few give Team Tico much chance of reaching the knockout rounds from Group E, where they will play Serbia, Brazil and Switzerland.
"You never know," said midfielder Anibal Godoy, who helped Panama qualify for its first World Cup finals. "They have so much experience for this World Cup. Now they have more confidence. Maybe if they play like last time it is possible to have something good for them."
No. 2 Brazil is a favorite to reach the championship game, whereas Switzerland enters the tournament ranked sixth.
Yet Costa Rica soccer team could build momentum the way it did in 2014 with a victory in the opener June 17 against No. 35 Serbia in Samara, Russia. Then it might come down to the outcome of  Team Ticos' final group game 10 days later, against Switzerland.
But Oscar Ramirez' team is also talented enough to hold its own against Brazil. Costa Rica soccer team, after all, finished second only to Mexico in qualifying in the North and Central America and Caribbean region known as CONCACAF.
It would be a mistake to underestimate Team Tico, which is enjoying a golden age of talent similar to Mexico's. It starts with captain Bryan Ruiz, a left-footed attacking midfielder who plays for Sporting CP in Portugal.
Team Tico also have a world-class goalkeeper in Keylor Navas, who plays for Spanish power Real Madrid. Versatile forward Joel Campbell is on loan from Arsenal to La Liga's Real Bettis. Defender Bryan Oviedo plays at Sunderland in England.
Costa Rican internationals also are highly valued in North America's Major League Soccer, with such standouts as Kendall Waston (Vancouver Whitecaps), Marcos Ureña (Los Angeles FC), Ulises Segura (D.C. United) and Francisco Calvo (Minnesota United) dotting the rosters.
Godoy, who plays for the MLS San Jose Earthquakes, said a strong World Cup showing allows a small country such as Costa Rica to develop talent because players get signed by more competitive foreign teams.
Related Costa Rica World Cup articles
---
Profile Keylor Navas Costa Rica Goalie
Costa Rica Soccer Fans on Fire
Soccer Debut in Costa Rica 1899
The 2018 World Cup scene in Russia
The 2018 World Cup is being held across 11 cities in the sprawling Russian Federation. Games will be played as far east as Yekaterinburg, as far west as Kaliningrad on the Baltic Sea, as far south as Sochi on the Black Sea and as far north as St. Petersburg.
Each city will hold a soccer fan fest, a site outside the stadium for ticketless spectators to gather to enjoy the action on big-screen telecasts.
Russian organizers created similar festivals around the 2014 Sochi Winter Games, but they were among the most soulless Olympics that I've experienced.
Many people argue Russia is the wrong country to play host to the world's most popular sporting event. They are concerned that the World Cup experience will be less than satisfying because of Russia's destabilizing role in the global landscape, including its alleged meddling in the U.S. presidential election, its military alliance with Syria and its role in the government-sponsored sports and drug scandal.
For more about the 2018 World Cup, visit the official Fifa website
———

The Howler Magazine asked Elliott Almond, a sportswriter who covers soccer for California's Bay Area News Group, to review Costa Rica's past and present pursuit of World Cup glory. Elliott has been all over Costa Rica, is friends with Marcos Ureña, speaks pretty good Spanish and cheers in his heart when Team Tico is playing.