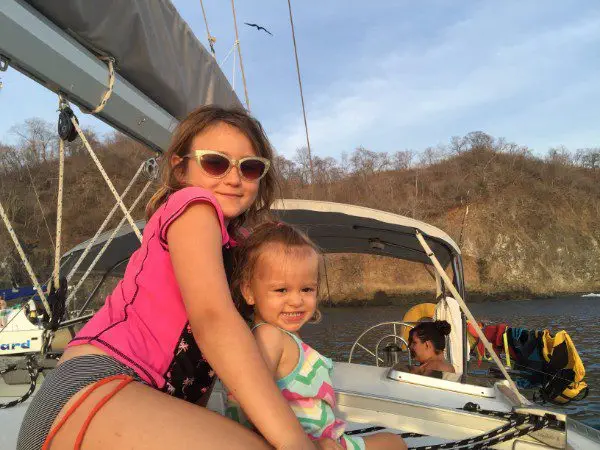 What to expect on a Sunset Cruise in Costa Rica: Snorkeling, snacks, alcoholic and nonalcoholic drinks, and an amazing sunset.
What to wear: A swim suit, light breezy clothing that dries quickly, a hat, sunglasses and sunblock.
Necessary physical condition: Low. Once on the boat you can sit down, lie down and relax. If you tend to get motion sickness, taking some seasickness medication may make the experience more pleasant.
Necessary athletic ability: All snorkelers and kayakers are given safety noodles and life jackets so you should be fine even if you're not the strongest swimmer. A crew member will be in the water leading the snorkelers.
What will happen: Short dinghy ride to the boat, boat briefing, sail to snorkelling spot, sunbathing, kayaking and/or stand-up paddling.
Where sunset cruises happen: Along the coastlines where you can visit secluded, hard-to-access beaches.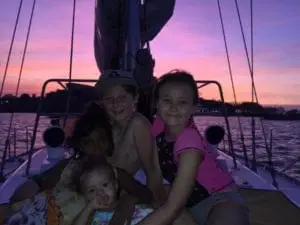 If you are spending any time at all along the beaches of Costa Rica, a sunset cruise is one of the vacation staples that you will certainly want to enjoy. A half-day experience, the four-hour sunset cruises are typically taken on double-hulled catamaran boats. You go out on a relaxing cruise out to a secluded beach with great snorkel spots. There you can choose to go snorkelling, kayaking, or just sunbathing on the beach. Following your fun in the water, snacks or meals are served while you soak up the afternoon sun. Sailing back, brilliant oranges and pinks envelope the boat as the sun sets across the horizon.
Sunset cruises can either be a fun-filled party experience out on the waves or a relaxation afternoon out on the sea. Depending on if you are travelling with family or with friends, the choice between the two cruise experiences may differ.
Living in the technological age, differentiating between a party boat and relaxation cruiser is fairly simple.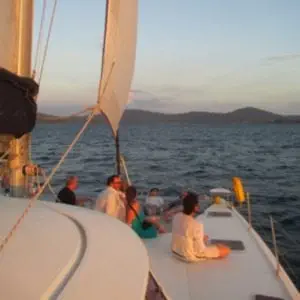 First, check the tour company's social media. If you see Instragram and Facebook selfies of twenty-somethings with a plastic cup in their hands, this is more likely a party boat. Creating a club-like atmosphere, these cruises play a booming mixture of pop and reggaeton music and can pack about 35 to 50 persons on a two-hulled catamaran.
Another major point of differentiation between party boats and relaxation cruisers is the quality of food and drinks offered. Relaxation cruisers tend to offer plate service meals, a higher quality range of mixed drinks, and generally more space to enjoy these benefits. However, you may find yourself paying an additional $10-$15 for the extra lounging space and a more family-friendly atmosphere.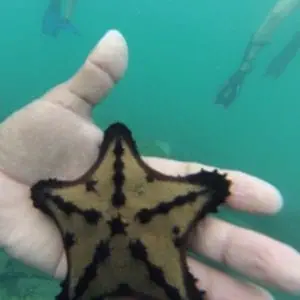 Regardless of what sunset cruise experience you choose to partake in, you are guaranteed a spectacular sunset; a friendly, welcoming crew; and a day out on the brilliant Costa Rican blue oceans. Tours can be found all along picturesque coastlines at most dock or marina towns. You can even find a catamaran tour on Lake Arenal. Along the Gold Coast of Costa Rica, Flamingo and Tamarindo are ideal places to arrange catamaran sailing cruises.