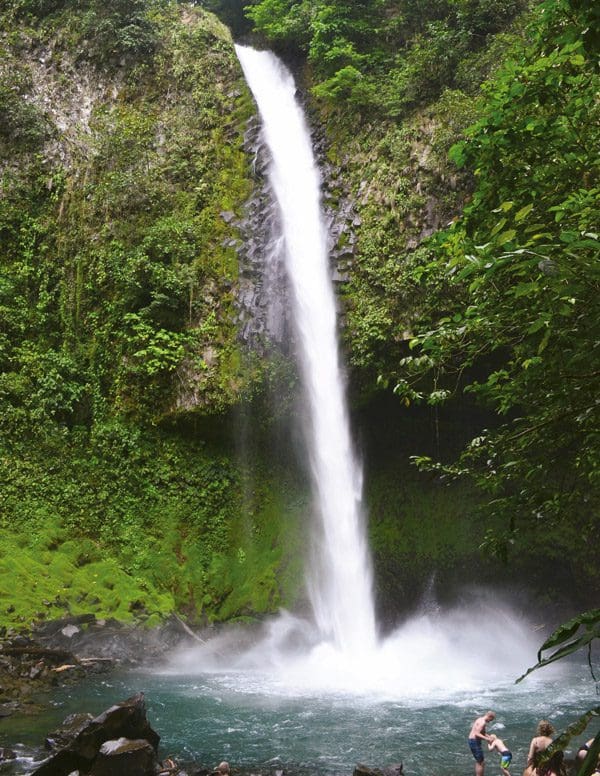 Cool Places – La Fortuna Waterfall Makes a Big Splash
La Fortuna Waterfall is a stunning beauty, exploding out of an emerald-green hillside and plunging 230 feet (70m) to a pool below.
Many would consider a visit to this catarata a must for anyone visiting Arenal, and it's among the most popular activities in this region.
The pool at the base is swimmable, and the air is filled with water vapor from the giant splashdown, making this a great place to cool off.
Admission is $15, and there's an onsite restaurant, gift shop and showers. From the entrance, you have to descend about 500 steps to the pool at the bottom.
The waterfall is less than 6km from La Fortuna, at the base of the dormant Cerro Chato volcano, so it's a cheap taxi ride. Some people hitchhike or just hike there, and horseback rides to the fall are also popular.
The fall is surrounded by thick, green jungle and is quite a beauty, so bring your camera. Bring your kids too — it's a family-friendly hike, though climbing the 500 steps back to the top is quite a slog.
Be advised that the base pool is notable for powerful currents from the waterfall, making some parts of it dangerous. But there's a lifeguard standing by ready to blow his whistle if you venture too far from safety.