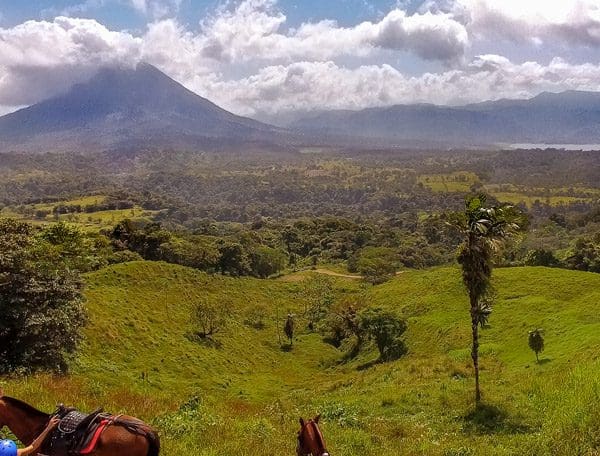 Arenal – Choose Your Adventure
There are 148 different adventures on offer in Arenal — more than any other place in the world. Canyoning is one of the more extreme adventures on offer at Arenal. There's plenty of jouncing around and getting thoroughly soaked, and you'll be laughing uproariously.
Arenal is a magical, mystical place in the northern mountains of Costa Rica, in a landscape dominated by an iconic volcano that once killed nearly 100 people. Nowadays the volcano is inactive and Arenal just makes a killing at the bank, attracting hordes of tourists to what could easily be considered the adventure capital of Costa Rica.
BOOK A FULL DAY ADVENTURE IN ARENAL HERE
In a tiny country renowned for its beaches, the landlocked Arenal remains a golden magnet, a must-see, must-do destination. From penniless backpackers to A-list celebrities, hundreds of thousands of tourists a year decide that no trip to Costa Rica is complete without a visit to Arenal.
According to Christine Larson, co-owner of Desafío Adventures, a study of Trip Advisor and other travel portals found that there are 148 different adventures on offer in Arenal — more than any other place in the world.
So take your pick! Here, in alphabetical order, is a sampling of some of the things to see and do here.
Animal rescue center
Usually rated No. 1 or 2 on Trip Advisor among things to do in the area is Proyecto ASIS, an animal rescue center where you can see a coati, a kinkajou, macaws, a margay cat, peccary, a porcupine, a raccoon, spider monkeys, toucans, white-faced monkeys.
Most of the animals here were illegally kept as pets, and others were found injured in the wild. Many can never be returned to the wild because they would not survive, so Proyecto ASIS is their five-star, all-inclusive lodging for life.
Biking
Arenal is a popular spot for road races, and mountain biking is another option. Several operators offer rentals and tours, including Bike Arenal, Desafío Adventures and Ríos Tropicales.
Birding
The birdwatching here is excellent, with some 400 species recorded. Contact Arenal Observatory Lodge, Arenal Oasis or Tropical Feathers.
Canyoning
A combination of waterfall jumping, rappelling, rock climbing and fighting swift river currents, canyoning is one of the more extreme adventures on offer at Arenal. Look up Desafío Adventures and ask about "Gravity Falls" and "Lost Canyon Adventures," two of its most popular canyoning treks.
Fishing
Laguna Arenal, the second-largest lake in Central America after Lake Nicaragua, is known for rainbow bass, or guapote. Look up Captain Ron's Lake Arenal Fishing Tours.
Hanging bridges
Mistico Arenal Hanging Bridges Park is probably the best place in Costa Rica to stroll across hanging bridges in gorgeous jungle settings teeming with wildlife and breathtaking views.
Helicopter Tours
This is a growing industry throughout Costa Rica, and of course, Arenal tours are offered. What a delight to see this stunning beauty from above. Contact Sunquest Heli tours.
Hiking
Arenal Volcano National Park offers miles of hiking trails in a pristine tropical rain forest at the base of the volcano. There's also the 1968 Volcano View and Lava Trails, through the lava fields left behind by the catastrophic volcanic eruption of that year. Hiking is also excellent at Arenal Observatory Lodge, among lots of other places, so ask around.
Horseback riding
Several operators offer horseback riding to La Fortuna Waterfall, to the base of Arenal Volcano, to the rivers that abound in this area and elsewhere.
Hot springs/mud baths
This is the hot springs capital of Costa Rica, and there are multiple options for getting wet in a naturally heated bath and/or painting your body in mud. Almost all of the fine hotels have hot springs, including the decadent resorts Tabacón Thermal Resort & Spa, The Springs Resort & Spa, Nayara Springs and Baldi Hot Springs. Smaller and more economical options abound, including Paradise Hot Springs, Ecotermales La Fortuna and Termalitas Arenal. There's even a free, hot river open to the public called Río Chollín, just in front of Tabacón.
Kayaking
Experienced kayakers can test their mettle against most of the rivers where rafting is offered, and beginners can get their paddles wet on the tranquil Laguna Arenal.
Rafting/tubing/canoeing
Check with Desafío Adventures on rafting the Río Sarapiquí or the Río Balsa. Canoa Aventuras offers canoe trips on the Tres Amigos and San Carlos rivers. Tubing (floating in fast water on an inner tube) is offered by Go Adventures, among other operators.
Stand-up paddling
If you're new to SUP, or stand-up paddling, the placid Laguna Arenal is a great place to learn. Check with Desafío Adventures.
Waterfall
A visit to the 230-foot (70-meter) La Fortuna Waterfall, less than 6km from La Fortuna, is a must. There are close to 500 steps to get down to the pool at the base of this impressive catarata, where you can get wet in a big pool washed by powerful currents. And it's worth every step. (See Cool Places article page 24.)
Windsurfing
The windswept Laguna Arenal is the country's most popular destination for windsurfing and kitesurfing. Contact Tico Wind.
Ziplining
Multiple companies offer the opportunity to fly through the treetops harnessed to a cable, i.e., ziplining, or as they call it here, a canopy tour. Sky Adventures is among the largest operators, with a self-braking system where you just hold onto some handles. It also has an adrenaline-inducing challenge course and an aerial tram.
Ecoglide is another reliable operator, smaller but much closer to La Fortuna. It uses double cables for safety and has a scary-fun Tarzan swing. Arenal Mundo Aventura also offers ziplining over La Fortuna Waterfall. There's also Athica Canopy Tour & Adventure Park.
Zorbing
In this one-of-a-kind adventure at Mistico Arenal Hanging Bridges Park, one or two people crawl into a giant plastic ball with 70 liters of water inside, then roll down a zigzag course on a hillside. The water keeps you from flying head over heels, though there's plenty of jouncing around and getting thoroughly soaked, and you'll be laughing uproariously.