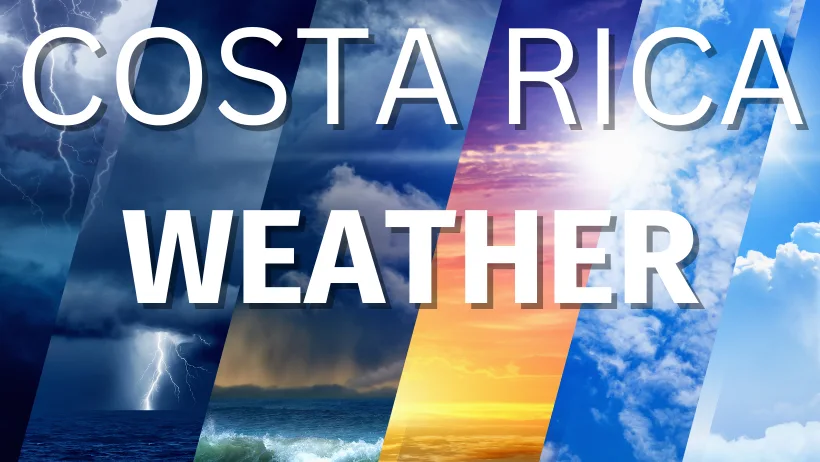 QCOSTARICA 03/13/23
We are still many weeks away from the start of the rainy season in Costa Rica, but here we are, deluged with afternoon rain in many parts of the country.
The national weather service, the Instituto Meteorológico Nacional (IMN), forecasts that the rains will continue for the beginning of the week, at least until Wednesday.
The official weather forecast from the IMN for this Monday, March 13, 2023″
"Unstable weather conditions will prevail this Monday over Costa Rica as a result of local meteorological factors. The constant entry of humidity from the Pacific Ocean to the country -due to the weakening of the Trade winds in the Caribbean Sea- will create a humid environment that, together with the warm temperatures present during the morning; they will facilitate the evaporation process and with this, both the formation of clouds and the probability of rain for this day will increase.
During the morning, partly cloudy skies and a warm atmosphere will prevail in a large part of the national territory In the afternoon, isolated rains are forecast along the mountain ranges of the national territory and reaching the lower parts of Guanacaste, the Central Valley and the North Zone."
So don't put away the umbrella. Take precautions for sewers backing up in some areas and possible flash floods.
The IMN spokesman, Juan Diego Naranjo, explained that there was a weakening of the trade winds as usual during March.
In recent days, rains have been recorded along the Pacific mountains and the Central Valley.
Here in Santa Ana, on the west side of San Jose, the typical morning sun has been covered with clouds, as the town tries to dry up from the moderate afternoon rains on Saturday and Sunday.
The rainy season, also called the "green season", in Costa Rica, runs typically from mid-May through mid-November, with September and October being the rainiest months.
The transition to and from the rainy season is gradual. A break in the rainy season typically occurs in July, coinciding with the mid-year school break.

Costa Rica has over 20 micro-climates. That means climate conditions change from area to area, as it could be raining where you are but sunny and dry when you get to your destination. Or vice-versa.
Costa Rica weather can vary from region to region, month to month, even sometimes…hour by hour. There are some general "seasons" that regions may experience.
Sometimes, your hotel, travel agency or adventure company may provide a past weather history website.